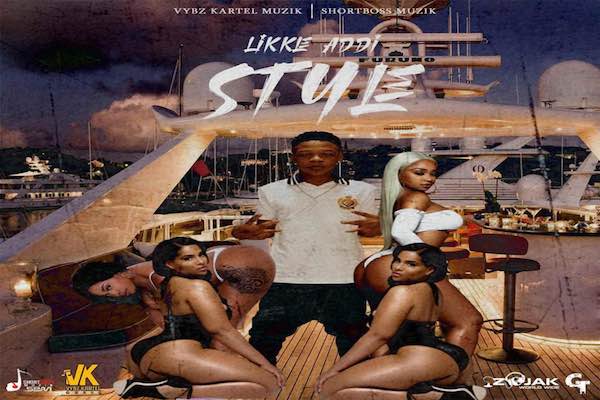 Produced by Short Boss and Vybz Kartel Muzik. This track is a party tune to the maximum, inspiring every party goer to come through dressed in style and live life to the fullest!
Likkle Addi has been working non stop and releasing new music, getting better with every release.
The single is going incredible well and the music video that just dropped is going quickly viral, thanks to the party vibe and great visuals as well as the nice delivery.
Likkle Addi is becoming popular in no time, following his popular father music footsteps and with his mother following very closely every step of the projects he is involved too. In the new song, now paired with the viral music video Likkle Addi talks about his camp, UTG Uptown Greatness and how big they are getting.
Watch the music video and check. the full lyrics posted below. Available in all major music platforms get Likkle Addi's new hit single 'Style' clicking on the banners posted on this page.
Likkle Addi 'STYLE' (Official Music Video)

---
UTG
Everybody like we style
UTG
Style mek everybody wah be with us
Uptown Gaza
We ah lead now
Bere hot song, money we ah pree yow
Doh laugh when 'e (…..) out






Just mi cologne mek yuh gyal wah gimi –
Norbrook, why pree? Yeah mi reach out
Likkle Vybz and Likkle Addi dem ah speak bout
Drop a pic pon di gram
Bay gyal ah mad
Portmore, yeah di wul' a Boston
Style mek everybody wah be with us
Money deyya nuff
Gyal (…..) to di style
And we nuh give a (we nuh give a)
Life too short so we live it up
Stylе mek everybody wah bе with us
Money deyya nuff
Gyal (…..) to di style
And we nuh give a (we nuh give a)
Life too short so we live it up
Music choose mi
Mi never choose it

Ina mi DNA, from a tender age mi prove it
Dancehall, yeah mi come yasso fi rule things
Who him? Likkle Addi, yeh, di new king
Money up, life ah shine like mi jewelry
UTG, been ah win we nuh di losing
Eyes pon di prize
Dah star ah shooting
Go fi more money never sekkle wid a few mill
Style mek everybody wah be with us
Money deyya nuff
Gyal (…..) to di style
And we nuh give a (we nuh give a)
Life too short so we live it up
Style mek everybody wah be with us
Money deyya nuff
Gyal (…..) to di style
And we nuh give a (we nuh give a)
Life too short so we live it up
Related Posts via Taxonomies