Soulja Boy faces lawsuit for allegedly beating pregnant ex-girlfriend into miscarriage
Soulja Boy steps out with new mystery girlfriend amid a sexual assault lawsuit filed by his ex.
The SODMG rapper is being sued by an alleged ex-girlfriend who claims she suffered a miscarriage after she was badly beaten by the rapper. The lawsuit was filed under the pseudonym Jane Doe, as the woman did not wish to reveal her identity. The anonymous ex-girlfriend is reportedly claiming that she was a victim of domestic violence for years during her relationship with the "Crank That" rapper. What made her cup overflow was the alleged loss of her child in 2015 by the hands of her former lover.
The woman claims that Soulja Boy became violent and irate and began punching her in the face and chest until she could not manage to stand. She explains that after falling to the ground due to the impact of his attack, she curled her body to protect her stomach and the child she was carrying while covering her head with her hands. Soulja allegedly continued his abuse by kicking her all over her body and in her stomach, after which she suffered a miscarriage.
The unnamed woman also made reference to other violent attacks carried out by the rapper. She claims that in 2017, Soulja went into another violent rage because he thought she was leaving him. During that incident, she received blows to her face and her breasts. The incident was so severe that the rapper's security guard had to step in to put an end to the beatdown.
Another incident in 2018 allegedly occurred while the rapper was filming a reality TV series. She says this incident, which was another conversation that turned violent, was caught on the night vision camera. The incident, which was aired on the WeTV network in early 2019, documents the rapper yelling at her during the attack.
The yearly attacks continued in 2019 when Soulja threatened her life as he "tightly gripped" her neck and choked her. This took place after she refused his efforts to revitalize the relationship following her decision to move out of the home she shared with the rapper. These incidents were amplified by the numerous threats the rapper dished out if there was any refusal to have sex.
The woman is now reportedly suing for assault, gender violence, sexual battery, and more. Soulja Boy, whose real name is DeAndre Cortez Way, has had several legal issues over the years, from firearm possession to violating his probation to assaulting a former assistant. The assistant had claimed that Soulja Boy was repeatedly abusive, which the rapper denied.
Soulja Boy has since responded in some tweets he has since deleted. He also shared this photo of himself with a mystery female before quickly deleting it.
Usain Bolt Wants To Marry Kasi Bennett 'For Sure', Talks Being A Father Of 3
Usain Bolt, the fastest man in the world, is looking to make things official with Kasi Bennett and get married in the future.
These days the sprint legend is less focused on his boots touching the Stobitan. He is more preoccupied with managing his endorsements, building businesses, making music, and last but certainly the highest on the list in terms of priority, being a great family man. Usain Bolt chatted with The Mirror days before the start of the 2021 Olympic Games in Tokyo, Japan, where he gave fans an insight into his role as a dad to his three kids. The speedster leads with caution as he expresses that being a dad to 3 babies is no easy feat.
"Listen, three babies for sure. When they start crying all together, it's like pandemonium. You don't know what to do. So it's difficult but it's so worth it," Bolt responded when questioned if fathering is harder than running a 100 dash in under 10 seconds.
Bolt shocked fans last month when he announced the arrival of twins Thunder and Saint Leo on Father's Day. The 34-year-old shared that while he has been getting a lot of props for the names he selected, his girlfriend of 6 years needed a little bit of convincing.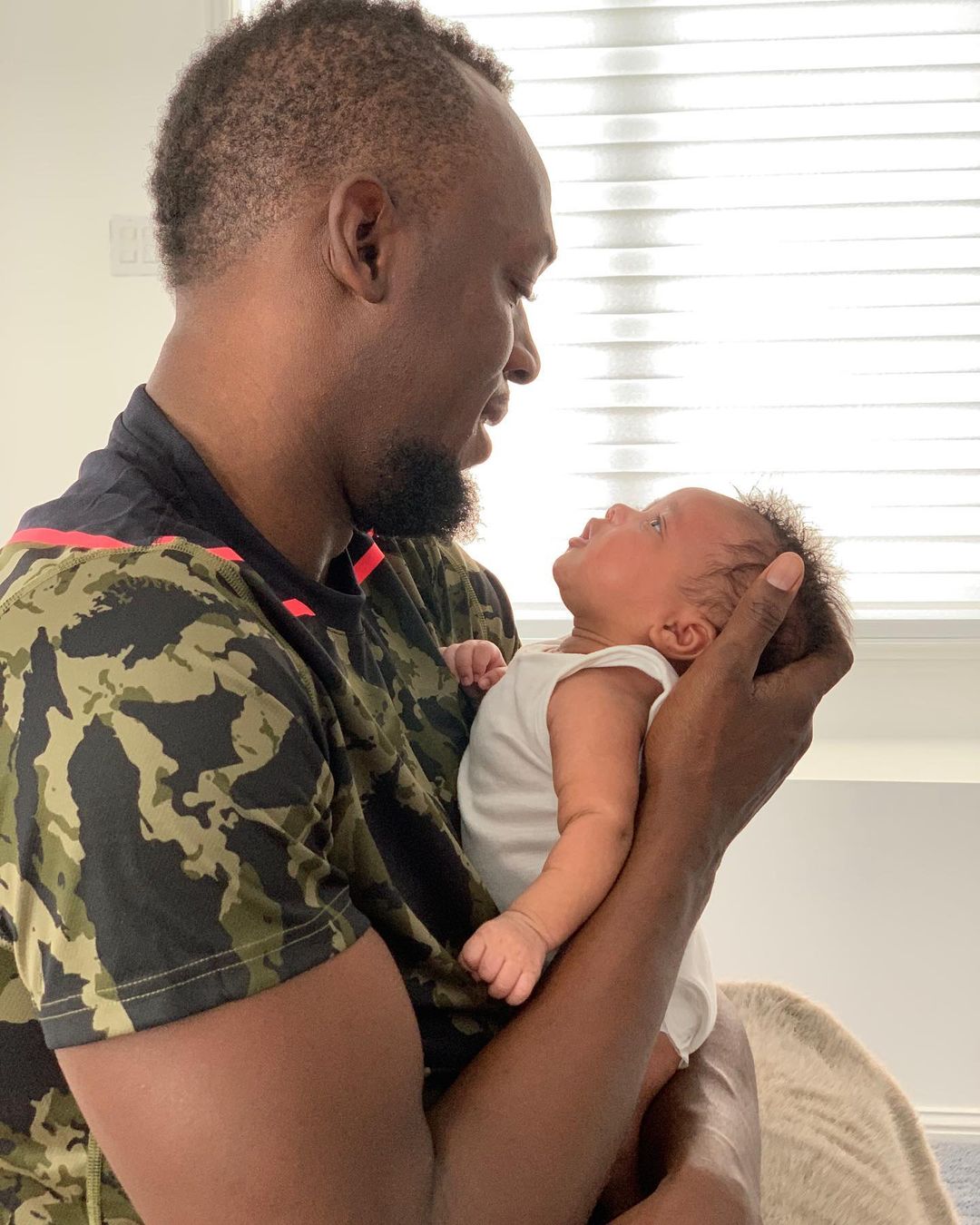 "The rule was, when we were expecting Olympia, that if we had a girl Kasi got to name her. And if a boy, I got to name them. So that's how it worked out. She wasn't too hot on Thunder Bolt. But then she was like, 'All right, let's do it'," he revealed.
While both parents are thrilled, some fans felt a bit jaded to know they had been kept out of the loop for the entirety of the pregnancy. Bolt explains that this was a strategic move to ensure Kasi Bennett was not pressured.
"People always want to ask questions or want to come over and hang out," Bolt said. "The last time, people were like, 'Oh my God' and all over her on social media. And she just wanted to have a quiet pregnancy."
Bolt hopes to keep his queen happy for eternity, as he declares, "I'm definitely going to get married in the future, for sure."
His future plans also include seeing his children grow up and trodding their own paths, which doesn't have to be a role in sports.
"People always tell you, the moment you get your first child it's going to change your life," Bolt said. "It's something that I really appreciate and love. And I'm just really looking forward to seeing how they're going to grow, or if they want to do track and field – or not do any sports."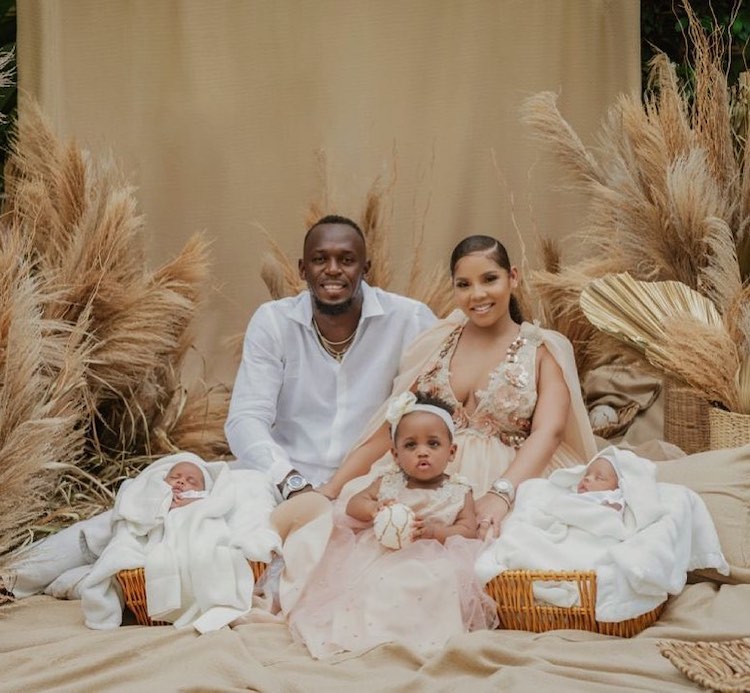 In addition to his very own Olympe Rosé champagne, Usain Bolt has recently partnered with Michelob Ultra to promote their ultra-light beer. No wonder the producer is able to kick back and relax to the sounds of his own productions. His most recent release is titled "It's A Party" and features his usual sidekick and manager, NJ. The two have previously connected on "Living The Dream," which scored over half a million views on Youtube. Bolt's production house has also worked with some of the top names in dancehall on projects such as the Clockwork Riddim compilation released earlier this year.
"After all this work, if you don't enjoy yourself, what's the point?" Bolt.