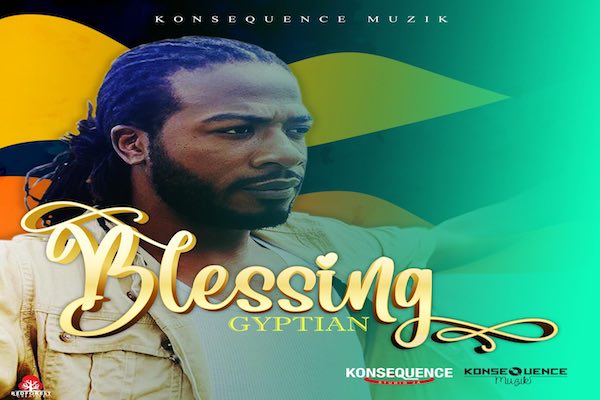 Listen to a new song from Jamaican reggae dancehall superstar Gyptian.
Titled "Blessing" and produced by Konsequence Muzik, Gyptian's new single is a sweet and positive anthem where the artist gives thanks for life.
The Jamaican artist, real name Windel Beneto Edwards, gives thanks for the air is breathing and what he was able to achieve with his music and much more.
Play Gyptian new anthem for 2021 Blessing and check the full lyrics to sing along posted after the official audio.
Blessing is available in all major music digital platforms, get it clicking on the banners posted on this page.
Gyptian – Blessing (Official Audio)


Gytian Blessing Lyrics
---
Konsequence Muzik
We next
Yea
Yea
Hey
Yea
These are the better days
Of my ways
Give thanks for the break of day
And for the air I breathe
Fi dem me seh yuh cahh pay
These are the brighter ways
Of my days
Give thanks for the life today
Glad I'm living today
Fi dem me cahh pay
Man a come from far
A nuh near yah suh no
Hold on tight pan life
And nah let go no
Nuff a feel pain and pressure
And nah stress out no
And even if yuh want help
But just don't know
These are the better days
Of my ways
Give thanks for the break of day
Give thanks for the breathe I take
Fi dem me seh yuh cahh pay
These are the brighter days
Of my ways
Give thanks for my life today
Most of break a day

Oh
Latest style up inna me closet
Brand new 2020 Maserati
Kill dem dead
Killing everybody
If yuh wah learn
Den follow Gypy
Naturally
De gyal dem around me happy
Style original
And dem catchy catchy
Nuff people me hear a round de copy copy
Inna me style and me melodies yes
These are the brighter days
Of my ways
Give thanks at the break of day
Fi that me seh me give praise
Fi dem me cahh pay
No way
These are the better days
Of my ways
Give thanks for the break of day
And for the air I breathe
Fi dem me seh yuh cahh pay
These are the brighter ways
Of my days
Give thanks for the life today
Glad I'm living today
Fi dem me cahh pay
Man a come from far
A nuh near yah suh no
Hold on tight pan life
And nah let go no
Nuff a feel pain and pressure
And nah stress out no
And even if yuh want help
But just don't know
These are the better days
Of my ways
Give thanks for the break of day
Give thanks for the breath I take
Fi dem me seh yuh cahh pay
These are the brighter days
Of my ways
Give thanks for my life today
Most of break a day

Oh
Latest style up inna me closet
Brand new 2020 Maserati
Kill dem dead
Killing everybody
If yuh wah learn
Den follow Gypy
Naturally
De gyal dem around me happy
Style original
And dem catchy catchy
Nuff people me hear a round de copy copy
Inna me style and me melodies, yeah yeah
Related Posts via Taxonomies