NBA YoungBoy Calls Wendy Williams A 'Beautiful Woman' In Letter From Jail
NBA Youngboy has responded to Wendy Williams after the messy host in March took jabs at his stage name "NBA Never Broke Again" while discussing his latest federal charges and ridiculing him for being the father of seven children at 21 years old.
The young rapper's controversial lifestyle and recent legal problems are the type of content that show hosts like Wendy Williams need for shock value, so it is barely any surprise that she picked him up on her radar as she dished on his life and even commented on his unfolding legal troubles. Wendy irked Gaulden's mother when she said he had to go to jail for "lowering property value," based on facts of one of his ongoing cases.
On her show, Wendy Williams said, "he's got to go to jail. How do you do a hot pursuit. There are innocent people out here. You could have hurt innocent people in your hot pursuit and running through people's backyards. Nobody wants that. Bringing down the property value."
Wendy even went further as she brought up his fatherhood of seven kids into perspective while also dragged Floyd Mayweather and Yaya Mayweather, mother of NBA Youngboy's youngest child, into the mix.
"And how is it that you do what you do with seven kids and only 21-years-old. And I wonder what Yaya Mayweather's father Floyd [Mayweather] is saying about this."
Wendy also shared an Instagram story from Yaya where she says, "my day is completely ruined," while her audience guffawed at the message as Wendy goes on to advise Floyd that NBA Youngboy going to jail will be good for Yaya.
The rapper, whose real name is Kentrell Gaulden, though responded to Wendy in a very calm tone as he told her to count her blessings while asking that he be allowed to handle his problems in peace.
"I can leave my kids millions of dollars to divide but can't give them the time they truly deserve," he wrote in the post shared on social media. "Nobody understand me they never did sh*t sometimes I don't understand myself but that's fine because I'm okay I ain't looking for you to feel sorry I just ask for one thing- For you to let me suffer in peace tell MS. WENDY WILLIAM I say she got a good soul and she's a beautiful women [sic] I can see that threw all the bad comments thrown at her tell her count her blessings (STAY IN GOOD SPIRIT) Sincerely Kentrell."
The 21-year old rapper's message is apparently sent from jail after being arrested on a federal warrant for being in possession of illegal guns in 2020. The charges laid by authorities saw the rapper in an unwise and desperate move to evade authorities as he fled from police this week during a high-speed chase.
Wendy felt that Gaulden escaping in people's yards would bring down the property value, which made his mother angry. Gaulden's mother, on the other hand, took the time to drag Wendy while also addressing her to leave her son alone. The rapper has had a successful career in music, but that has been overshadowed by his arrests and the fact that he has a large number of children at such a young age.
Gaulden has seven children, six of which are biologically is and a seventh that he has acknowledged paternity of who isn't biologically related to him. He is also going to become the father of eight children soon as his girlfriend Jazlyn Mychelle is expecting her first child with the rapper.
Usain Bolt Wants To Marry Kasi Bennett 'For Sure', Talks Being A Father Of 3
Usain Bolt, the fastest man in the world, is looking to make things official with Kasi Bennett and get married in the future.
These days the sprint legend is less focused on his boots touching the Stobitan. He is more preoccupied with managing his endorsements, building businesses, making music, and last but certainly the highest on the list in terms of priority, being a great family man. Usain Bolt chatted with The Mirror days before the start of the 2021 Olympic Games in Tokyo, Japan, where he gave fans an insight into his role as a dad to his three kids. The speedster leads with caution as he expresses that being a dad to 3 babies is no easy feat.
"Listen, three babies for sure. When they start crying all together, it's like pandemonium. You don't know what to do. So it's difficult but it's so worth it," Bolt responded when questioned if fathering is harder than running a 100 dash in under 10 seconds.
Bolt shocked fans last month when he announced the arrival of twins Thunder and Saint Leo on Father's Day. The 34-year-old shared that while he has been getting a lot of props for the names he selected, his girlfriend of 6 years needed a little bit of convincing.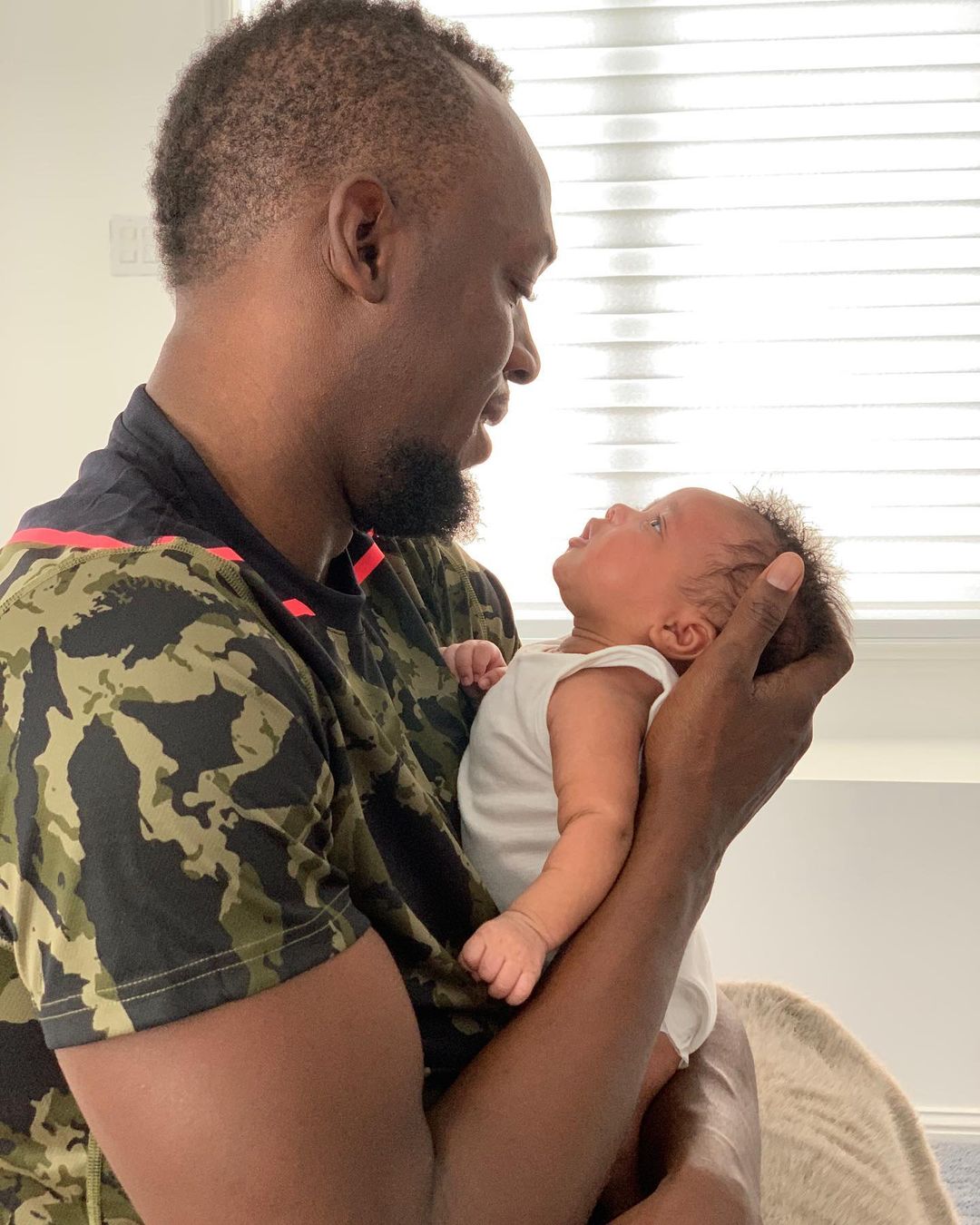 "The rule was, when we were expecting Olympia, that if we had a girl Kasi got to name her. And if a boy, I got to name them. So that's how it worked out. She wasn't too hot on Thunder Bolt. But then she was like, 'All right, let's do it'," he revealed.
While both parents are thrilled, some fans felt a bit jaded to know they had been kept out of the loop for the entirety of the pregnancy. Bolt explains that this was a strategic move to ensure Kasi Bennett was not pressured.
"People always want to ask questions or want to come over and hang out," Bolt said. "The last time, people were like, 'Oh my God' and all over her on social media. And she just wanted to have a quiet pregnancy."
Bolt hopes to keep his queen happy for eternity, as he declares, "I'm definitely going to get married in the future, for sure."
His future plans also include seeing his children grow up and trodding their own paths, which doesn't have to be a role in sports.
"People always tell you, the moment you get your first child it's going to change your life," Bolt said. "It's something that I really appreciate and love. And I'm just really looking forward to seeing how they're going to grow, or if they want to do track and field – or not do any sports."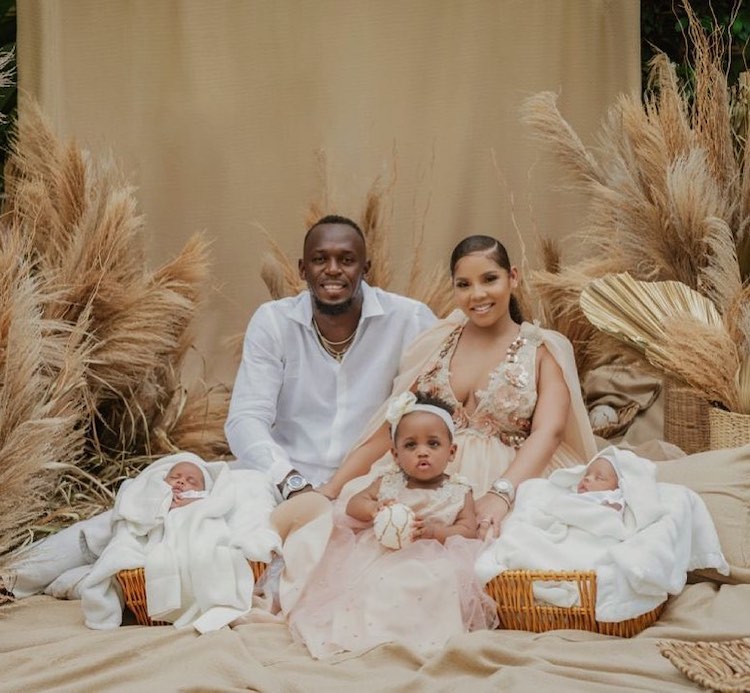 In addition to his very own Olympe Rosé champagne, Usain Bolt has recently partnered with Michelob Ultra to promote their ultra-light beer. No wonder the producer is able to kick back and relax to the sounds of his own productions. His most recent release is titled "It's A Party" and features his usual sidekick and manager, NJ. The two have previously connected on "Living The Dream," which scored over half a million views on Youtube. Bolt's production house has also worked with some of the top names in dancehall on projects such as the Clockwork Riddim compilation released earlier this year.
"After all this work, if you don't enjoy yourself, what's the point?" Bolt.