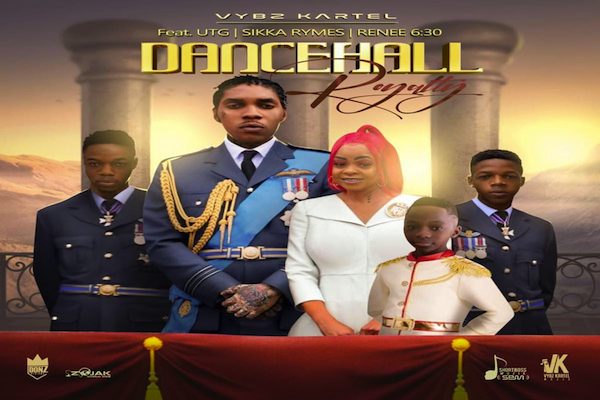 Kartel's new album, a five tracks project, features also his sons appearing under their Uptown Greatness UTG name.
Other recording artists featured in Vybz Kartel's new EP are Gaza VP Sikka Rymes and Renee 6:30.
The Jamaican dancehall Ace has now been behind bars since September 2011, marking ten years this year behind bars. World Boss and co-accused are awaiting for their case to be heard at the UK Privy Council, following the denial of his lengthy appeal in Jamaica.
Despite the long incarceration Vybz Kartel has been unstoppable in this decade, releasing smashing hit on smashing hit and becoming popular all over the world, while being the most streamed artist in Jamaica for 2020 and one of the most globally streamed artist of 2020 over the internet.
As many of his fans already know January is always been Vybz Kartel's month! It's birthday falls on January 7th and some of his hottest tunes ever have been released in January, a well established tradition in his career: always starting the new year with the right foot!
Vybz Kartel, real name Adidja Palmer, is one of the most prolific artists of our times and Dancehall Royalty is his fourth project to drop in a year, not counting of course the hundreds of singles and riddims or remixes that come out during the whole past year.
Last year in January Kartel' dropped his album "To Tanesha",click here to stream it, he doubled up in June with the double disc "Of Dons And Divas", available clicking here, few months ago the Deluxe Edition of another EP "Masterpiece" dropped, and finally with the beginning of the new year "Dancehall Royalty".
Vybz Kartel put his whole family on the cover of the record, in a cool portrait,  because sure they are the royal family of dancehall.
Shortboss Music teamed up with "Dancehall Royalty" like Vybz Kartel, UTG, Sikka Rymes, and Renee 6:30 for this epic anthems.
Vybz Kartel and Sikka Rymes new collaborative song, titled "Dirty John Crow" featured on the album, debuted the official music video, featuring Sikka dressed like a priest and much more, watch below.
Vybz Kartel, Sikka Rymes – Dirty John Crow (Official Music Video)

This EP has it all, from pristine production & witty lyrics to catchy melodies and switch-ups, this one will soon become an instant Gaza hit!
Already available for purchase in all the major digital music platform get Dancehall Royalty clicking on the banners posted on this page.
---
01. "Titanium Steel" feat. Likkle Vybz
02. "My Own World" feat. Renee 630 & Likkle Addi
03. "Popular feat." Likkle Addi
04. "Dirty John Crow" feat. Sikka Rymes
05. "Yea You" feat. Likkle Vybz
---
Related Posts via Taxonomies