Jason Bateman Hosts, Morgan Wallen Performs – NBC4 Washington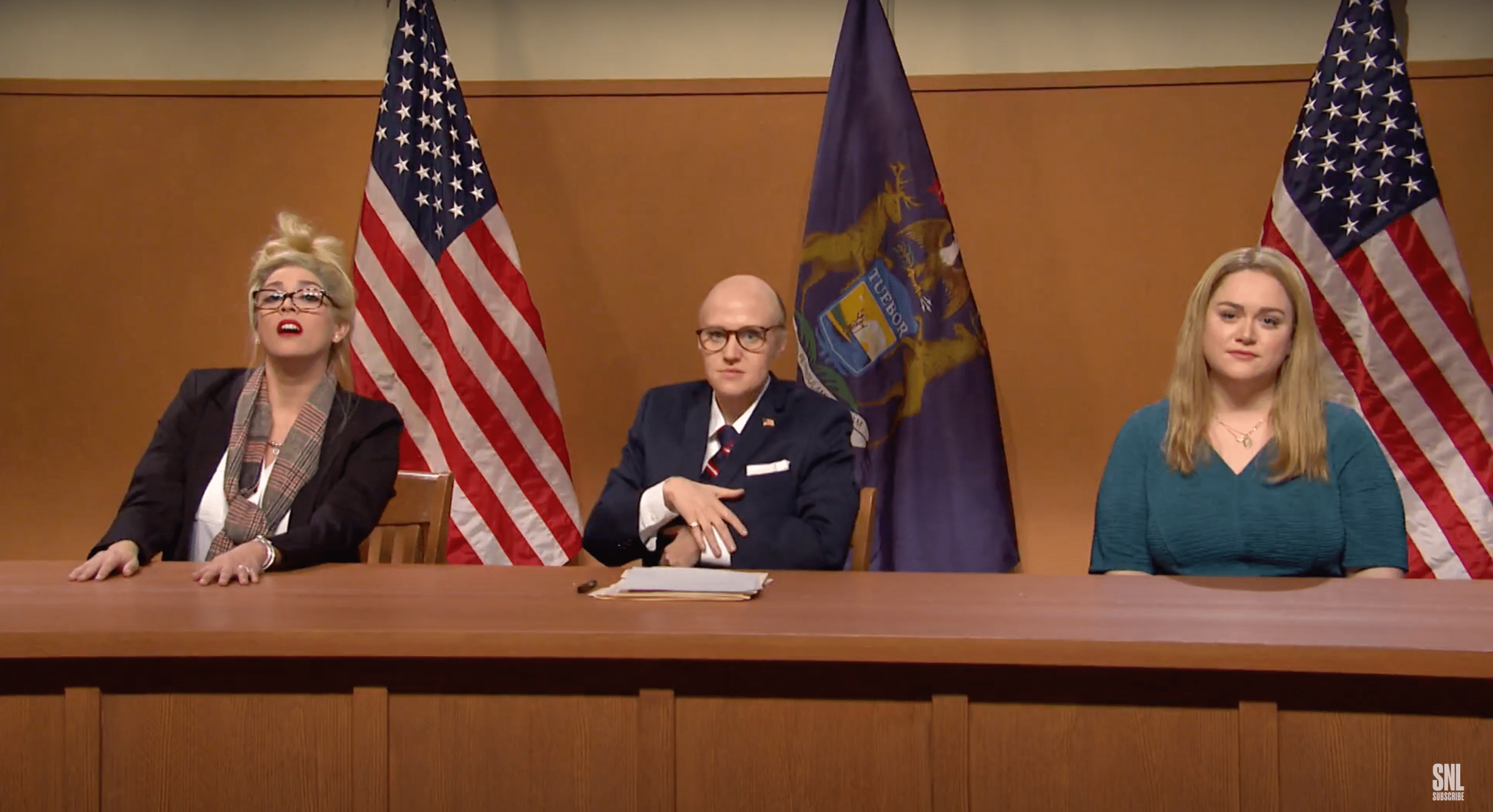 After a hiatus, "Saturday Night Live" returned on Saturday with their version of Rudy Giuliani's remarkable Michigan House hearing last week.
At that meeting, viewers were introduced to Melissa Carone, a contractor for Dominion Voting Systems. Carone made headlines with her confident but unverified or unsubstantiated claims, and ever since then, many expected her to be depicted on this week's "SNL." 
Enter Cecily Strong. The longtime "SNL" castmember was slated by fans to be the perfect fit for the role, as Carone's antics were reminiscent of some of Strong's characters, including 'Girl You Wish You Hadn't Started a Conversation With at a Party'. 
Sure enough, Strong appeared alongside Kate McKinnon's Rudy Giuliani, and proceeded to give a typically funny and raucous rendition of Carone's hearing.
Actor Jason Bateman returned for his second time as host of "Saturday Night Live," joking that he must have made a great first impression considering the last time he hosted was 15 years ago. 
Bateman recounted a behind-the-scenes story from his first time hosting, where the show got a chimpanzee for a sketch, and the chimp tried to attack Bateman at the end of the show. 
While the story sounded far-fetched, Bateman backed up his claims with footage of the chimp baring his teeth and attempting to bite the "Ozark" actor. 
Bateman also explained that the monkey "apologized" later on, though the host joked he had the animal "destroyed" later that night.
Pete Davidson once again flaunted his rapping skills with "Stu," a parody of Eminem's 2000 song "Stan," about a crazed fan fixated on communicating with Eminem. Except Davidson's version was aimed at Santa Claus.
The comedian reenacted Eminem's iconic music video, erratically writing letters to Santa Claus, begging him for a PlayStation 5.  
Davidson's bleach blonde hair and tattoos may have passed him for Eminem if not for a well-timed cameo from "the real Slim Shady."
Michael Che and Colin Jost returned to host "Weekend Update," this week hosting Pete Davidson to talk about the recent anti-lockdown protests on Davidson's native Staten Island.
When Jost asked Davidson if he is against the protests, Davidson responded with a smile: "I mean, kind of, but I'm also just happy I'm not the first thing people think of when they say 'what's the worst thing about Staten Island?'" 
Morgan Wallen, the country singer who was axed from the SNL lineup in October for being filmed maskless at a busy bar, returned to the show as the musical guest – and to make fun of himself.
In the sketch set at the Alabama bar that Wallen was filmed breaking COVID protocol, Wallen met a couple of his future selves who warned Wallen about the consequences of his actions at the bar, but even they had a tough time leaving the party.
Wallen also performed two of his own songs, including "7 Summers." 
Scarlett Johansson Gets Slimed by Colin Jost While Accepting MTV's Generation Award – NBC4 Washington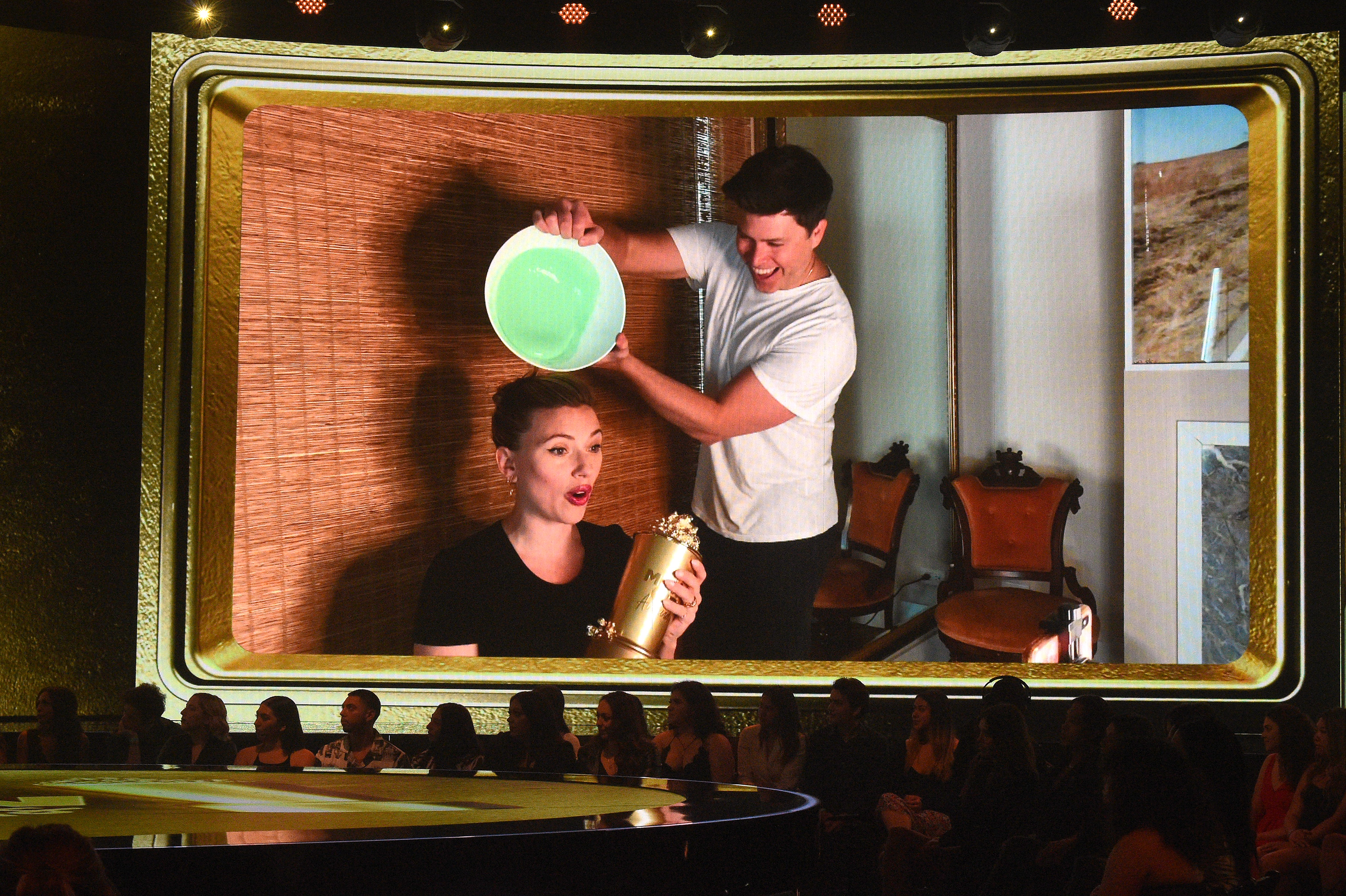 Scarlett Johansson got a surprise from husband Colin Jost during the 2021 MTV Movie & TV Awards.
The 36-year-old "Black Widow" star accepted the Generation Award with a pre-taped segment that aired during the awards ceremony on Sunday. She began her acceptance speech by thanking her co-workers from throughout her career, in addition to expressing appreciation for her fans.
"I never would have been able to continue to evolve as an actor for the last 30 years without the support and dedication of so many cast and crew members that make up the nomadic traveling-circus family that are movie sets, and the dedication and hard work of so many people that goes into making any movie continues to inspire me as a performer," Johansson said.
"Thank you so much to my fans for riding the wave with me and for supporting my career so I can continue to have the good fortune to pursue the job that is my passion," she continued. "I realize what an absolute gift it is to be able to have the opportunity to do what I love, and I couldn't do it without your continued support."
Things got wild as Johansson was in the process of introducing a previously unseen clip from "Black Widow" when Jost walked over to her in their home and poured a bowl of green slime over her head.
Scarlett Johansson's Best Looks
"What the f—?" Johansson said.
"MTV! You got slimed," Jost responded.
After the "Rough Night" actress explained that the 38-year-old "Saturday Night Live" star was thinking of Nickelodeon, he replied, "I'm very, very sorry."
She fired back, "Just get a towel," and then wouldn't let him attempt to dab her face with it.
In introducing the star prior to the segment, Billy Porter quipped, "She's the only Oscar nominee I know who can bench press more than Chris Hemsworth and look hotter doing it."
Earlier this month, a press release announced Johansson would receive the award.
"The highly coveted 'Generation Award' celebrates beloved actors whose diverse contributions to both film and television have turned them into household names," the statement said in part.
Previous recipients include Dwayne Johnson, Reese Witherspoon, Jamie Foxx, Adam Sandler, Will Smith, Sandra Bullock, Tom Cruise, Chris Pratt and Robert Downey Jr.
Prior to the Generation Award, Johansson had been nominated for six MTV Movie & TV Awards prizes over the years. She nabbed the golden popcorn in 2013 for "Best Fight" for "The Avengers."