Chet Hanks Defends Use of Patois Despite Angering Some Jamaicans
30-year-old Chet Hanks has once again found himself at the center of another conversation about his rights, or lack thereof, to imitate a Jamaican accent. Hanks' take on the matter is that he's not doing it to offend anyone; however, some critics see his constant use as offensive. How do Jamaicans living on the island feel about this?
The latest discussion took place on the growing audio-only social media platform Clubhouse. According to the son of the famous movie star Tom Hanks, he will still be speaking in the native island tongue. Hanks defended his case using a hypothetical scenario involving himself binge-watching English films.
"Guys, it's really as simple as this," he began. "If I get on a binge and I watch a bunch of English gangster movies, and I go around, ordering a coffee at Starbucks and I'm with my friend and I go, 'Give me a latte, guvna.' I'm not sh***ing on English people."
He continued, "It's not coming from a place of like, 'Oh, I'm going to s—t on these people. You know what I mean?"
Much like his prior explanation to justify the first time he tried out the accent in public, this one didn't swing the way he wanted. The chat was shared on Twitter, where users chimed in and reminded Hank that Britain's history and that of Jamaica and other colonies are very different. "English people were not oppressed," came many of the comments.
Hank acknowledged the same while reiterating that he was "not trying to offend anybody."
As mentioned, this is not the first time Hanks is trying the accent. He jokingly used it on the red carpet at the 2020 Golden Globe in January.
"BIG UP FIMI WHOL FAMILY SOON COM AT DI AWARDS NA SEEN. CHUNE IN," he said.
He received a heavy serving of backlash for the stunt, ultimately forcing him to address the matter on social media, once again defending his use of the Jamaica patios. During a session titled "Chet Chat Vol. VI (Part 2): Cultural Appropriation," he said,
"If you don't have a problem with a Black person wearing cowboy hats and cowboys boots and loving country music, then why do you have a problem with white people wearing braids and gold teeth and getting into hip-hop music? It's this whole idea of theft, of they steal it from us."
The Jamaican Twitter community usually does a good job at voicing the general tone of how persons feel about a topic, and by the looks of things, Jamaicans are not pressed about the matter and actually welcome the act. The same outstretched hand was given to Adele when she posted an image of herself sporting Bantu knots while wearing a top fashioned off the Jamaican National Flag.
The culture of Jamaica has proven to be a rich and vibrant one, which many people try to emulate. Should all non-Jamaicans, whether black, white, or yellow, refrain from speaking patios or embrace any aspect of the culture? Share your thoughts below as you check out the discussion on Twitter.
Seems African American's(AA) just assumed,all Jamaicans would get offended.When someone likes our culture enough to duplicate it.I have witness AA faking a jamaican accent,in songs & television for years.This isn't a world offense. Now if he is racist, I can dislike him for that!

— E. Darcy (@Samara86790460) December 3, 2020
Because we don't care people copy our voice all the time cause they think it's funny ????? it's not a big deal to us

— Adi (@Adi43331807) December 3, 2020
Couple things here I've been to Jamaica and theirs all shades of Jamaican not just black.
Another thing is this just shows how Reggae still continues to impact and influence the world. I know it can be seen as a culture Vulture move but think how man bands have the Reggae vibe. pic.twitter.com/BGKSjzXGYo

— Ct-Psalm-ist????????? (@ctpsalmist) December 3, 2020
It is the trying to make Jamaicans mad at something they aren't mad about for me.

Is this bullying? Lol.

— A.V. Thee Crafter (@AvDoesWhat) December 3, 2020
Usain Bolt Wants To Marry Kasi Bennett 'For Sure', Talks Being A Father Of 3
Usain Bolt, the fastest man in the world, is looking to make things official with Kasi Bennett and get married in the future.
These days the sprint legend is less focused on his boots touching the Stobitan. He is more preoccupied with managing his endorsements, building businesses, making music, and last but certainly the highest on the list in terms of priority, being a great family man. Usain Bolt chatted with The Mirror days before the start of the 2021 Olympic Games in Tokyo, Japan, where he gave fans an insight into his role as a dad to his three kids. The speedster leads with caution as he expresses that being a dad to 3 babies is no easy feat.
"Listen, three babies for sure. When they start crying all together, it's like pandemonium. You don't know what to do. So it's difficult but it's so worth it," Bolt responded when questioned if fathering is harder than running a 100 dash in under 10 seconds.
Bolt shocked fans last month when he announced the arrival of twins Thunder and Saint Leo on Father's Day. The 34-year-old shared that while he has been getting a lot of props for the names he selected, his girlfriend of 6 years needed a little bit of convincing.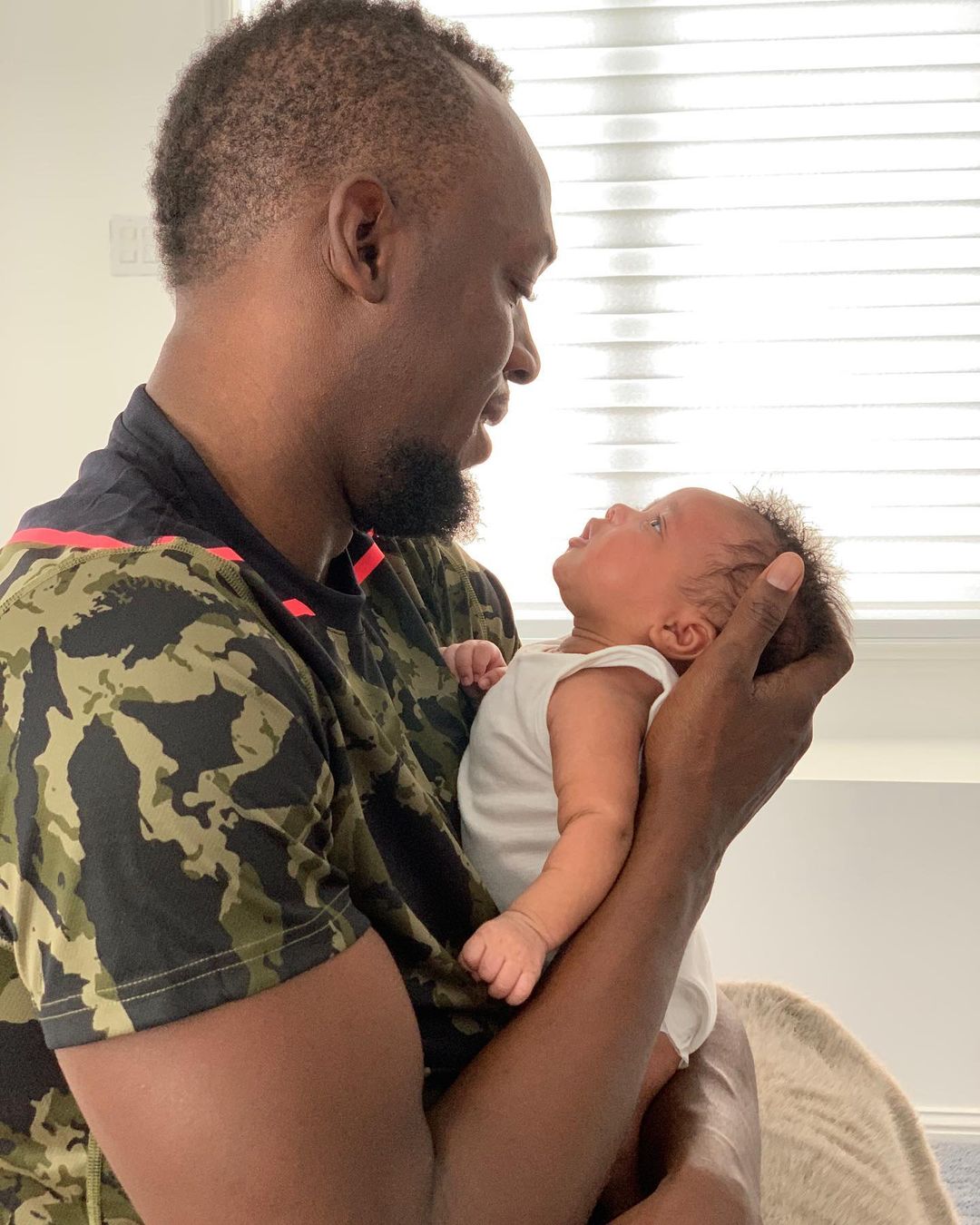 "The rule was, when we were expecting Olympia, that if we had a girl Kasi got to name her. And if a boy, I got to name them. So that's how it worked out. She wasn't too hot on Thunder Bolt. But then she was like, 'All right, let's do it'," he revealed.
While both parents are thrilled, some fans felt a bit jaded to know they had been kept out of the loop for the entirety of the pregnancy. Bolt explains that this was a strategic move to ensure Kasi Bennett was not pressured.
"People always want to ask questions or want to come over and hang out," Bolt said. "The last time, people were like, 'Oh my God' and all over her on social media. And she just wanted to have a quiet pregnancy."
Bolt hopes to keep his queen happy for eternity, as he declares, "I'm definitely going to get married in the future, for sure."
His future plans also include seeing his children grow up and trodding their own paths, which doesn't have to be a role in sports.
"People always tell you, the moment you get your first child it's going to change your life," Bolt said. "It's something that I really appreciate and love. And I'm just really looking forward to seeing how they're going to grow, or if they want to do track and field – or not do any sports."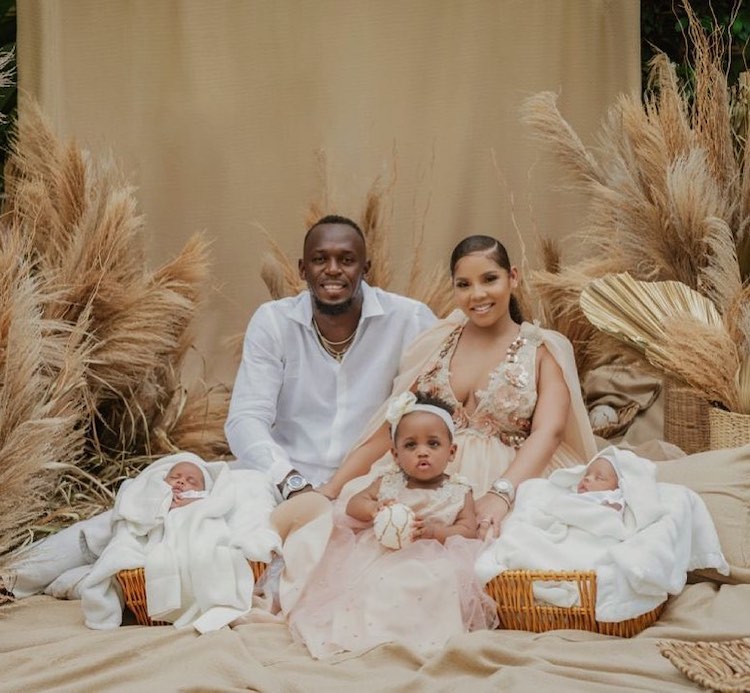 In addition to his very own Olympe Rosé champagne, Usain Bolt has recently partnered with Michelob Ultra to promote their ultra-light beer. No wonder the producer is able to kick back and relax to the sounds of his own productions. His most recent release is titled "It's A Party" and features his usual sidekick and manager, NJ. The two have previously connected on "Living The Dream," which scored over half a million views on Youtube. Bolt's production house has also worked with some of the top names in dancehall on projects such as the Clockwork Riddim compilation released earlier this year.
"After all this work, if you don't enjoy yourself, what's the point?" Bolt.