Merriam-Webster's Top Word of 2020 Not a Shocker: Pandemic – NBC4 Washington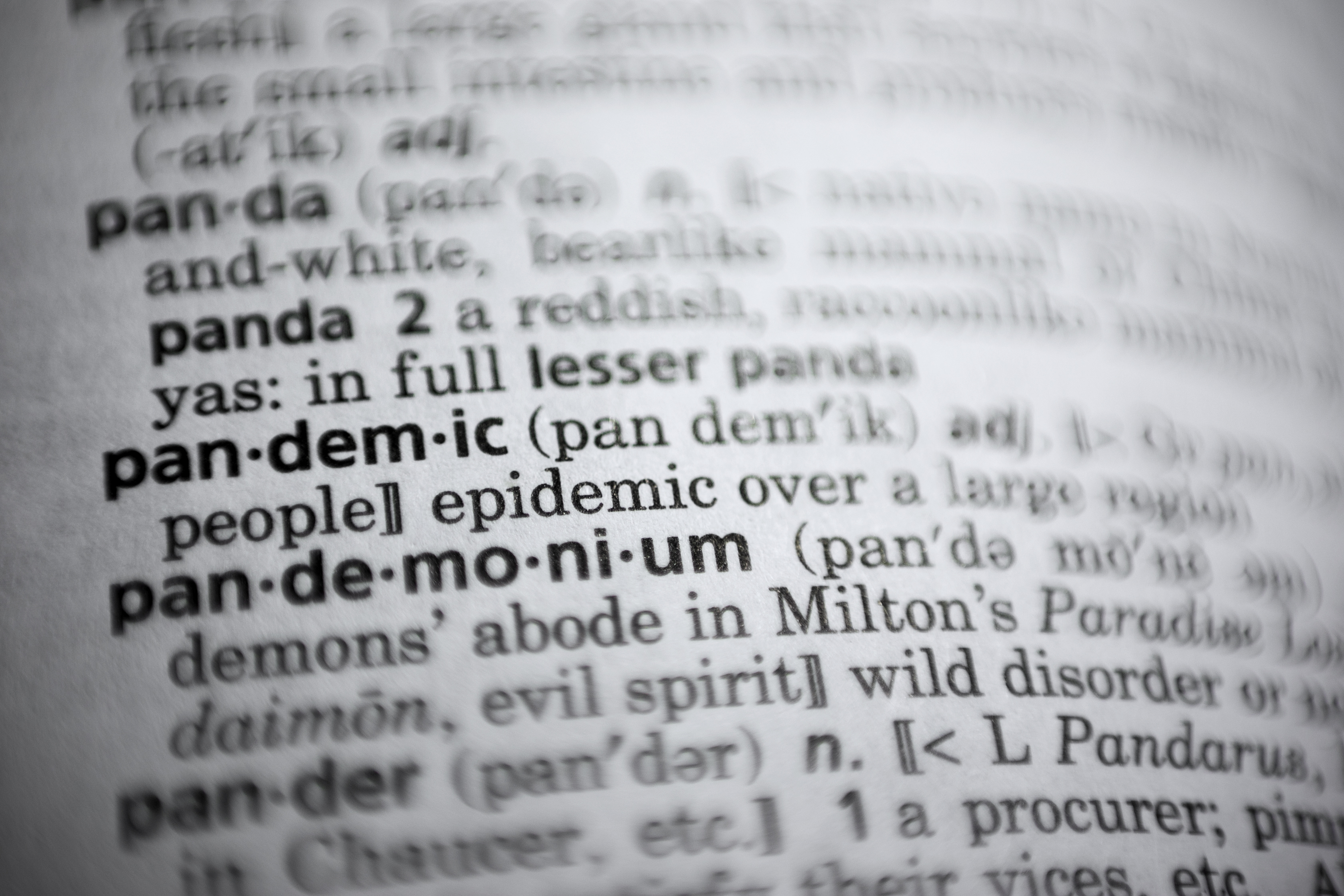 If you were to choose a word that rose above most in 2020, which word would it be?
Ding, ding, ding: Merriam-Webster on Monday announced "pandemic" as its 2020 word of the year.
"That probably isn't a big shock," Peter Sokolowski, editor at large for Merriam-Webster, told The Associated Press.
"Often the big news story has a technical word that's associated with it and in this case, the word pandemic is not just technical but has become general. It's probably the word by which we'll refer to this period in the future," he said.
The word took on urgent specificity in March, when the coronavirus crisis was designated a pandemic, but it started to trend up on Merriam-Webster.com as early January and again in February when the first U.S. deaths and outbreaks on cruise ships occurred.
On March 11, when the World Health Organization declared the novel coronavirus outbreak a global pandemic, lookups on the site for pandemic spiked hugely. Site interest for the word has remained significantly high through the year, Sokolowski said.
By huge, Sokolowski means searches for pandemic on March 11 were 115,806% higher than lookups experienced on the same date last year.
Pandemic, with roots in Latin and Greek, is a combination of "pan," for all, and "demos," for people or population. The latter is the same root of "democracy," Sokolowski noted. The word pandemic dates to the mid-1600s, used broadly for "universal" and more specifically to disease in a medical text in the 1660s, he said.
That was after the plagues of the Middle Ages, Sokolowski said.
He attributes the lookup traffic for pandemic not entirely to searchers who didn't know what it meant but also to those on the hunt for more detail, or for inspiration or comfort.
"We see that the word love is looked up around Valentine's Day and the word cornucopia is looked up at Thanksgiving," Sokolowski said. "We see a word like surreal spiking when a moment of national tragedy or shock occurs. It's the idea of dictionaries being the beginning of putting your thoughts in order."
Merriam-Webster acted quickly in March to add and update entries on its site for words related to the pandemic. While "coronavirus" had been in the dictionary for decades, "COVID-19" was coined in February. Thirty-four days later, Merriam-Webster had it up online, along with a couple dozen other entries that were revised to reflect the health emergency.
"That's the shortest period of time we've ever seen a word go from coinage to entry," Sokolowski said. "The word had this urgency."
Coronavirus was among runners up for word of the year as it jumped into the mainstream. Quarantine, asymptomatic, mamba, kraken, defund, antebellum, irregardless, icon, schadenfreude and malarkey were also runners up based on lookup spikes around specific events.
Particularly interesting to word nerds like Sokolowski, a lexicographer, is quarantine. With Italian roots, it was used during the Black Death of the 1300s for the period of time a new ship coming into port would have to wait outside a city to prevent disease. The "quar" in quarantine derives from 40, for the 40 days required.
Spikes for mamba occurred after the January death of Kobe Bryant, whose nickname was the Black Mamba. A mass of lookups occurred for kraken in July after Seattle's new National Hockey League franchise chose the mythical sea monster as its name, urged along by fans.
Country group Lady Antebellum's name change to Lady A drove dictionary interest in June, while malarkey got a boost from President-elect Joe Biden, who's fond of using the word. Icon was front and center in headlines after the deaths of U.S. Rep. John Lewis and U.S. Supreme Court Justice Ruth Bader Ginsberg.
The Merriam-Webster site has about 40 million unique monthly users and about 100 million monthly page views.
Scarlett Johansson Gets Slimed by Colin Jost While Accepting MTV's Generation Award – NBC4 Washington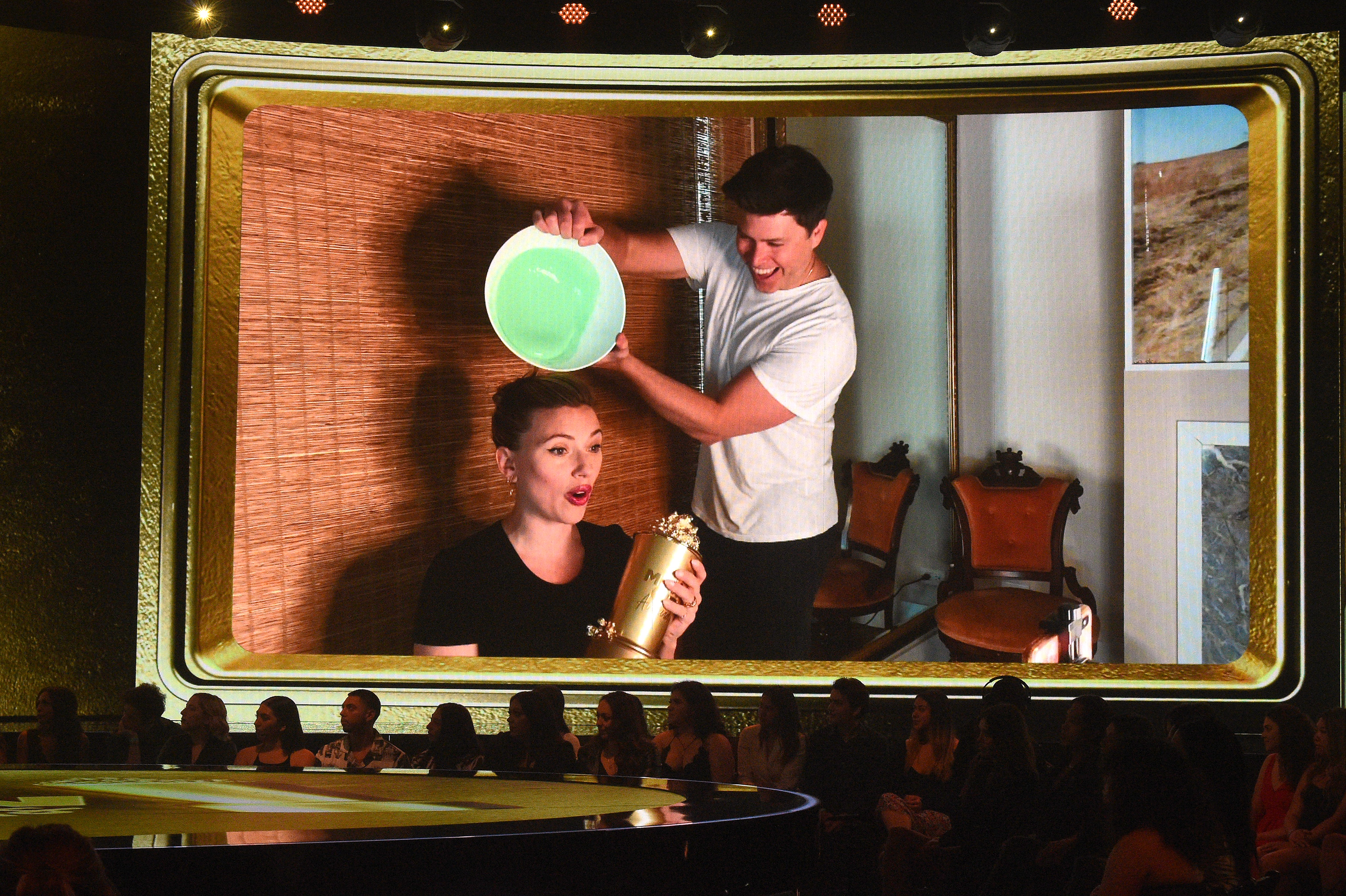 Scarlett Johansson got a surprise from husband Colin Jost during the 2021 MTV Movie & TV Awards.
The 36-year-old "Black Widow" star accepted the Generation Award with a pre-taped segment that aired during the awards ceremony on Sunday. She began her acceptance speech by thanking her co-workers from throughout her career, in addition to expressing appreciation for her fans.
"I never would have been able to continue to evolve as an actor for the last 30 years without the support and dedication of so many cast and crew members that make up the nomadic traveling-circus family that are movie sets, and the dedication and hard work of so many people that goes into making any movie continues to inspire me as a performer," Johansson said.
"Thank you so much to my fans for riding the wave with me and for supporting my career so I can continue to have the good fortune to pursue the job that is my passion," she continued. "I realize what an absolute gift it is to be able to have the opportunity to do what I love, and I couldn't do it without your continued support."
Things got wild as Johansson was in the process of introducing a previously unseen clip from "Black Widow" when Jost walked over to her in their home and poured a bowl of green slime over her head.
Scarlett Johansson's Best Looks
"What the f—?" Johansson said.
"MTV! You got slimed," Jost responded.
After the "Rough Night" actress explained that the 38-year-old "Saturday Night Live" star was thinking of Nickelodeon, he replied, "I'm very, very sorry."
She fired back, "Just get a towel," and then wouldn't let him attempt to dab her face with it.
In introducing the star prior to the segment, Billy Porter quipped, "She's the only Oscar nominee I know who can bench press more than Chris Hemsworth and look hotter doing it."
Earlier this month, a press release announced Johansson would receive the award.
"The highly coveted 'Generation Award' celebrates beloved actors whose diverse contributions to both film and television have turned them into household names," the statement said in part.
Previous recipients include Dwayne Johnson, Reese Witherspoon, Jamie Foxx, Adam Sandler, Will Smith, Sandra Bullock, Tom Cruise, Chris Pratt and Robert Downey Jr.
Prior to the Generation Award, Johansson had been nominated for six MTV Movie & TV Awards prizes over the years. She nabbed the golden popcorn in 2013 for "Best Fight" for "The Avengers."