Martha Stewart Says She Still Has That Crocheted Poncho She Wore Leaving Prison – NBC4 Washington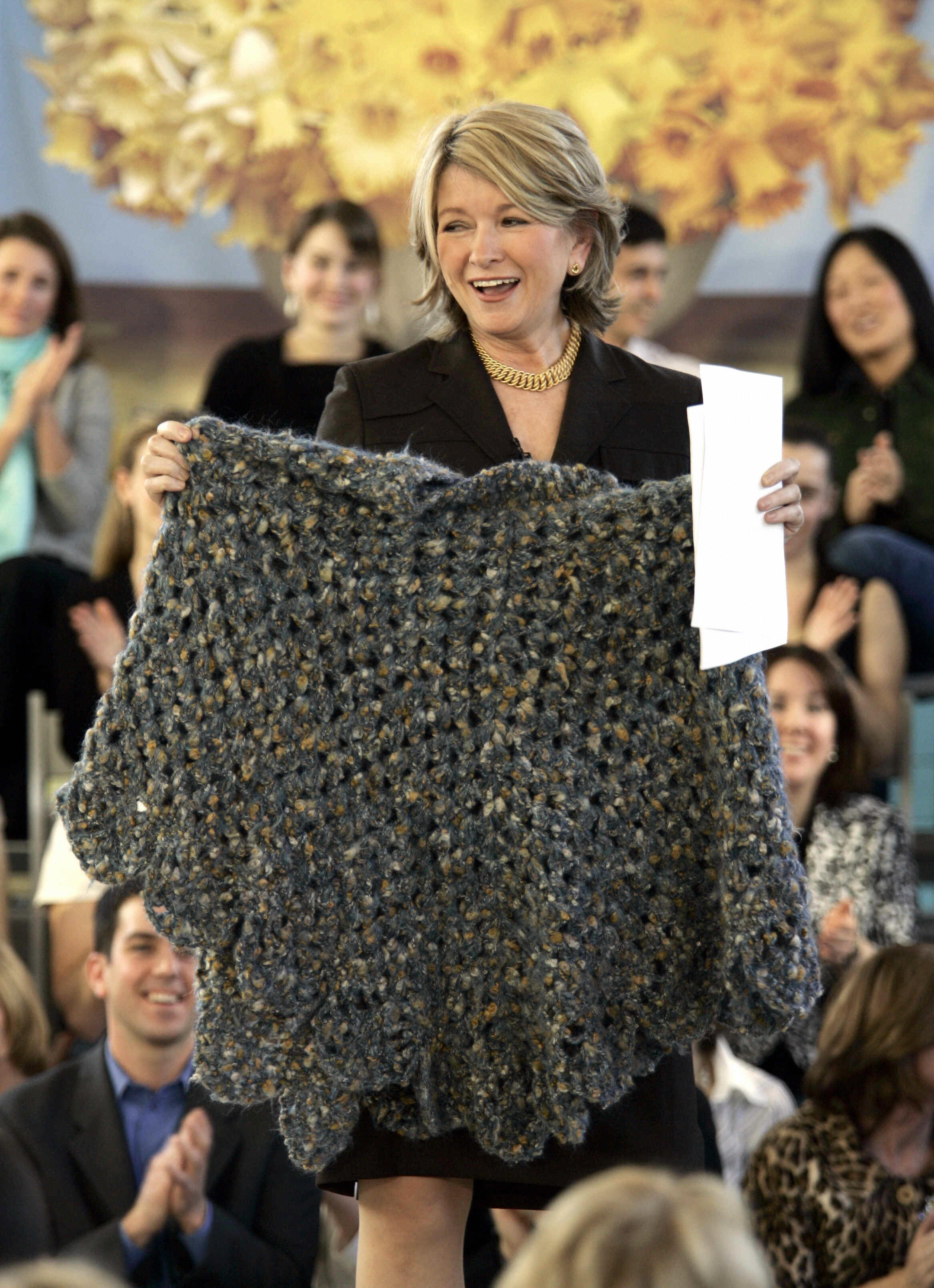 Martha Stewart still has a memento from her time in prison.
The lifestyle guru, 79, revealed that she kept the crocheted poncho that she wore the day she was released from the Federal Prison Camp in Alderson, West Virginia, in 2005.
Stewart served five months after being convicted on multiple felony charges, including conspiracy and obstruction of justice, in connection with an insider trading investigation.
Stewart mentioned the famous sweater as she reflected on her life in a recent interview with People. She talked about how being a strong person has helped her get through many tough situations in life, from her 1990 divorce to her incarceration.
"Getting divorced was a terrible thing for me, because we were the first to divorce in my family," she said. "And that we haven't spoken since the divorce is even more painful. But I'm very strong, and I'm very motivated to get on with life. Even when I went away (to Alderson Federal Prison Camp in West Virginia) for five months, I got through it. I learned how to crochet. I still have the gorgeous crocheted poncho (that I wore leaving prison). It's in the attic."
The poncho was made by a fellow inmate, Stewart has previously said.
"This was made by a friend of mine, a wonderful lady," she said as she held up the poncho at a company meeting shortly after her release, according to a 2005 New York Times report. "The yarn came from the commissary. The night before I left, she handed me this — not wrapped, because there is no wrapping paper — and she said, 'Wear it in good health.'"
Stewart made a comeback following her time in prison, and her media empire has only continued to grow. She recently celebrated the 30th anniversary of her lifestyle magazine, Martha Stewart Living, and last month she released her 97th book, "Cake Perfection."
The DIY maven is also becoming something of a social media legend. The internet blew up in July when she posted a sultry poolside selfie on Instagram.
"I was trying to take a picture of the beautiful turquoise planter at the end of the pool, but the camera was on me, so I just snapped it," she told People in her recent interview. "It looked so good, so I posted it. I didn't know what a 'thirst trap' was, but now I do. Now I'm looking for the next thirst trap. I love doing those promiscuous, provocative things, because it's just fun."
Stewart definitely tries to keep things fun and fresh, which might explain her brilliant collaboration with Snoop Dogg. She and the rapper teamed up to host a cooking variety show, "Martha & Snoop's Potluck Dinner Party," which has aired for three seasons.
It may seem like an unexpected pairing, but Stewart said rap has "always interested" her.
"That kind of poetry really resonates with me," she told People. "I listen to the words, although some of them might be pretty hard to take."
This story first appeared on TODAY.com. More from TODAY:
Scarlett Johansson Gets Slimed by Colin Jost While Accepting MTV's Generation Award – NBC4 Washington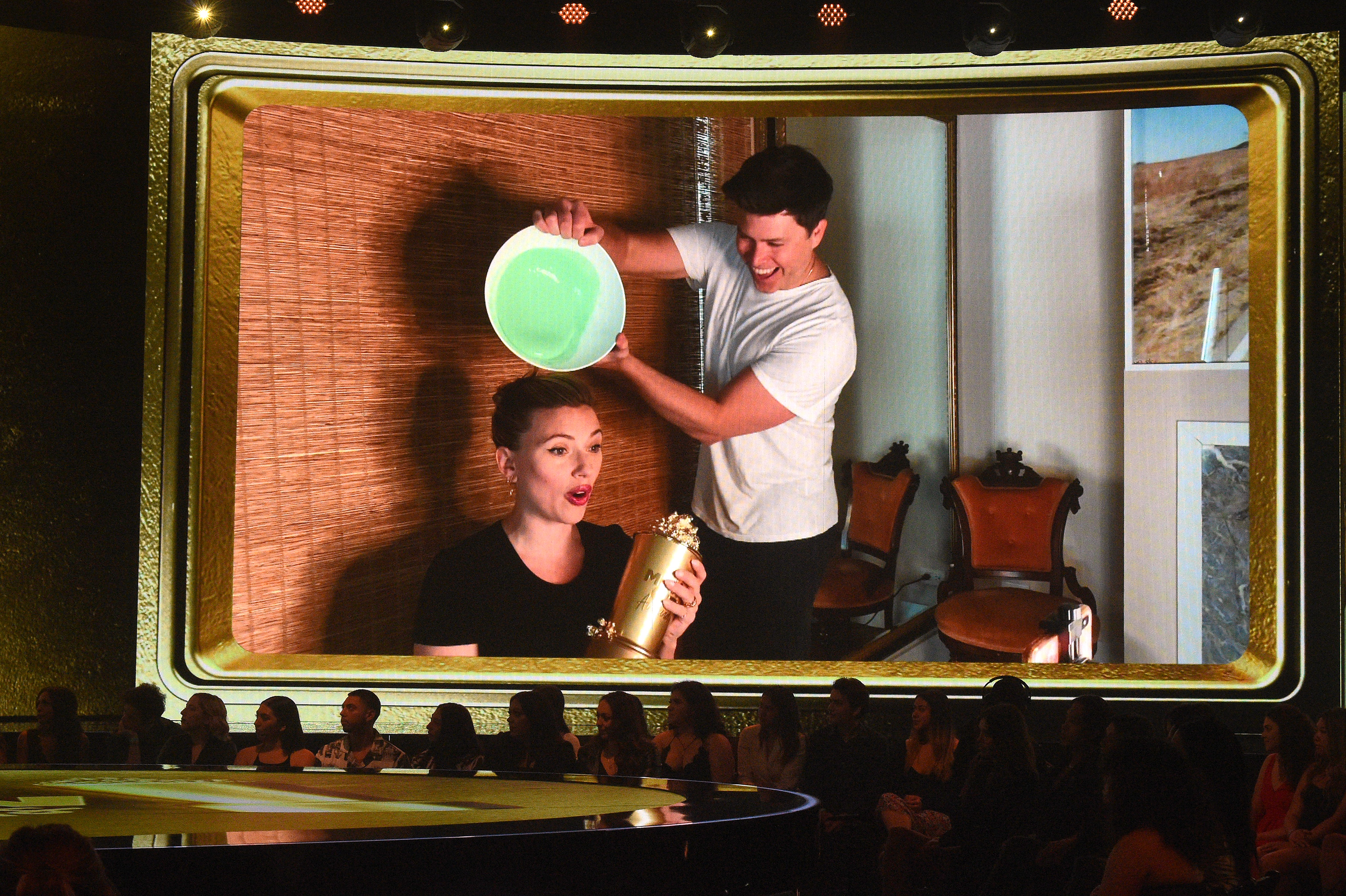 Scarlett Johansson got a surprise from husband Colin Jost during the 2021 MTV Movie & TV Awards.
The 36-year-old "Black Widow" star accepted the Generation Award with a pre-taped segment that aired during the awards ceremony on Sunday. She began her acceptance speech by thanking her co-workers from throughout her career, in addition to expressing appreciation for her fans.
"I never would have been able to continue to evolve as an actor for the last 30 years without the support and dedication of so many cast and crew members that make up the nomadic traveling-circus family that are movie sets, and the dedication and hard work of so many people that goes into making any movie continues to inspire me as a performer," Johansson said.
"Thank you so much to my fans for riding the wave with me and for supporting my career so I can continue to have the good fortune to pursue the job that is my passion," she continued. "I realize what an absolute gift it is to be able to have the opportunity to do what I love, and I couldn't do it without your continued support."
Things got wild as Johansson was in the process of introducing a previously unseen clip from "Black Widow" when Jost walked over to her in their home and poured a bowl of green slime over her head.
Scarlett Johansson's Best Looks
"What the f—?" Johansson said.
"MTV! You got slimed," Jost responded.
After the "Rough Night" actress explained that the 38-year-old "Saturday Night Live" star was thinking of Nickelodeon, he replied, "I'm very, very sorry."
She fired back, "Just get a towel," and then wouldn't let him attempt to dab her face with it.
In introducing the star prior to the segment, Billy Porter quipped, "She's the only Oscar nominee I know who can bench press more than Chris Hemsworth and look hotter doing it."
Earlier this month, a press release announced Johansson would receive the award.
"The highly coveted 'Generation Award' celebrates beloved actors whose diverse contributions to both film and television have turned them into household names," the statement said in part.
Previous recipients include Dwayne Johnson, Reese Witherspoon, Jamie Foxx, Adam Sandler, Will Smith, Sandra Bullock, Tom Cruise, Chris Pratt and Robert Downey Jr.
Prior to the Generation Award, Johansson had been nominated for six MTV Movie & TV Awards prizes over the years. She nabbed the golden popcorn in 2013 for "Best Fight" for "The Avengers."