'If 2020 Was a School Photo' – NBC4 Washington
Brittany Kinley and her family were really excited when they found out their son, Mason, would be able to attend kindergarten in person this year at his Mansfield school.
She was hoping it would mean a little normalcy in a year that has been anything but.
Kinley never imagined that the kindergarten pictures she could not wait to see would become a viral sensation all because she didn't want a certain selection on the order form.
"When I was filling out the form there was a blank for his name and I didn't want any personalization on the photo and it wouldn't let me bypass that blank and move to the next spot in the ordering," Kinley said. "So I just put 'I DON'T WANT THIS' in the blank and it ended up printing directly on the photos!"
Kinley said the unwanted surprise wasn't funny at first.
"I was so excited to get the envelope in the mail, I opened it and looked at the photos and actually didn't even notice until later that night when I went to give my mother-in-law one and we all saw it. At first, I was disappointed because it was his first official school photo but then we all started dying laughing at it," Kinley said.
She posted it to her Facebook page with the hashtag "if 2020 was a school photo" and it immediately went viral getting the attention of Today.com/trending.
The company has contacted her and will be reprinting the photos.
"I think 2020 has been such a hard year for everyone and people need some positivity and a good laugh! I've gotten so many messages from people saying they haven't laughed this hard all year and that it made their day," Kinley said. "I never thought it would have that effect but I'm so glad we can spread laughter in a crazy time like this."
Kinley says one of her favorite messages that made the "mom fail" 100% worth it was, "This was such a 2020 move!"
Not The Only One
And another mom in Argyle ran into a similar issue with her 4th grader's photo.
Former NBC 5 employee Jane Sayres typed "No thank you" in the submission form when she didn't want her son Declan's name printed on the photo and when the photo arrived home, she posted it on Facebook saying, "Ahh 2020 has jokes!"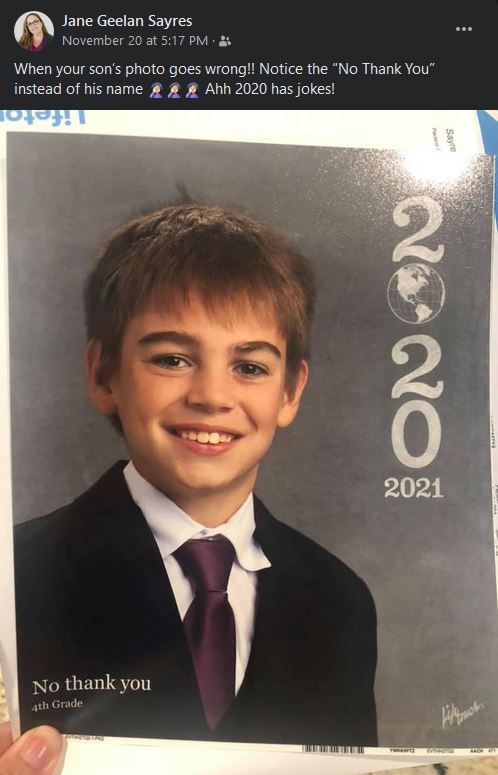 Lifetouch also offered to reprint Declan's photo, Sayres she said he loves it and wants to keep it.
We feel the same about 2020 as these two moms — "we don't want this" and "no thank you 2020!"
Scarlett Johansson Gets Slimed by Colin Jost While Accepting MTV's Generation Award – NBC4 Washington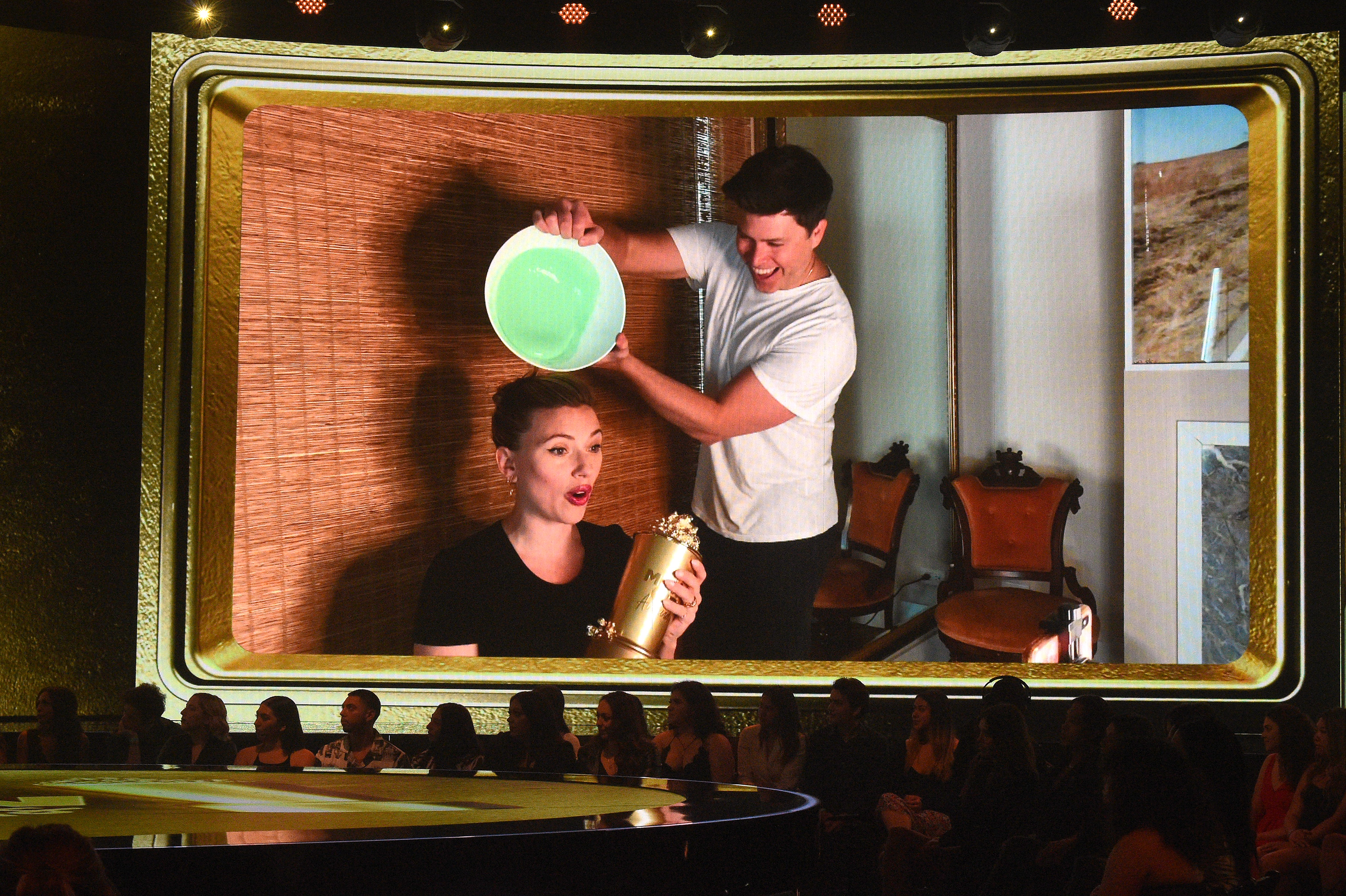 Scarlett Johansson got a surprise from husband Colin Jost during the 2021 MTV Movie & TV Awards.
The 36-year-old "Black Widow" star accepted the Generation Award with a pre-taped segment that aired during the awards ceremony on Sunday. She began her acceptance speech by thanking her co-workers from throughout her career, in addition to expressing appreciation for her fans.
"I never would have been able to continue to evolve as an actor for the last 30 years without the support and dedication of so many cast and crew members that make up the nomadic traveling-circus family that are movie sets, and the dedication and hard work of so many people that goes into making any movie continues to inspire me as a performer," Johansson said.
"Thank you so much to my fans for riding the wave with me and for supporting my career so I can continue to have the good fortune to pursue the job that is my passion," she continued. "I realize what an absolute gift it is to be able to have the opportunity to do what I love, and I couldn't do it without your continued support."
Things got wild as Johansson was in the process of introducing a previously unseen clip from "Black Widow" when Jost walked over to her in their home and poured a bowl of green slime over her head.
Scarlett Johansson's Best Looks
"What the f—?" Johansson said.
"MTV! You got slimed," Jost responded.
After the "Rough Night" actress explained that the 38-year-old "Saturday Night Live" star was thinking of Nickelodeon, he replied, "I'm very, very sorry."
She fired back, "Just get a towel," and then wouldn't let him attempt to dab her face with it.
In introducing the star prior to the segment, Billy Porter quipped, "She's the only Oscar nominee I know who can bench press more than Chris Hemsworth and look hotter doing it."
Earlier this month, a press release announced Johansson would receive the award.
"The highly coveted 'Generation Award' celebrates beloved actors whose diverse contributions to both film and television have turned them into household names," the statement said in part.
Previous recipients include Dwayne Johnson, Reese Witherspoon, Jamie Foxx, Adam Sandler, Will Smith, Sandra Bullock, Tom Cruise, Chris Pratt and Robert Downey Jr.
Prior to the Generation Award, Johansson had been nominated for six MTV Movie & TV Awards prizes over the years. She nabbed the golden popcorn in 2013 for "Best Fight" for "The Avengers."