Pregnant Summer Walker Blasts Baby Daddy London On Da Track Calls Him "Bum Ass Ni**a"
A very pregnant Summer Walker is calling her baby daddy London On Da Track a "bum ass ni**a" in a fiery Instagram post.
Summer Walker seems to be done with London On Da Track for good as the two trade scorching jabs at each other Friday night. In Stories posted on Instagram, Summer, who has been dating the hip hop producer and is also pregnant with his child, called her future baby daddy a bum and a b**ch.
"I should really out this bum a** ni**a @londonondatrack. I could really f**k up life…lol but ….I'm not," she said while adding, "for now, lol, for now ima just take my L," insinuating that she might do damage to him later on.
In a subsequent post, she added "a whole b**ch." She went on to blast men for not stepping up and being the men of the household and communities – "black men gotta start doing better when it comes to being a father."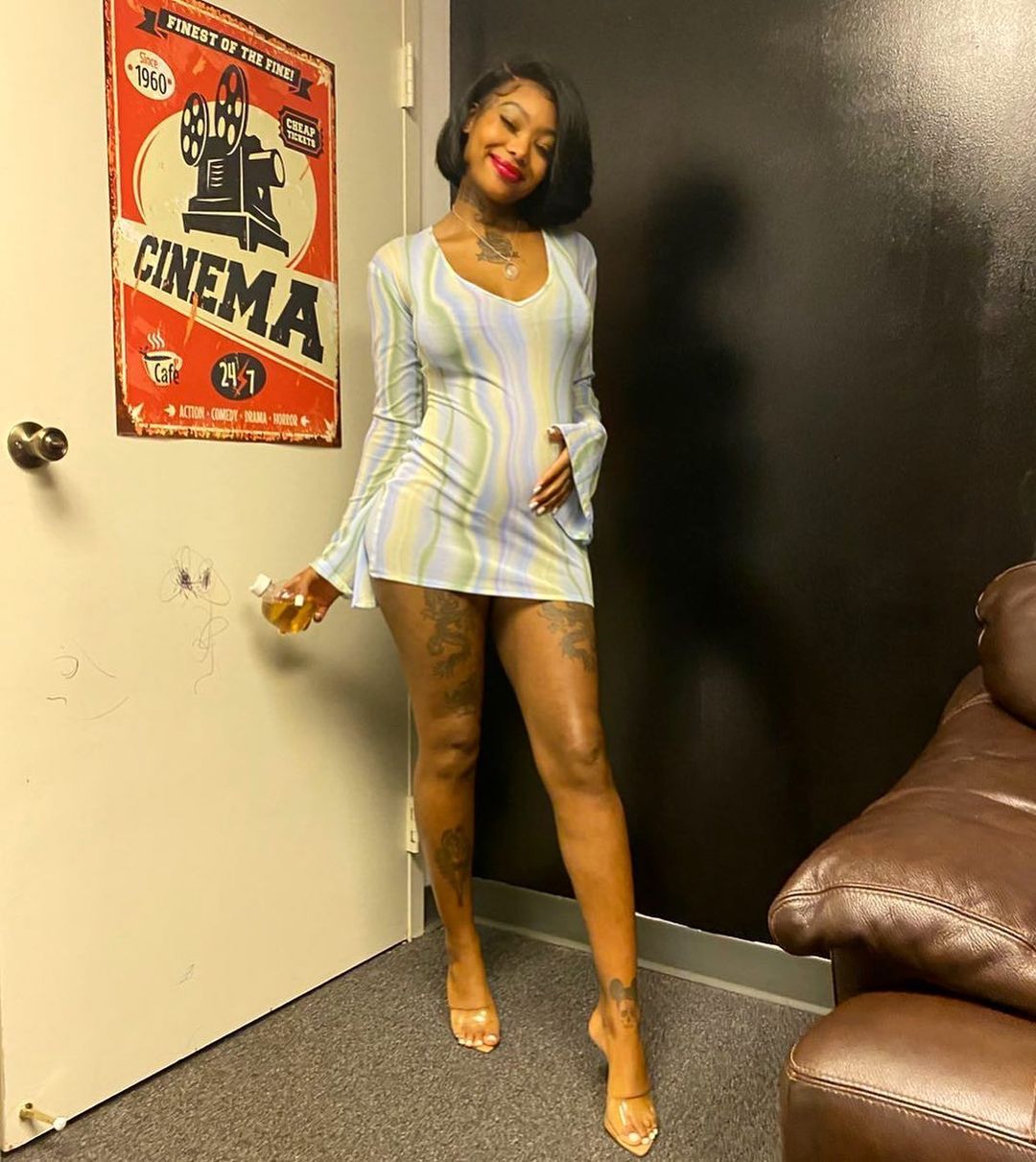 She added, "my grandfather lame, my father lame, and dis ni**a male. Lol and I guess the cycle will just continue. I guess ni**as still dealing with the shackles of mental slavery or some sh*t, back when white men ripped you from your families and beat you to death if you tried to protect them. It goes deep. Sh*ts really sad."
The mega-hit producer has not responded to Summer. However, his behavior doesn't sound like it's new or should be news to Summer. He has been accused by the mothers of his children in the past of not taking up the responsibility of being a good father.
The couple has been dating for a year but went through several splits. Fans thought it was over in April for the couple, but they were seen together again, sparking rumors that they had rekindled their relationship.
Last month, she revealed on her @galactawhore Instagram account that she was single. She also insinuated that London did the bare minimum in the relationship.
She posted, "officially single. Eventually you have to give some kind of f**k about yourself. It's the bare minimum for me."
She also appears to have regrets dating London posting, "…that's how it goes when everybody spiritually and mentally undeveloped. Idk wtf I was thinking. Well I guess I'll just put it all in an album, collect my millions, and be on my marry [sic] way."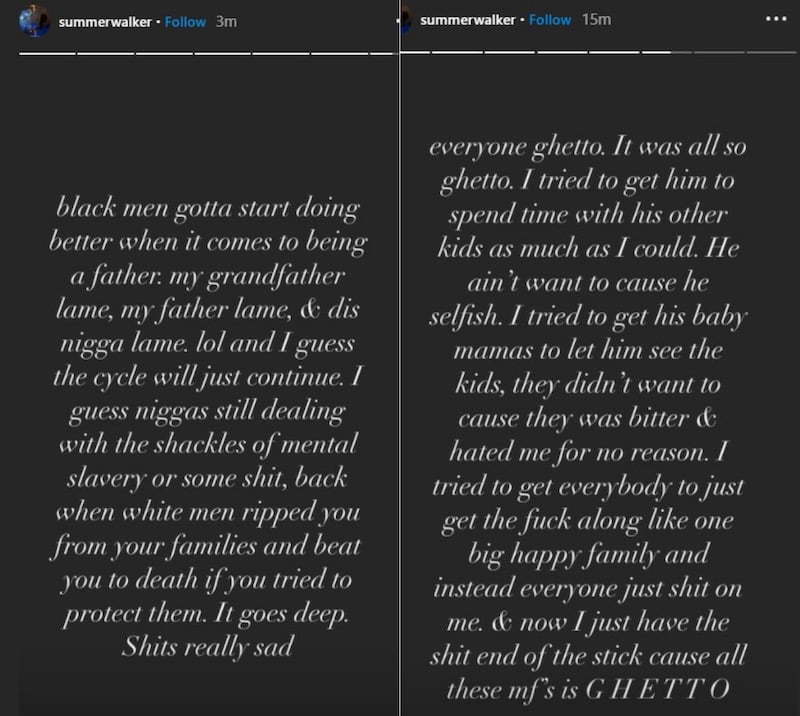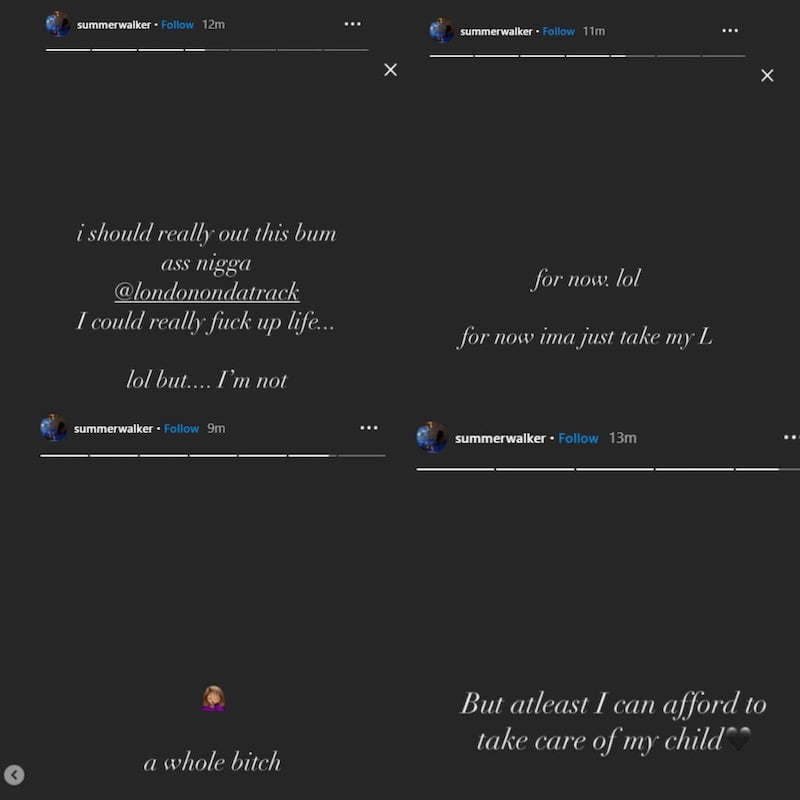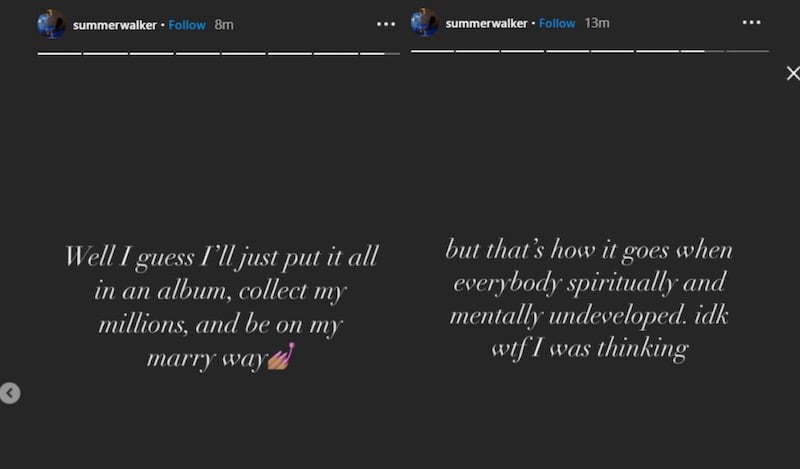 Summer Walker, who appears to be in the last trimester of her pregnancy, only officially confirmed the news last week after posting herself in a snug multi-colored dress with her obvious baby bump with several emojis. This, after she vehemently denied to fans that she was pregnant when they enquired after seeing her stomach appear to grow.
Her pregnancy news was first outed by another one of London's baby mama – Eboni Ivori, who claimed Summer Walker was pregnant while London had three open cases for child support for his other kids.
But London denied she was pregnant posting in stories – …no b**ch I'm bloated but y'all weird."
On the other hand, Summer is enjoying her pregnant body. In an Instagram video, she showed off her cute little baby bump as she prepared breakfast with some R&B music playing in the background.
Meanwhile, fans on her feed posts appear to make fun of her and the constant break ups. News of her blasting London On Da Track didn't seem to affect fans who believed that London was an absentee father in the lives of his children.
Bounty Killer Fix His Crown On 'King Of Kingston' Cover Art & Put Artists On Notice
Bounty Killer fix his dancehall crown on the cover art of his forthcoming album, King of Kingston. The dancehall legend used the opportunity to put every other artists dropping album this year on notice.
2021 has been the year for dancehall albums, and another major release is on the horizon. Veteran deejay Bounty Killer has announced that he will be dropping his hot new project, King of Kingston, sometime this year.
In true Bounty Killer style, the artiste gave the confirmation on Instagram yesterday (May 14), writing, "Y'album alerts the coming is near."
The Warlord has been regarded as one of the most entertaining dancehall acts of his day, and he ensured that this stayed fresh in the minds of his followers, as he bashed other entertainers who have released albums this year.
"Side Note: Since everybody and dem granny making album this year all of a sudden let me make this clear all who and who dropping dem little dumpling thing dweet fast and move bcuz when GIANT a feed up a pudding pan kerosene tin business in other words the BIGGEST BADDEST and the BEST dancehall Y'album for the last two decades is…………..LOADING," he wrote in the caption.
The timing of Bounty's announcement, along with the shady message, had fans thinking the artiste was taking a jab at Alkaline, who released his "Top Prize" album yesterday. Despite the dig (intentional or not), it's undeniable that Alkaline's album has been making waves even before its launch. "Top Prize" has been trending both locally and internationally, becoming the #1 pre-ordered album on all major streaming platforms, including Amazon and iTunes, in the week before it launched.
Still, Bounty's comments might not have been directed at the young artiste as several dancehall artists, both newcomers and veterans, have either launched or announced albums in the past few months. These include Vybz Kartel, Sean Paul, Masicka, Beenie Man, Shenseea, Popcaan, Jada Kingdom, and Intence.
It's clear that Bounty's album is one of the most highly anticipated. The comment section of his announcement was flooded with upbeat responses from fellow artists who expressed excitement about the album. Bugle commented, "Ready and a wait caz mi know it a go great [fire emojis]." Baby Cham also commented fire emojis, while Trelawny native Charly Black said, "Well turrrrrble [fire emojis]."
On another post that highlighted an image of Killer (which we assume is the album cover), Vybz Kartel also expressed anticipation, writing, "TPC [fire emojis]." The two have had their differences in the past but seem to have mended fences in recent years.
The deejay's last album was Ghetto Dictionary: The Art of War, which was released in 2002.
Bounty Killer is one of the greatest of all time in dancehall. The legend, often referred to as The General, rose to fame in the early 1990s when he cemented himself as a gritty hardcore deejay from Seaview Gardens in Kingston. His him community likely helped inspired the title of the album, King of Kingston.
Since his early days as a ruthless hardcore deejay, Bounty Killer went on to become one of the most celebrated names who ever pick up the mic. With numerous classics under his belt including several international collabs, fans are clued in for his upcoming project.