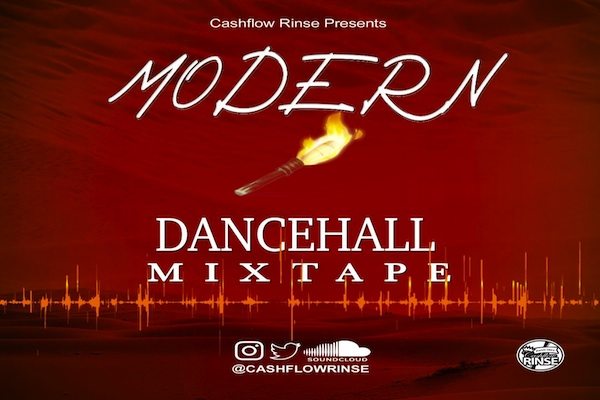 Titled Modern this new dancehall mixtape sports all the latest news track from top Jamaican stars like Vybz Kartel, Alkaline, Shaneil Muir, Intence, Skillibeng, Maestro Don, I Waata, Squash, Chronic Law, Shenseaa, Jahvilani, Tommy Lee Sparta, Aidonia and many many more.
Featuring also a couple of upcoming and trending new artists this new Cashflow projects has a bit for every palate.
Another super bad dancehall mixtape from one of baddest disck jock, available for free stream and free download clicking on the buttons posted below.
Check the full track listing Modern mix features more than forty tracks and will keep you company for almost a full hour.
DWNLD DJ CASHLOW MODERN MIXTAPE SINGLE TRACK
DWNLD DJ CASHLOW MODERN MIXTAPE TRACKED VERSION
1.RYGIN KING – GLU
2.ALKALINE FT STALK ASHLEY – INCOGNITO
3.TARRUS FT SHENSEEA – LIGHTER
4.SHANEIL MUIR FT BENCIL – YOU & I
5.ALKALINE – NUH WIFE
6.INTENCE – TOP GYAL
7.SKILLIBENG – FEAR NOT
8.SKILLIBENG – FIRE POWER
9.MAESTRO DON – IMPULSIVE BEHAVIOUR
10.INSIDEEUS – GUARD UP
11.SKILLIBENG – YK DAT GUH
12.FULLY BAD – WATCH DEH STYLE
13.INTENCE FT I WAATA – HAVOC
14.SQUASH FT VYBZ KARTEL & CHRONIC LAW – MONEY WE LOVE
15.RYTIKAL – STUNNA
16.JAHVILLANI FT RYTIAL – MURDAH
17.INTENCE – GUN EEDIAT
18.SKILLIBENG – WHO
19.INTENCE – PULL UP
20.SKILLIBENG – BADMAN TING
21.INTENCE – NUH TALK LONG
22.SKILLIBENG – CROCODILE TEETH
23.ALKALINE – TOTAL MURDER
24.I WAATA FT INTENCE – NUH TOO LIKE DEM
25.SHANEIL MUIR – HOAX
26.SQUASH – POTUS
27.CHRONIC LAW FT DADDY 1 – STYLE SHOT
28.VYBZ KARTEL FT SQUASH – MOON WALK
29.VYBZ KARTEL – TRY DAT
30.RYTIKAL – COOKIE JAR
31.AIDONIA – OH YE
32.GOVANA FT XTASSI – THAT MI LIKE
33.DING DONG – STRAY
34.DING DONG – GWEH
35.TEEJAY – BIG DRIP
36.TEEJAY – HOW
37.TOMMY LEE – LEGENDS
38.NKLYNE – GUARD
39.DADDY 1 – ANYTIME
40.CALDHINO – BANK CARD
41.MAESTRO DON – NEARBY
42.MAESTRO DON – GOT THIS
Related Posts via Taxonomies