Popcaan Is The New Face Of Dancehall, Says Bounty Killer
Bounty Killer crowns Popcaan the new face of dancehall genre.
As dancehall strives to solidify its place in world music, Unruly deejay Popcaan has opened doors that have many calling him the face of dancehall today. Popcaan's music has transcended the island borders of its making and has introduced a plethora of perked ears to its style. With the OVO-signed artiste's continued success in the dancehall arena and the mastery he demonstrates when he merges the culture with an international genre, he is deliberately parading dancehall music in a mainstream arena with a widely respected authenticity.
Gone are the days that people wondered when if ever Popcaan's place on the OVO roster would mean something for dancehall music. The Unruly Boss has been killing it this year and only after years more of consistent work and tenacity, which is to say the rewards are well-deserved. Popcaan attained a lot this year through joint work and on his own. When he released his latest EP FIXTAPE earlier this year, Popcaan etched his name into the international dancehall book of fame in a way fans had been waiting eagerly for him to endeavor.
The project debuted at No. 2 on the Billboard Reggae Albums chart and No. 94 on the Billboard 200, making him one of the very few artists from Jamaica who have cracked that code. Popcaan also took the No. 1 spot on the iTunes Top Reggae Albums chart with FIXTAPE and the Top Reggae Songs chart for Twist & Turn. The PND-assisted hit, which was one of two Drake collaborations on the album, was the most successful of the project and peaked at No. 19 on Billboard's close-call Bubbling Under Hot 100 chart and No. 47 on the Canadian Hot 100.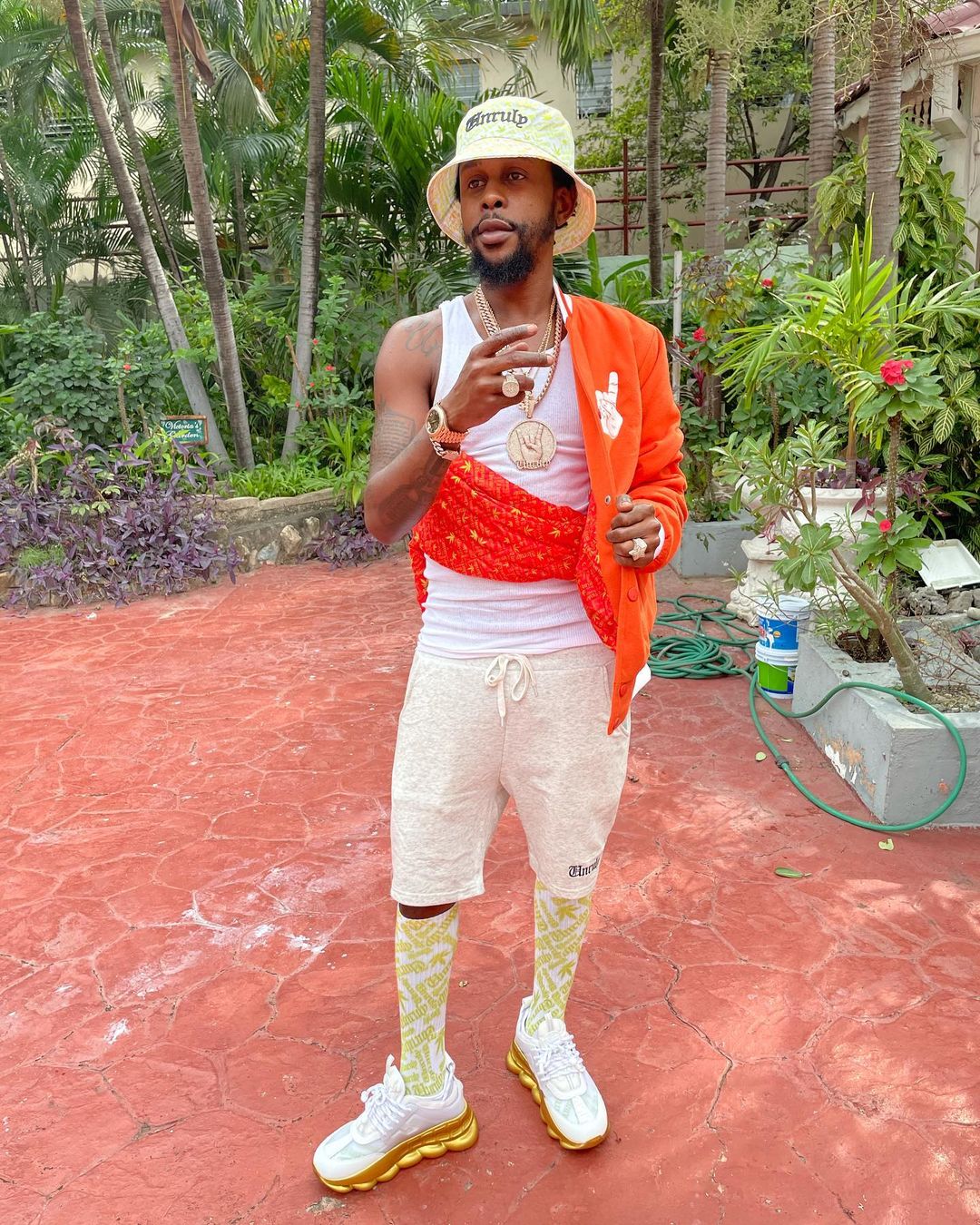 Popcaan was recently honored for his prestigious accomplishment with a pair of Billboard plaques that showcases the achievements in detail. That includes the album debuting at No. 15 on the Billboard Canadian Albums chart. Popcaan shared a video of the unboxing on his Instagram while paying homage to Vybz Kartel, OVO, and, of course, Unruly. It was a gratifying moment for the dancehall star, but it did not strip him of his modesty. It's values like these that separate Popcaan from his counterparts.
While his distinction is irrefutable, he never fails to lionize the man who gave him his start. Quite fittingly, Bounty Killer saw Popcaan's moment of triumph as an opportune time to tout him once again as the face of dancehall. It's almost poetic when we think about it as Bounty is to Kartel what Kartel is to Popcaan. "Congratulations work a put in salute yute last year l made a post saying Popcaan was dancehall new face some ppl disagreed," Bounty wrote on his Instagram resharing Popcaan's video uncovering his billboard plaques.
This is a huge win for Popcaan, but it is also a testament to his commitment to dancehall music. The Unruly leader earned this accolade in one of his most prolific years yet. With a vast number of collaborations being released this year with the likes of Drake, Maroon 5, Jorga Smith, Wiz Khalifa, Dave East, and more, Popcaan was on top of his game like never before. His vocals were heard far and wide, and so was his name in tandem with dancehall.
If we evaluate the work he has put in, we can begin to understand why the world has started to identify dancehall music with Popcaan. If we look at online discussions and interviews, it is evident that the deejay's name has become a familiar one in the vernacular for pop culture fanatics. While some often associate him with the "Canadian rapper" label, Popcaan's patriotism has never dwindled, and he neglects no opportunity to correct the misconception.
Maroon 5's "Nobody's Love," which featured Popcaan, peaked at No. 41 on the Billboard Hot 100, and it goes without saying that the band's clout guaranteed that millions are enjoying the dancehall star's vocals on repeat. After all, it was the first song they released all year. Many agree that Popcaan has become the face of dancehall indeed, and he might be on the brink of his biggest hit yet with his newly released jam with rap music "Hot Girl" Megan Thee Stallion. The track titled "Intercourse" is led by Popcaan, who completely makes it his own. This is just the beginning for the Unruly Boss. Get ready to see this new face of dancehall carve out a whole new lane internationally.
Bounty Killer Fix His Crown On 'King Of Kingston' Cover Art & Put Artists On Notice
Bounty Killer fix his dancehall crown on the cover art of his forthcoming album, King of Kingston. The dancehall legend used the opportunity to put every other artists dropping album this year on notice.
2021 has been the year for dancehall albums, and another major release is on the horizon. Veteran deejay Bounty Killer has announced that he will be dropping his hot new project, King of Kingston, sometime this year.
In true Bounty Killer style, the artiste gave the confirmation on Instagram yesterday (May 14), writing, "Y'album alerts the coming is near."
The Warlord has been regarded as one of the most entertaining dancehall acts of his day, and he ensured that this stayed fresh in the minds of his followers, as he bashed other entertainers who have released albums this year.
"Side Note: Since everybody and dem granny making album this year all of a sudden let me make this clear all who and who dropping dem little dumpling thing dweet fast and move bcuz when GIANT a feed up a pudding pan kerosene tin business in other words the BIGGEST BADDEST and the BEST dancehall Y'album for the last two decades is…………..LOADING," he wrote in the caption.
The timing of Bounty's announcement, along with the shady message, had fans thinking the artiste was taking a jab at Alkaline, who released his "Top Prize" album yesterday. Despite the dig (intentional or not), it's undeniable that Alkaline's album has been making waves even before its launch. "Top Prize" has been trending both locally and internationally, becoming the #1 pre-ordered album on all major streaming platforms, including Amazon and iTunes, in the week before it launched.
Still, Bounty's comments might not have been directed at the young artiste as several dancehall artists, both newcomers and veterans, have either launched or announced albums in the past few months. These include Vybz Kartel, Sean Paul, Masicka, Beenie Man, Shenseea, Popcaan, Jada Kingdom, and Intence.
It's clear that Bounty's album is one of the most highly anticipated. The comment section of his announcement was flooded with upbeat responses from fellow artists who expressed excitement about the album. Bugle commented, "Ready and a wait caz mi know it a go great [fire emojis]." Baby Cham also commented fire emojis, while Trelawny native Charly Black said, "Well turrrrrble [fire emojis]."
On another post that highlighted an image of Killer (which we assume is the album cover), Vybz Kartel also expressed anticipation, writing, "TPC [fire emojis]." The two have had their differences in the past but seem to have mended fences in recent years.
The deejay's last album was Ghetto Dictionary: The Art of War, which was released in 2002.
Bounty Killer is one of the greatest of all time in dancehall. The legend, often referred to as The General, rose to fame in the early 1990s when he cemented himself as a gritty hardcore deejay from Seaview Gardens in Kingston. His him community likely helped inspired the title of the album, King of Kingston.
Since his early days as a ruthless hardcore deejay, Bounty Killer went on to become one of the most celebrated names who ever pick up the mic. With numerous classics under his belt including several international collabs, fans are clued in for his upcoming project.