BTS Says New Album 'BE' Is a 'Letter of Hope' – NBC4 Washington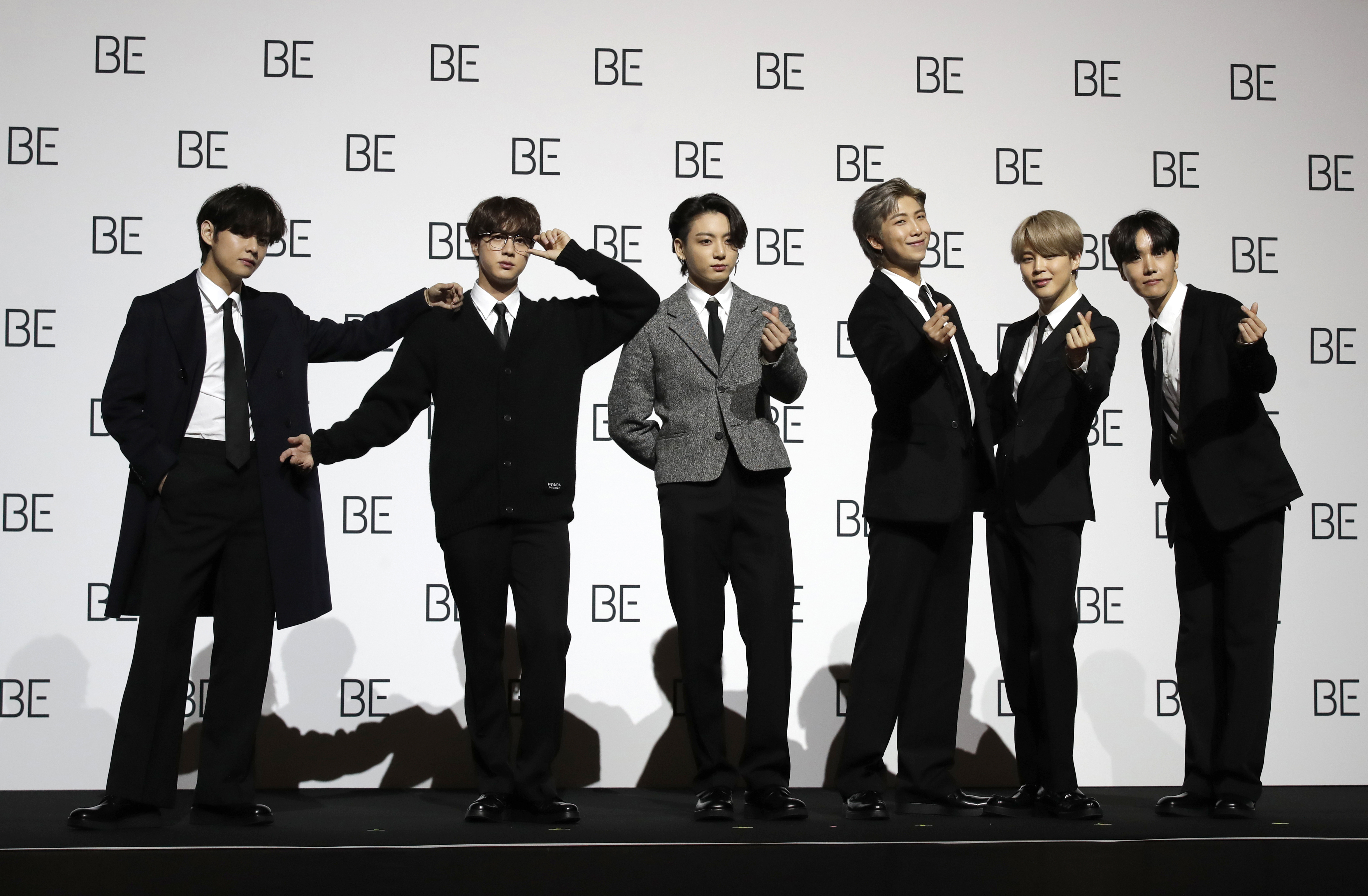 K-pop band BTS on Friday released their highly anticipated new album, which they described as a "letter of hope."
The band held a socially distanced news conference in Seoul to unveil "BE," their second album this year. It includes their English-language hit "Dynamite," which topped the Billboard Hot 100 chart for the first time ever for a South Korean group.
Dozens of Seoul-based journalists went through two temperature checks, a health registry and a disinfectant spray before entering the venue amid a surge of coronavirus cases in the country.
The band — composed of J-Hope, RM, Suga, Jungkook, V, Jin and Jimin — said they wanted to send "a letter of hope" that life goes on despite the uncertainties during the pandemic.
Jin said he hopes people can relate to the album's emotions of emptiness and anxiety and find comfort in the shared feelings.
The band, which debuted in 2013, became the biggest boyband in the world, selling out stadiums worldwide and delivering a video message at the U.N. General Assembly this year.
Their songs, filled with intimate, socially conscious lyrics, are credited for their success. Unlike other K-pop bands that carefully maintain the personas created by their labels, BTS is known for its active engagement with fans — known as ARMY — through social media. BTS has over 30.8 million followers on Twitter.
RM said the band had opened up the album-making process for the first time by sharing their thoughts and work on social media. "We wanted fans to feel that we made this album together" during the pandemic, he said.
Suga was absent from the news conference due to a shoulder injury.
The band also spoke about their upcoming military service. There has been a heated debate over whether they should be exempted from South Korea's two-year compulsory military service for most able-bodied males, given the singers' contribution to the country. "We're ready to oblige whenever the country calls upon us," Jin said.
Asked about upcoming Grammy Award nominations on Nov. 25, J-Hope said, "I dare to hope that we can be nominated and receive an award in a group-related category." He added that he would "cry" if the band receives a prize.
Despite the band's commercial success, RM reflected on the band's and K-pop's identity.
He wondered whether topping the Billboard Hot 100 chart with "Dynamite" meant that "K-pop has safely landed within the realm of the mainstream American pop industry."
"To what extent can (songs) be considered K-pop?" he asked. "When a Korean band like us sings a song in English, can this still be considered K-pop?"
He didn't have a clear answer but said he hopes the band's achievements can "open doors for those outside the mainstream" of the U.S. music industry.
"BE" is available now.
Scarlett Johansson Gets Slimed by Colin Jost While Accepting MTV's Generation Award – NBC4 Washington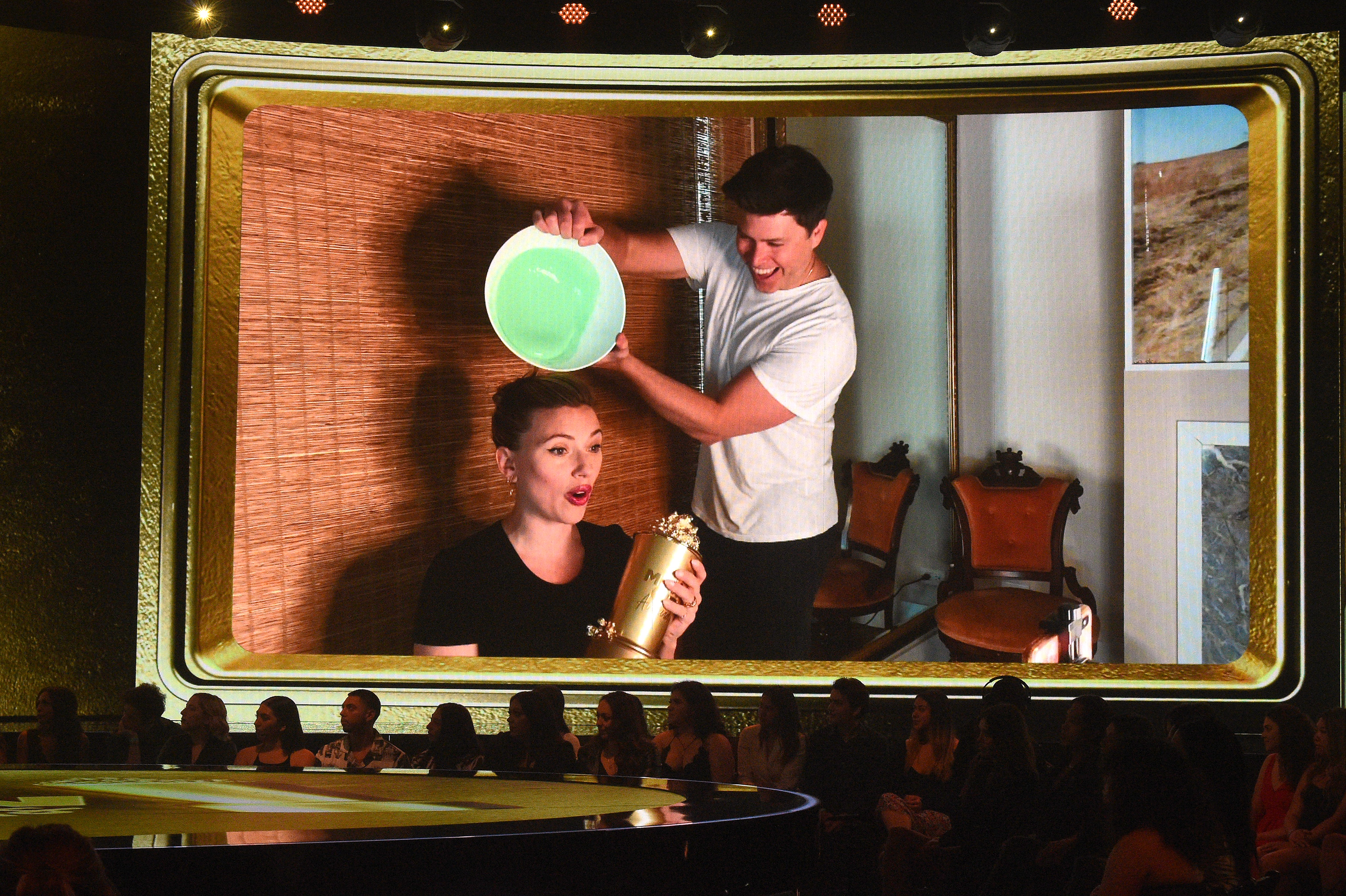 Scarlett Johansson got a surprise from husband Colin Jost during the 2021 MTV Movie & TV Awards.
The 36-year-old "Black Widow" star accepted the Generation Award with a pre-taped segment that aired during the awards ceremony on Sunday. She began her acceptance speech by thanking her co-workers from throughout her career, in addition to expressing appreciation for her fans.
"I never would have been able to continue to evolve as an actor for the last 30 years without the support and dedication of so many cast and crew members that make up the nomadic traveling-circus family that are movie sets, and the dedication and hard work of so many people that goes into making any movie continues to inspire me as a performer," Johansson said.
"Thank you so much to my fans for riding the wave with me and for supporting my career so I can continue to have the good fortune to pursue the job that is my passion," she continued. "I realize what an absolute gift it is to be able to have the opportunity to do what I love, and I couldn't do it without your continued support."
Things got wild as Johansson was in the process of introducing a previously unseen clip from "Black Widow" when Jost walked over to her in their home and poured a bowl of green slime over her head.
Scarlett Johansson's Best Looks
"What the f—?" Johansson said.
"MTV! You got slimed," Jost responded.
After the "Rough Night" actress explained that the 38-year-old "Saturday Night Live" star was thinking of Nickelodeon, he replied, "I'm very, very sorry."
She fired back, "Just get a towel," and then wouldn't let him attempt to dab her face with it.
In introducing the star prior to the segment, Billy Porter quipped, "She's the only Oscar nominee I know who can bench press more than Chris Hemsworth and look hotter doing it."
Earlier this month, a press release announced Johansson would receive the award.
"The highly coveted 'Generation Award' celebrates beloved actors whose diverse contributions to both film and television have turned them into household names," the statement said in part.
Previous recipients include Dwayne Johnson, Reese Witherspoon, Jamie Foxx, Adam Sandler, Will Smith, Sandra Bullock, Tom Cruise, Chris Pratt and Robert Downey Jr.
Prior to the Generation Award, Johansson had been nominated for six MTV Movie & TV Awards prizes over the years. She nabbed the golden popcorn in 2013 for "Best Fight" for "The Avengers."