Princess Diana Actor in 'The Crown' Was Hospitalized After Filming 'Freezing' Pool Scene – NBC4 Washington
Emma Corrin, who stars as young Princess Diana in season four of "The Crown," revealed that she was hospitalized after shooting a scene in a "freezing-cold pool" for the Netflix show.
The 24-year-old, who told the story to Glamour U.K., is asthmatic and had been ill with a bad cough prior to filming in the pool on location in Spain.
"I had to film a scene in a freezing-cold swimming pool, with the kids playing William and Harry," she said. "It was honestly the hardest scene to film because I was genuinely keeping myself alive treading water, and also keeping 5-year-old 'Harry' alive, as we found out he couldn't swim!"
"We were meant to be flying back that night to the U.K., so we went past a hospital to get me antibiotics," she continued. "The doctors gave me an oxygen test and said, 'We cannot let you go because your oxygen levels are so low,' so I was hospitalized."
Corrin was able to keep a somewhat low profile at the hospital, until the nurses learned who she was.
"I remember the nurses, figuring out what I was filming and saying, 'We know you're playing Princess Diana. Would you like us to put a cardboard bag over your head so no one recognizes who you are?' in broken English!"
The fourth season of the hit show hit the streaming platform on Nov. 15. The season will look at Princess Diana's entrance into the royal family, including her engagement to Prince Charles, the couple's 1983 tour of Australia and Princess Diana's open struggle with bulimia.
Corrin has previously said that portraying an eating disorder on camera is a challenge.
"(Princess Diana) was very candid about (her eating disorder), which I think is incredibly progressive of her at that time," Corrin told USA Today in October. "Obviously, it's something we're talking about now, but even now if someone comes out and says that is something they've dealt with, it's a big deal. … I knew that it was central to her experience, and I wanted to do that justice."
Corrin, herself, wanted to "flesh out" the scenes while recognizing the difficulty and responsibility of the task.
"I just think it's important," she said. "I think that for anyone who's experienced it, it is always a good thing to see (it) be represented on screen. At the same time, I know it's very triggering to see, and I know that you have to be careful."
This story first appeared on TODAY.com. More from TODAY:
Scarlett Johansson Gets Slimed by Colin Jost While Accepting MTV's Generation Award – NBC4 Washington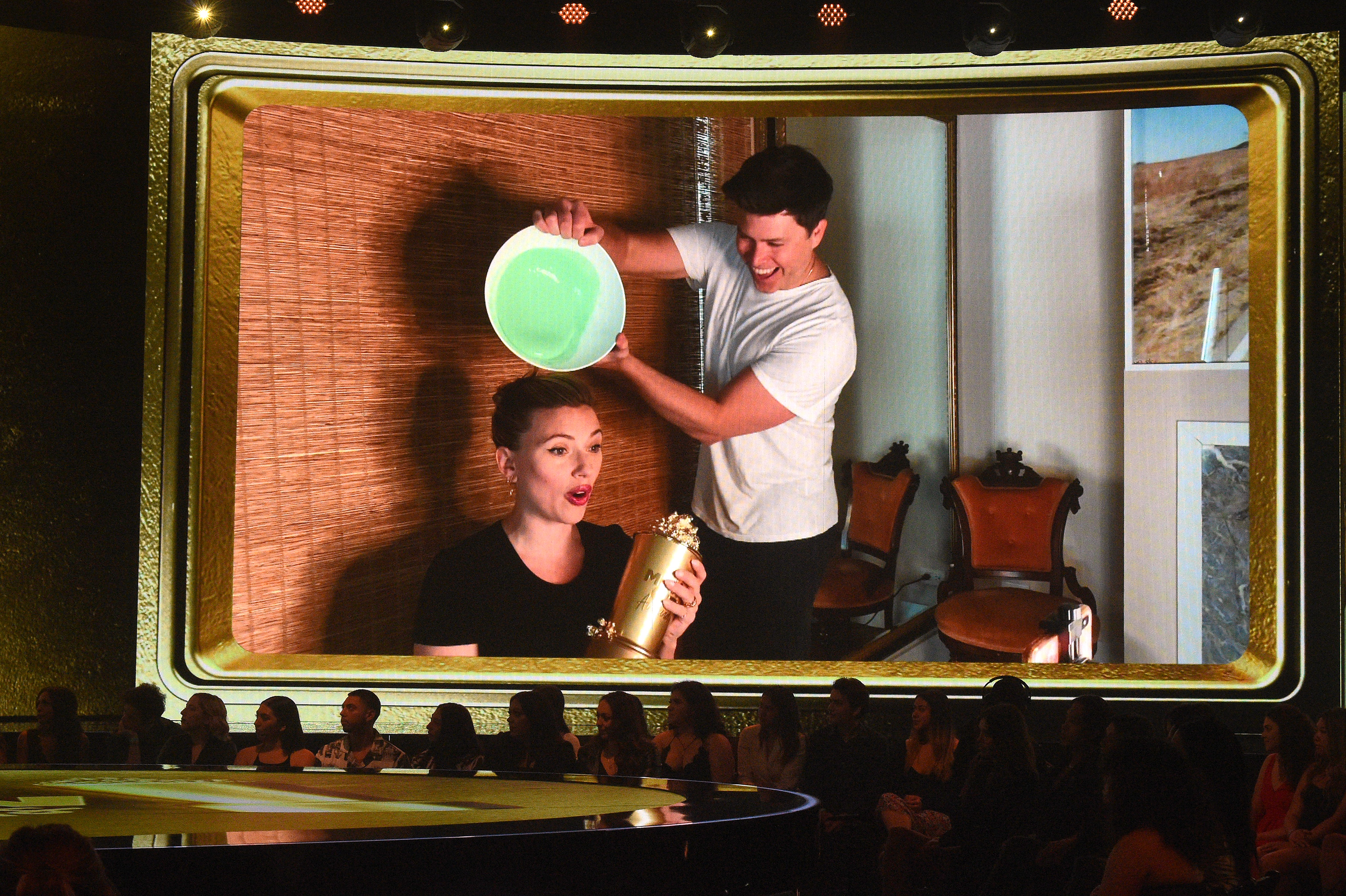 Scarlett Johansson got a surprise from husband Colin Jost during the 2021 MTV Movie & TV Awards.
The 36-year-old "Black Widow" star accepted the Generation Award with a pre-taped segment that aired during the awards ceremony on Sunday. She began her acceptance speech by thanking her co-workers from throughout her career, in addition to expressing appreciation for her fans.
"I never would have been able to continue to evolve as an actor for the last 30 years without the support and dedication of so many cast and crew members that make up the nomadic traveling-circus family that are movie sets, and the dedication and hard work of so many people that goes into making any movie continues to inspire me as a performer," Johansson said.
"Thank you so much to my fans for riding the wave with me and for supporting my career so I can continue to have the good fortune to pursue the job that is my passion," she continued. "I realize what an absolute gift it is to be able to have the opportunity to do what I love, and I couldn't do it without your continued support."
Things got wild as Johansson was in the process of introducing a previously unseen clip from "Black Widow" when Jost walked over to her in their home and poured a bowl of green slime over her head.
Scarlett Johansson's Best Looks
"What the f—?" Johansson said.
"MTV! You got slimed," Jost responded.
After the "Rough Night" actress explained that the 38-year-old "Saturday Night Live" star was thinking of Nickelodeon, he replied, "I'm very, very sorry."
She fired back, "Just get a towel," and then wouldn't let him attempt to dab her face with it.
In introducing the star prior to the segment, Billy Porter quipped, "She's the only Oscar nominee I know who can bench press more than Chris Hemsworth and look hotter doing it."
Earlier this month, a press release announced Johansson would receive the award.
"The highly coveted 'Generation Award' celebrates beloved actors whose diverse contributions to both film and television have turned them into household names," the statement said in part.
Previous recipients include Dwayne Johnson, Reese Witherspoon, Jamie Foxx, Adam Sandler, Will Smith, Sandra Bullock, Tom Cruise, Chris Pratt and Robert Downey Jr.
Prior to the Generation Award, Johansson had been nominated for six MTV Movie & TV Awards prizes over the years. She nabbed the golden popcorn in 2013 for "Best Fight" for "The Avengers."