Mossimo Giannulli Reports to Prison in College Bribery Case – NBC4 Washington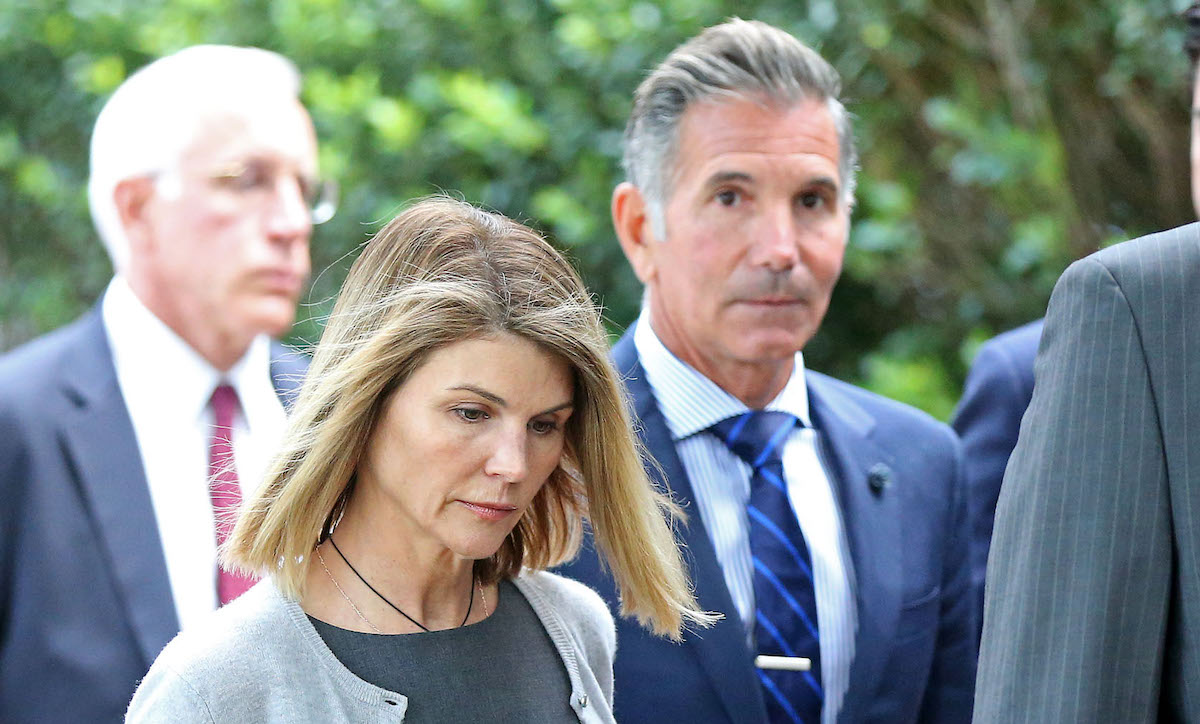 Fashion designer Mossimo Giannulli reported to prison on Thursday to begin serving his five-month sentence for bribing his daughters' way into college, officials said.
Giannulli's wife, "Full House" actor Lori Loughlin, is already behind bars for her role in the college admissions bribery scheme involving prominent parents and elite schools across the country. She began her two-month prison term late last month.
Giannulli, 57, whose Mossimo clothing had long been a Target brand until recently, is in custody at a federal prison in Lompoc near Santa Barbara, California, a Bureau of Prisons spokesperson said. Loughlin, 56, is at the federal lockup in Dublin, California.
The couple was among the most high-profile parents charged in the scheme, involved hefty bribes to get undeserving teens into schools with rigged test scores or bogus athletic credentials, authorities say.
Giannulli and Loughlin admitted in May to paying half a million dollars to get their two daughters into the University of Southern California as crew recruits even though neither girl was a rower. Their guilty plea was a stunning reversal for the couple, whose lawyers had insisted for a year were innocent and accused investigators of fabricating evidence against them.
Loughlin and Giannulli were initially both ordered to report to prison on Nov. 19 but prosecutors and the defense agreed Loughlin could begin her sentence on Oct. 30. Loughlin agreed that she would not seek early release from prison on grounds related to the coronavirus pandemic.
Loughlin was also ordered to pay a $150,000 fine and perform 100 hours of community service, and Giannulli has to pay a $250,000 fine and perform 250 hours of community service.
Yea we could just do: Prosecutors recorded phone calls and emails showing the couple worked with the mastermind of the scheme, admissions consultant Rick Singer, to get their daughters into USC with fake athletic profiles depicting them as star rowers. "Fantastic. Will get all," Giannulli responded and sent Singer the photo, according to the court filings.
Nearly sixty people have been charged in the scheme led by Singer, who secretly worked with investigators and recorded his conversations with parents and coaches to help build the case against them. Singer, who is expected to testify against any defendants who go to trial, has not yet been sentenced. More than 40 people have already pleaded guilty.
Prison terms for the parents ensnared in the scheme range from nine months to a couple weeks. Other parents who've served time behind bars in the case include "Desperate Housewives" star Felicity Huffman, who was sentenced to 14 days for paying $15,000 to rig her daughter's SAT score.
Scarlett Johansson Gets Slimed by Colin Jost While Accepting MTV's Generation Award – NBC4 Washington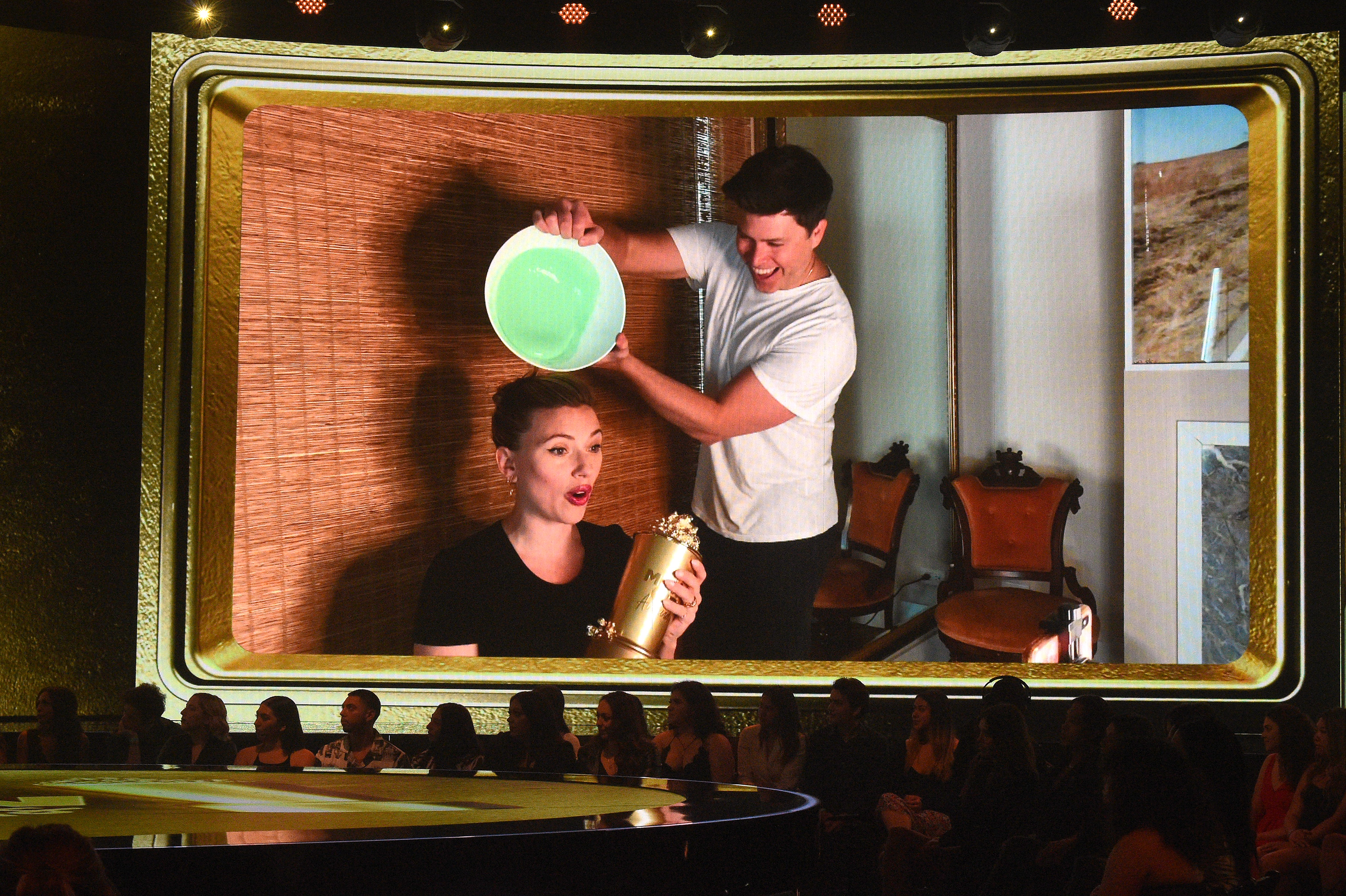 Scarlett Johansson got a surprise from husband Colin Jost during the 2021 MTV Movie & TV Awards.
The 36-year-old "Black Widow" star accepted the Generation Award with a pre-taped segment that aired during the awards ceremony on Sunday. She began her acceptance speech by thanking her co-workers from throughout her career, in addition to expressing appreciation for her fans.
"I never would have been able to continue to evolve as an actor for the last 30 years without the support and dedication of so many cast and crew members that make up the nomadic traveling-circus family that are movie sets, and the dedication and hard work of so many people that goes into making any movie continues to inspire me as a performer," Johansson said.
"Thank you so much to my fans for riding the wave with me and for supporting my career so I can continue to have the good fortune to pursue the job that is my passion," she continued. "I realize what an absolute gift it is to be able to have the opportunity to do what I love, and I couldn't do it without your continued support."
Things got wild as Johansson was in the process of introducing a previously unseen clip from "Black Widow" when Jost walked over to her in their home and poured a bowl of green slime over her head.
Scarlett Johansson's Best Looks
"What the f—?" Johansson said.
"MTV! You got slimed," Jost responded.
After the "Rough Night" actress explained that the 38-year-old "Saturday Night Live" star was thinking of Nickelodeon, he replied, "I'm very, very sorry."
She fired back, "Just get a towel," and then wouldn't let him attempt to dab her face with it.
In introducing the star prior to the segment, Billy Porter quipped, "She's the only Oscar nominee I know who can bench press more than Chris Hemsworth and look hotter doing it."
Earlier this month, a press release announced Johansson would receive the award.
"The highly coveted 'Generation Award' celebrates beloved actors whose diverse contributions to both film and television have turned them into household names," the statement said in part.
Previous recipients include Dwayne Johnson, Reese Witherspoon, Jamie Foxx, Adam Sandler, Will Smith, Sandra Bullock, Tom Cruise, Chris Pratt and Robert Downey Jr.
Prior to the Generation Award, Johansson had been nominated for six MTV Movie & TV Awards prizes over the years. She nabbed the golden popcorn in 2013 for "Best Fight" for "The Avengers."