Dolly Parton Has Advice for a 'Divided' America and It's as Wholesome as You'd Think – NBC4 Washington
Dolly Parton hopes this holiday season can bring some healing to the United States.
"I think we've just become so divided, 'cause people just seem to love to hate. You know? This is the Christmas season coming up. But we need to carry that Christmas spirit of peace on Earth, and loving one another. We need to carry that into the new year," Parton told Willie Geist on Sunday TODAY. "And Lord knows, I hope next year is better than this one."
"We can't save the world, but we can save the world we're living in," she added. "Maybe I'm dreaming. But I don't think so."
Parton, 74, is spreading joy this holiday season with two new projects. She's releasing Netflix musical "Dolly Parton's Christmas on the Square" and "A Holly Dolly Christmas," her first holiday album in 30 years.
"I've been wanting to do another Christmas album for a long time, and I had the time to do it, since we had kind of all holed up at home," Parton said. "So I started writing some of these original songs, and I gathered up some more of the old classics. And grabbed a bunch of friends, and we just kind of went for it."
The 12-track album includes six duets. Parton sings with Miley Cyrus on "Christmas Is," croons with Michael Bublé on "Cuddle Up, Cozy Down Christmas," and rocks out on "All I Want For Christmas Is You" with Jimmy Fallon, to name a few of the star-studded appearances.
Parton is also releasing a book on Nov. 17. "Dolly Parton, Songteller: My Life in Lyrics" tells the stories behind the lyrics of Parton's expansive library of songs.
"Jolene," one of her most covered songs, was inspired by a "pretty girl at the bank," Parton recalled to Willie.
"My husband said he was getting a loan. You know, he was in asphalt paving. I said, 'I think you best get on back to the house or it's going to be your a– and your fault,'" she joked.
The name Jolene came from a little girl by the same name who once asked Parton for an autograph.
"I said, 'Ooh, I love that name.' And so I just was singing, 'Jolene, Jolene, Jolene, Jolene,' so I wouldn't forget the name. Got back to my bus, and I wrote the song. And just kind of drew from all that other little stuff to go with it," she told Willie.
Parton also wrote "I Will Always Love You" within days of "Jolene." She said she still uses a cassette recorder as she writes music.
"We were looking through my files to get all of my old cassettes, and they were putting them on the hard drives, or whatever they call it, to save them. And so the guy that was doing it, he said, 'Do you realize that 'Jolene' and 'I Will Always Love You' were on the same cassette?'"
While Parton has more than 3,000 original songs to her name, her own theme park, screen roles and is a celebrated philanthropist, she still finds ways to stay grounded.
"It ain't about the money. I've often said that I count my blessings a lot more often than I count my money," she said. "I just want to be able to lift up people if I can, and do something, put some joy out there."
This story first appeared on TODAY.com. More from TODAY:
Scarlett Johansson Gets Slimed by Colin Jost While Accepting MTV's Generation Award – NBC4 Washington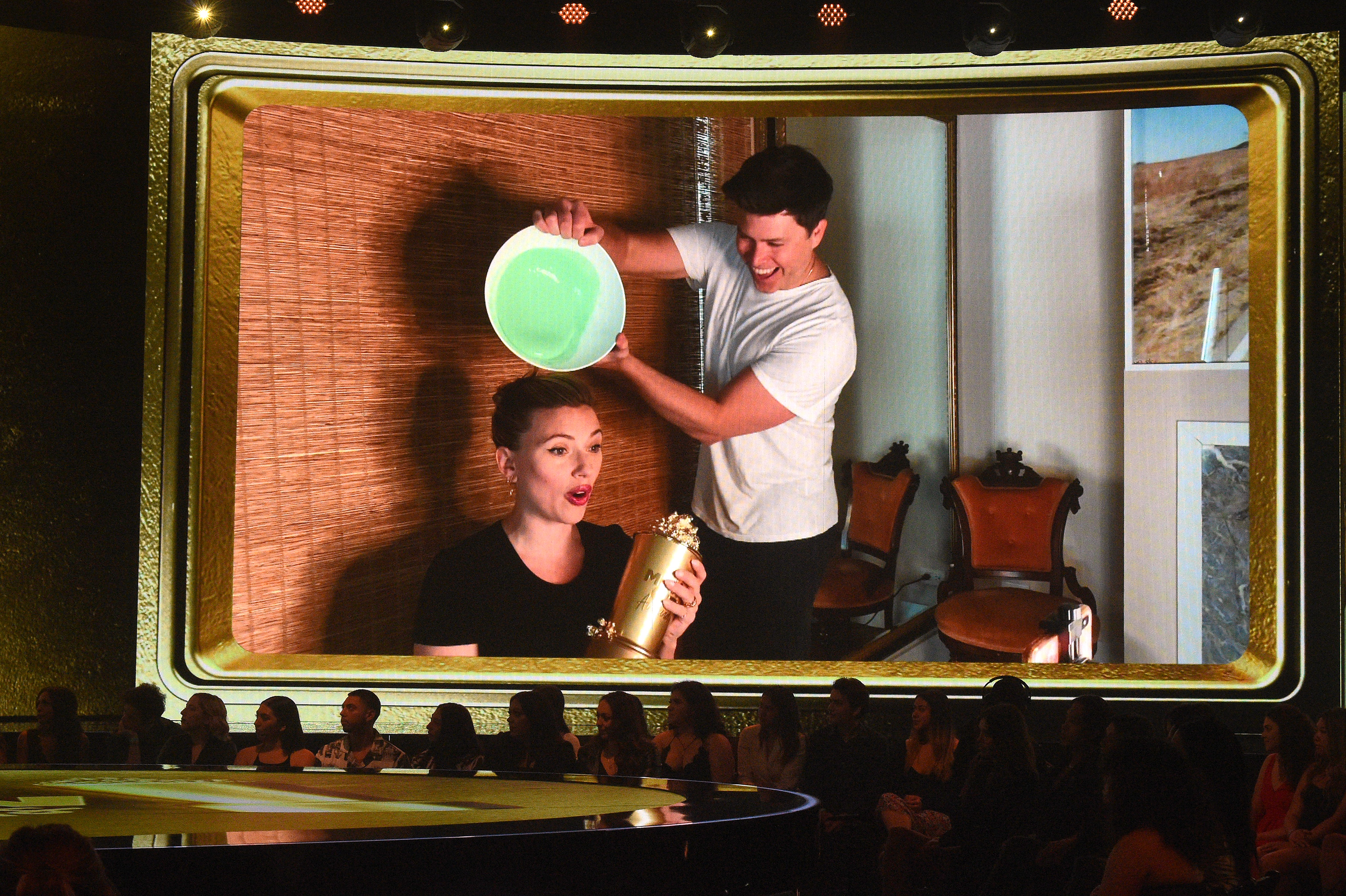 Scarlett Johansson got a surprise from husband Colin Jost during the 2021 MTV Movie & TV Awards.
The 36-year-old "Black Widow" star accepted the Generation Award with a pre-taped segment that aired during the awards ceremony on Sunday. She began her acceptance speech by thanking her co-workers from throughout her career, in addition to expressing appreciation for her fans.
"I never would have been able to continue to evolve as an actor for the last 30 years without the support and dedication of so many cast and crew members that make up the nomadic traveling-circus family that are movie sets, and the dedication and hard work of so many people that goes into making any movie continues to inspire me as a performer," Johansson said.
"Thank you so much to my fans for riding the wave with me and for supporting my career so I can continue to have the good fortune to pursue the job that is my passion," she continued. "I realize what an absolute gift it is to be able to have the opportunity to do what I love, and I couldn't do it without your continued support."
Things got wild as Johansson was in the process of introducing a previously unseen clip from "Black Widow" when Jost walked over to her in their home and poured a bowl of green slime over her head.
Scarlett Johansson's Best Looks
"What the f—?" Johansson said.
"MTV! You got slimed," Jost responded.
After the "Rough Night" actress explained that the 38-year-old "Saturday Night Live" star was thinking of Nickelodeon, he replied, "I'm very, very sorry."
She fired back, "Just get a towel," and then wouldn't let him attempt to dab her face with it.
In introducing the star prior to the segment, Billy Porter quipped, "She's the only Oscar nominee I know who can bench press more than Chris Hemsworth and look hotter doing it."
Earlier this month, a press release announced Johansson would receive the award.
"The highly coveted 'Generation Award' celebrates beloved actors whose diverse contributions to both film and television have turned them into household names," the statement said in part.
Previous recipients include Dwayne Johnson, Reese Witherspoon, Jamie Foxx, Adam Sandler, Will Smith, Sandra Bullock, Tom Cruise, Chris Pratt and Robert Downey Jr.
Prior to the Generation Award, Johansson had been nominated for six MTV Movie & TV Awards prizes over the years. She nabbed the golden popcorn in 2013 for "Best Fight" for "The Avengers."