'MasterChef Junior' Alum Ben Watkins Dead at 14 After Cancer Battle – NBC4 Washington
The world has lost a rising star.
Ben Watkins, who competed on "MasterChef Junior" and instantly became a fan favorite, has passed away at the age of 14. The teen died on Monday, Nov. 14 after a battle with cancer at the Lurie Children's Hospital of Chicago, according to The Chicago Tribune.
Watkins was surrounded by his loved ones and his massive Marvel Comics collection, the publication reported.
"Ben, you know that your life has the beginnings of a real-life Marvel Comics character," his uncle and legal guardian, Anthony Edwards, said per The Chicago Tribune.
"We were praying for a different outcome," Edwards said. "But Ben's lungs could no longer give him the air he needed to breathe. It's been devastating."
Per the GoFundMe page, which had been set up in Watkins' honor earlier this year, he was "diagnosed with a rare illness called Angiomatoid Fibrous Histiocytoma, a soft tissue tumor usually in children and young adults."
Celebrity Deaths: 2020's Fallen Stars
He learned of his diagnosis shortly after his 13th birthday, and it was discovered that he was one of only six people in the world to have the illness. Just a few months ago, Watkins' uncle and grandmother set up a GoFundMe to give an update on his health.
"Despite all of Ben's trials and tribulations, he remains positive and looks forward to getting back in the kitchen and pursuing his dream to become an engineer," a message read on the page in July. "Members of the community have joined together to see that the life challenges that Ben has gone through [do] not derail him from reaching his full potential and fulfilling his dreams."
Before starring on "MasterChef Junior," Watkins helped run Big Ben's Bodacious BBQ and Delicatessen in Gary, Indiana, with his late parents, who died three years ago in a murder-suicide.
The teen competed on season six of "MasterChef Junior," which was hosted by Gordon Ramsay. At the time of the competition, Watkins was 11 years old. While he didn't finish out the full season, he placed in the top 18 and quickly melted viewers' hearts.
Gordon took to Twitter to express his heartache over Watkins' loss, writing, "We lost a Master of the @MasterChefJrFOX kitchen today."
"Ben you were an incredibly talented home cook and even stronger young man," his message continued. "Your young life had so many tough turns but you always persevered. Sending all the love to Ben Watkins' family with this terrible loss."
Scarlett Johansson Gets Slimed by Colin Jost While Accepting MTV's Generation Award – NBC4 Washington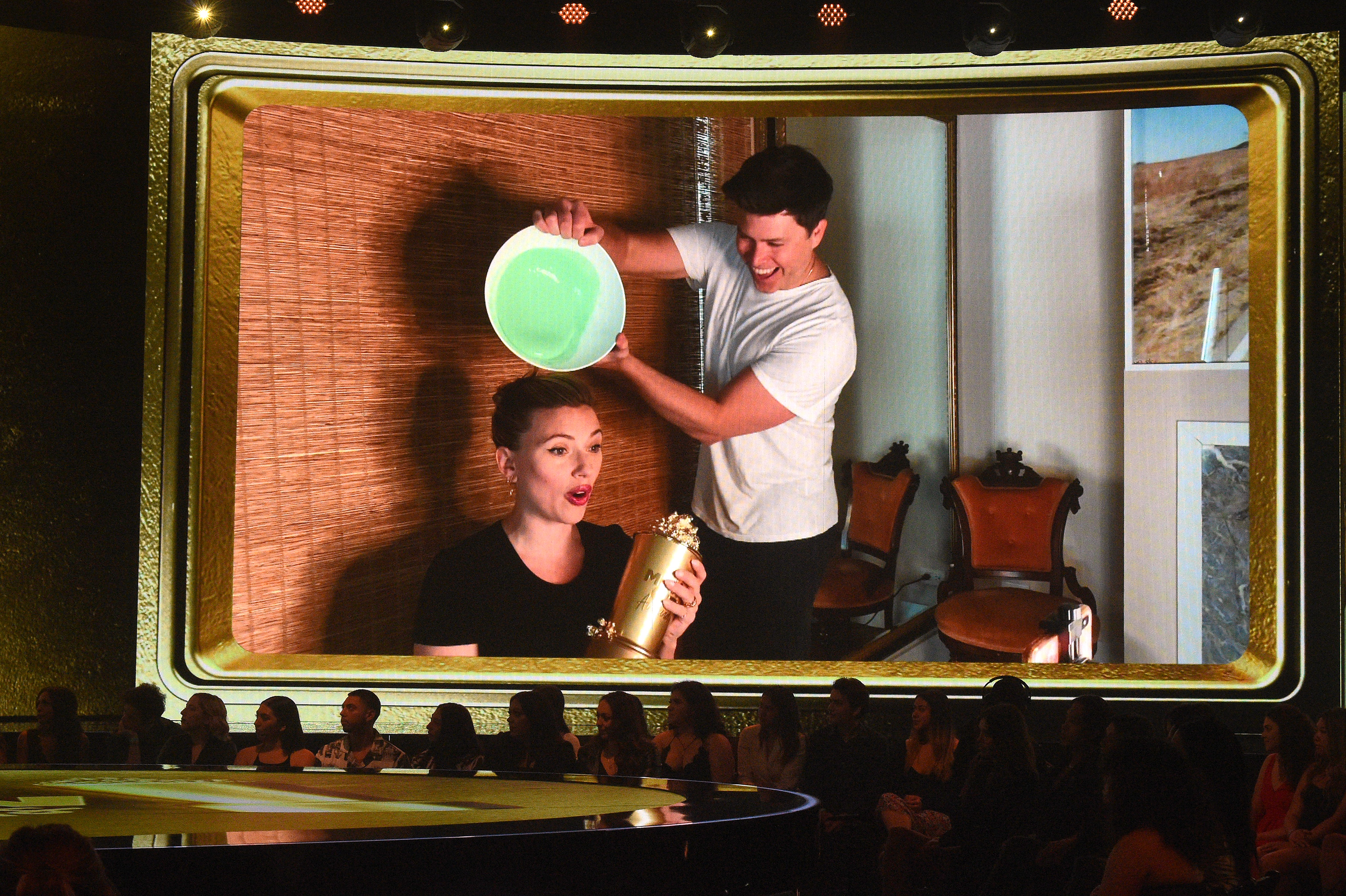 Scarlett Johansson got a surprise from husband Colin Jost during the 2021 MTV Movie & TV Awards.
The 36-year-old "Black Widow" star accepted the Generation Award with a pre-taped segment that aired during the awards ceremony on Sunday. She began her acceptance speech by thanking her co-workers from throughout her career, in addition to expressing appreciation for her fans.
"I never would have been able to continue to evolve as an actor for the last 30 years without the support and dedication of so many cast and crew members that make up the nomadic traveling-circus family that are movie sets, and the dedication and hard work of so many people that goes into making any movie continues to inspire me as a performer," Johansson said.
"Thank you so much to my fans for riding the wave with me and for supporting my career so I can continue to have the good fortune to pursue the job that is my passion," she continued. "I realize what an absolute gift it is to be able to have the opportunity to do what I love, and I couldn't do it without your continued support."
Things got wild as Johansson was in the process of introducing a previously unseen clip from "Black Widow" when Jost walked over to her in their home and poured a bowl of green slime over her head.
Scarlett Johansson's Best Looks
"What the f—?" Johansson said.
"MTV! You got slimed," Jost responded.
After the "Rough Night" actress explained that the 38-year-old "Saturday Night Live" star was thinking of Nickelodeon, he replied, "I'm very, very sorry."
She fired back, "Just get a towel," and then wouldn't let him attempt to dab her face with it.
In introducing the star prior to the segment, Billy Porter quipped, "She's the only Oscar nominee I know who can bench press more than Chris Hemsworth and look hotter doing it."
Earlier this month, a press release announced Johansson would receive the award.
"The highly coveted 'Generation Award' celebrates beloved actors whose diverse contributions to both film and television have turned them into household names," the statement said in part.
Previous recipients include Dwayne Johnson, Reese Witherspoon, Jamie Foxx, Adam Sandler, Will Smith, Sandra Bullock, Tom Cruise, Chris Pratt and Robert Downey Jr.
Prior to the Generation Award, Johansson had been nominated for six MTV Movie & TV Awards prizes over the years. She nabbed the golden popcorn in 2013 for "Best Fight" for "The Avengers."