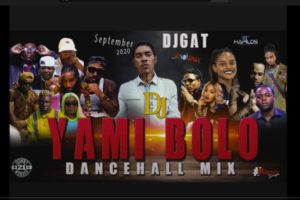 Tune in to a new super hot dancehall mixtape brought to you by Jamaican DJ Gat titled "Yami Bolo" like one of World Boss Vybz Kartel latest war tune.
Starting with Dancehall King Vybz Kartel's Yami Bolo and going on with Alkaline, Shenseaa, Koffee, Squash, Mavado, Intence, Tommy Lee Sparta and many many more Jamaican dancehall artists and their latest hit songs, fans and radios favorites.
Stream the whole mix via the Youtube video posted below and make sure to check the full track listing for this mix that features also up and coming new names in in the genre,  and will keep you company more than an hoursporting more than fifty top songs making waves right now in dancehall music.
DJ Gat Yami Bolo mixtape is available for free download clicking on the download button posted after the youtube mix.
DJ GAT YAMI BOLO VYBZ KARTEL, ALKALINE, INTENCE, POPCAAN, SHENSEEA, KOFFEE

DWNLD DJ GAT YAMI BOLO MIX SPLIT FILE
DWNLD DJ GAT YAMO BOLO MIX MOBILE
1.Vybz Kartel – Yami Bolo
2.Alkaline – Buryberry
3.Mavado – Legacy
4.Alkaline – Buryberry
5.Shenseea – Sure Sure
6.Koffee – Lockdown
7.Squash & Vybz Kartel – Skillful (Remix)
8.Intence – Antisocial
9.Skillibeng;Quenga – Vengeance Ways
10.ANACANDA – SLIPPERS & SOCKS
11.MIDDLE EAST – TEETH AFFI BRUSH
12.BAD GYAL (FT VYBZ KARTEL. SKILLIBENG, JUCEE FROOT & TOMMY LEE)
13.Jada Kingdom Ft Skillibeng – Tek It
14.Lyngah-Sexy Lady ft Shaney Blaxx
15.Shaneil Muir – Top Gyal
16.Shaneil Muir – Yamabella
17.Diesel HIgh – Fren Dem
18.RYZIN-BUSS HEAD
19.Mavado – Enemy Line
20.LYNGAH – BUBBLE – LYNGAH – BUBBLE
21.VYBZ KARTEL- Cute Rider (Divas)
22.STATE EVIDENCE (FT VYBZ KARTEL. LISA MERCEDES)
23.DJ STEEL – STARLIFE
24.DUBPLATE DJ GAT – STARLIFE
25.DJ STEEL ft PERSONA SUMMER TIME PARTY [REMIX] GATLIN RECORDS
26.JEEZA SPEECE – UP STATE GATLIN RECORDS
27.J- RILE – BY ANY MEANS GATLIN RECORDS
27.BRUKOUT- JAH YOU ALONE GATLIN RECORDS
28.Ryzin – Spread the Love
29.DiCelebrityy X Sikka Rymes – Bounce
30.(VYBZ KARTEL FT. SIKKA RYMES & DADDY1) – PRESIDENTIAL
31.LYNGAH – SIP SOME HENNY – LYNGAH – SIP SOME HENNY
32.SOL WEATHER MAN – WIND GRUNG
33.Lolaa Smiles – Go Gettah
34.Jeezas – Druggist
35.Iwaata – Like How
36.Kripton13 – Aim & Squeeze
37.Intence – Through The Gate
38.Popcaan – FRESH POLO (feat. Stylo G & Dane Ray)
39.Squash – Different Rankin
40.Tommy Lee Sparta – Hot Topic
41.Intence – Wonder .
42.CONCRETE FACE – STREET CODE
43.Hundred – Vol Cane
44.Shellinz – Cyaa tame
45.Bregin/Brukout Musik – Wah More
46.Jonnah ft Prince – Starlife
47.Bazragod – Parish 14 Badness
48.Bazragod – FEAR
49.Popcaan – UNDA DIRT (feat. Masicka & Tommy Lee)
50.Gold Gad – New Scheme
51.Govana – That Mi Like Hear Ft. Xtassi
52.I Octane – Friend Killer
53.Jahvinci – My Pain
54.Tommy Lee Sparta – Procreator
55.Teejay – Gangster Prayer
56.Rygin King – Me, Myself & I
Related Posts via Taxonomies