Need a Little Cheer? Starbucks' New Holiday Cups Are Here – NBC4 Washington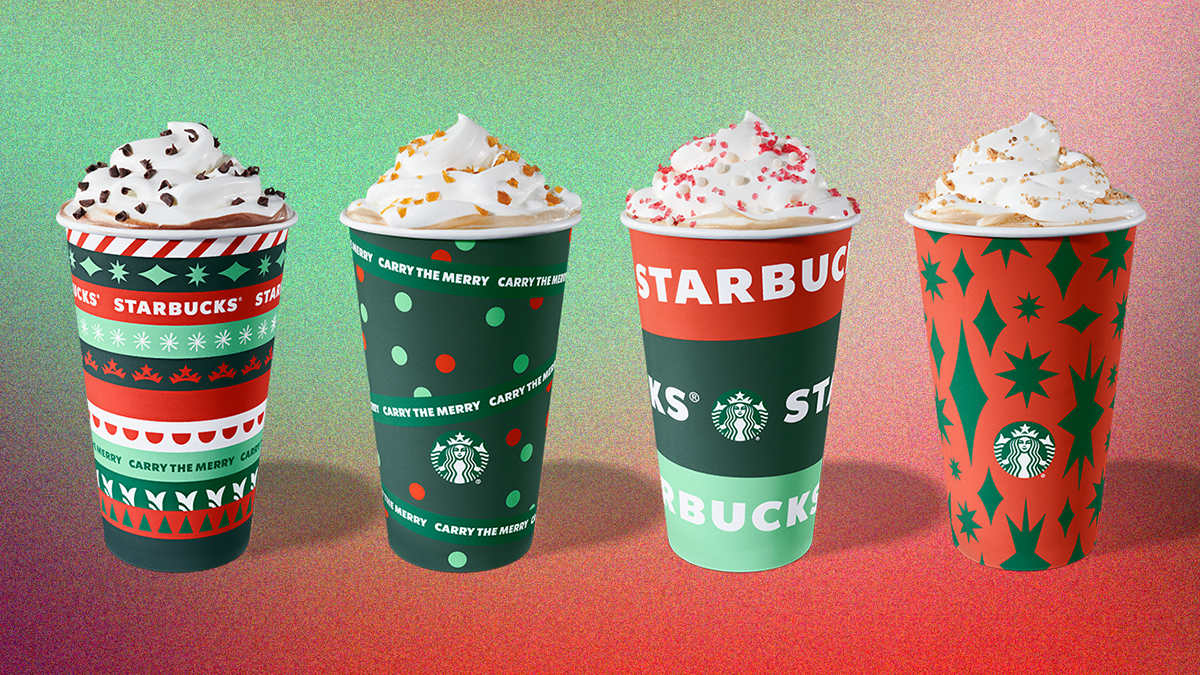 Many see the seasonal Starbucks red cups as the unofficial launch of the holiday season — and that time is finally here. On Friday, Nov. 6, the chain will get fans in the seasonal spirit with the annual release of its holiday cups.
In a year when many traditions have been altered, this one is remaining the same, as the chain is launching four new cup designs: Ribbon, Dot, Sparkle and Brand Wrap.
The Ribbon design has ribbons of green and a jolly red wrapped like a cozy holiday sweater, with the classic mermaid crown, tail and scales subtlety woven in. This design is also seen on the collectable red cup this year. The Dot design has stripes swirl around a field of green with fun polka dots, instructing the cupholder to "carry the merry."
There's also the Sparkle design, a red cup with cutout shapes in green like that include fun holiday ornaments, and Brand Wrap, which features a ribbon design with the Starbucks logo woven in.
Watch TODAY All Day! Get the best news, information and inspiration from TODAY, all day long!
The Starbucks seasonal holiday cups have quite a timeline of change behind them, with a series of controversies over what is on the surface a rather simple cup design.
In 2015, the chain was accused of waging a "war on Christmas" when they released plain red cups rather than festive holiday designs. In 2016, when they tried to launch cups that promoted unity through diversity, they were accused of attacking Christian values. And while some years, like 2017, were less controversial —like the adult coloring book-themed cups — these cups are always sure to be noticed.
Returning this holiday season will be traditional favorites like Peppermint Mocha, Toasted White Chocolate Mocha, Caramel Brulee Latte, Chestnut Praline Latte and Eggnog Latte. And if those don't satisfy your sweet tooth enough, there's also a new Cranberry Orange Scone, and Sugar Plum Danish, Cranberry Bliss Bar, Snowman Cookie and Snowman Cake Pop will all be returning.
To celebrate the arrival of the holiday season, Starbucks is giving a free collectible red holiday cup to any customer who orders one of the seasonal holiday beverages on Nov. 6 at participating Starbucks stores in the U.S.
And for those who aren't ready to visit café locations yet, Starbucks' Christmas Blend whole-bean coffee and K-cups are also available to brew and enjoy right at home — meaning, everyone can get a little taste of holiday cheer in their mug.
This story first appeared on TODAY.com. More from TODAY:
Scarlett Johansson Gets Slimed by Colin Jost While Accepting MTV's Generation Award – NBC4 Washington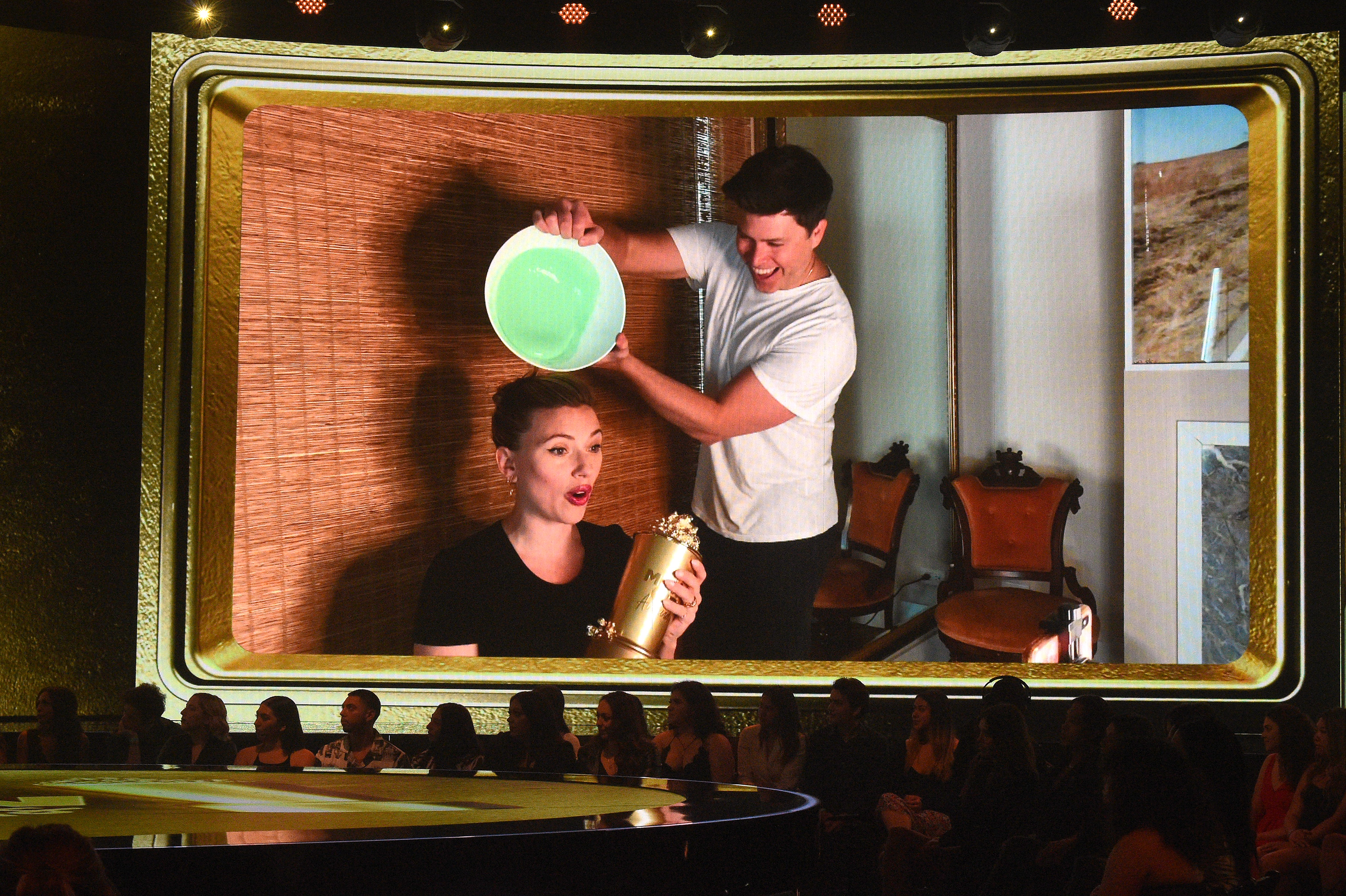 Scarlett Johansson got a surprise from husband Colin Jost during the 2021 MTV Movie & TV Awards.
The 36-year-old "Black Widow" star accepted the Generation Award with a pre-taped segment that aired during the awards ceremony on Sunday. She began her acceptance speech by thanking her co-workers from throughout her career, in addition to expressing appreciation for her fans.
"I never would have been able to continue to evolve as an actor for the last 30 years without the support and dedication of so many cast and crew members that make up the nomadic traveling-circus family that are movie sets, and the dedication and hard work of so many people that goes into making any movie continues to inspire me as a performer," Johansson said.
"Thank you so much to my fans for riding the wave with me and for supporting my career so I can continue to have the good fortune to pursue the job that is my passion," she continued. "I realize what an absolute gift it is to be able to have the opportunity to do what I love, and I couldn't do it without your continued support."
Things got wild as Johansson was in the process of introducing a previously unseen clip from "Black Widow" when Jost walked over to her in their home and poured a bowl of green slime over her head.
Scarlett Johansson's Best Looks
"What the f—?" Johansson said.
"MTV! You got slimed," Jost responded.
After the "Rough Night" actress explained that the 38-year-old "Saturday Night Live" star was thinking of Nickelodeon, he replied, "I'm very, very sorry."
She fired back, "Just get a towel," and then wouldn't let him attempt to dab her face with it.
In introducing the star prior to the segment, Billy Porter quipped, "She's the only Oscar nominee I know who can bench press more than Chris Hemsworth and look hotter doing it."
Earlier this month, a press release announced Johansson would receive the award.
"The highly coveted 'Generation Award' celebrates beloved actors whose diverse contributions to both film and television have turned them into household names," the statement said in part.
Previous recipients include Dwayne Johnson, Reese Witherspoon, Jamie Foxx, Adam Sandler, Will Smith, Sandra Bullock, Tom Cruise, Chris Pratt and Robert Downey Jr.
Prior to the Generation Award, Johansson had been nominated for six MTV Movie & TV Awards prizes over the years. She nabbed the golden popcorn in 2013 for "Best Fight" for "The Avengers."