Ziggy Marley Releases New Album To Help Children Cope With Pandemic
As families around the world continue to struggle with the restrictions of the coronavirus pandemic, one Reggae artiste, Ziggy Marley, is trying to help them through his music. Ziggy Marley, who is the eldest child of Reggae legend Bob Marley, has released a new album with a twist called More Family Time.
The album has a very educational tone and features vocals from the entire family, including their pet dog, Romeo. Bringing a different dimension to Reggae, the album features tracks that target young learners such as "Play In The Sky" with Ben Harper, a song about appreciating the outdoors, "My Dog Romeo," "The Garden Song Of Miracles," which also features Stephen Marley and "Move Your Body."
Marley spoke with Loop News Jamaica and explained that the album came about after he was inspired by his four-year-old son, Isaiah. He added that the album he set out to create definitely had a different sound. "Isaiah was around me and started inspiring me to do these types of songs," he added.
He said that by interacting with his son, he realized that children around the world needed help to get through the pandemic, and this is how he felt he could contribute. Ziggy Marley is very focused on family life and often posts about his day-to-day life with his family on social media. In 2009 he won the Grammy Award for Best Children's Album for his album Family Time.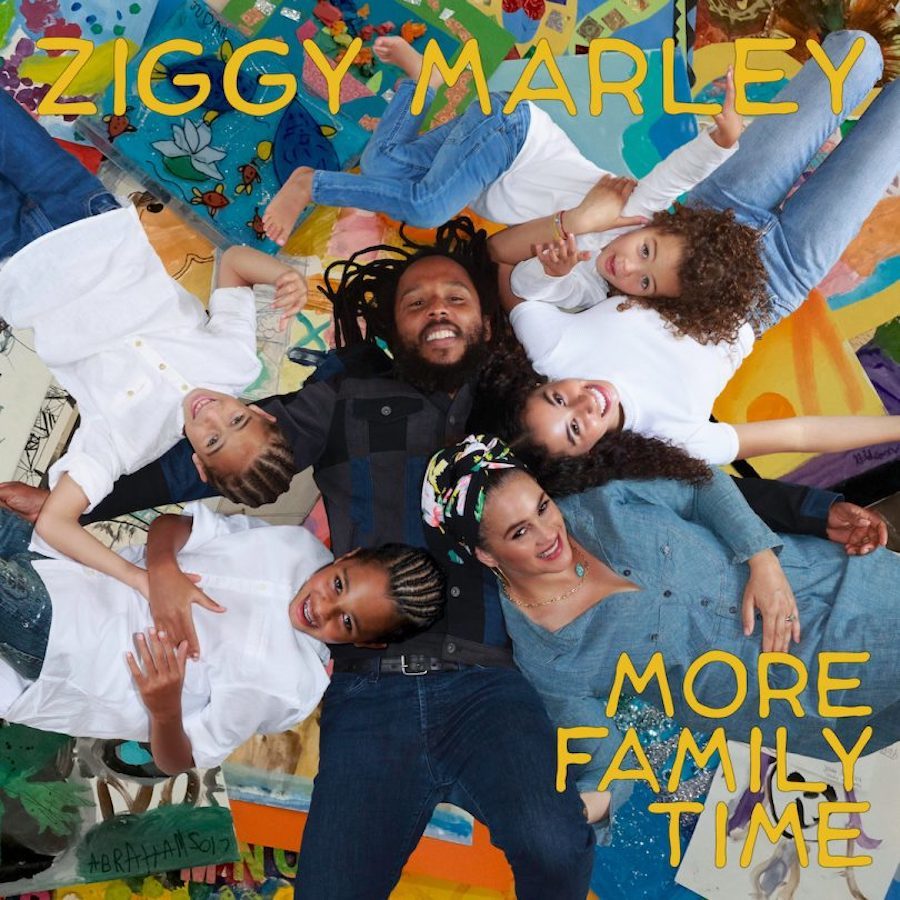 He also enlisted some big alternative and pop names for this project. They include Alanis Morrisette, Sheryl Crow, Busta Rhymes, Jamie Lee Curtis, and Angelique Kidjo.
Ziggy Marley added that the song "Please, Excuse me, Thank You," which he sang with Alanis Morissette, was specifically for helping children to understand the importance of manners. A lesson he thanked his Grand Aunty for. He revealed that she took care of him and his siblings when their parents were away on tour.
He went on to say that since the pandemic, he has been inspired by all the things that he mentions in the album, including his dog. Marley is hoping that the same feeling of relief that he felt while creating the album will be passed on to the listeners.
"During the pandemic and Black Lives Matter and George Floyd protests in America where I am, there was a lot of energy so it just come like a breath of fresh air, it give me a breather," he said.
He also revealed that he used the downtime caused by the pandemic to create a photo book entitled Portrait of a Legend to honor his father's 75th birthday. The book will become the first to be ever authorized by the Bob Marley Foundation.
Some of the proceeds from More Family Time will go to his 501(c)3 URGE, which supports the education and other endeavors at the Chepstow Primary School and the One Love Youth Camp.
Here's the tracklist for More Family Time:
1. "Play with Sky" (feat. Ben Harper)
2. "Everywhere You Go" (feat. Sheryl Crow)
3. "Music Is In Everything" (feat. Lisa Loeb)
4. "Move Your Body" (feat. Tom Morello, Busta Rhymes and Isaiah Marley)
5. "Jambo" (feat. Angelique Kidjo)
6. "Please Excuse Me Thank You" (feat. Alanis Morissette)
7. "Garden Song of Miracles" (feat. Stephen Marley)
8. "Goo Goo Ga Ga"
9. "My Dog Romeo" (feat. Romeo)
10. "Wonderful People" (feat. Judah, Gideon and Abraham Marley)
11. "Today I Feel Silly" (Jamie Lee Curtis reading her new kids book) – A CD BONUS TRACK
https://music.apple.com/us/album/more-family-time/1524503581
Bounty Killer Fix His Crown On 'King Of Kingston' Cover Art & Put Artists On Notice
Bounty Killer fix his dancehall crown on the cover art of his forthcoming album, King of Kingston. The dancehall legend used the opportunity to put every other artists dropping album this year on notice.
2021 has been the year for dancehall albums, and another major release is on the horizon. Veteran deejay Bounty Killer has announced that he will be dropping his hot new project, King of Kingston, sometime this year.
In true Bounty Killer style, the artiste gave the confirmation on Instagram yesterday (May 14), writing, "Y'album alerts the coming is near."
The Warlord has been regarded as one of the most entertaining dancehall acts of his day, and he ensured that this stayed fresh in the minds of his followers, as he bashed other entertainers who have released albums this year.
"Side Note: Since everybody and dem granny making album this year all of a sudden let me make this clear all who and who dropping dem little dumpling thing dweet fast and move bcuz when GIANT a feed up a pudding pan kerosene tin business in other words the BIGGEST BADDEST and the BEST dancehall Y'album for the last two decades is…………..LOADING," he wrote in the caption.
The timing of Bounty's announcement, along with the shady message, had fans thinking the artiste was taking a jab at Alkaline, who released his "Top Prize" album yesterday. Despite the dig (intentional or not), it's undeniable that Alkaline's album has been making waves even before its launch. "Top Prize" has been trending both locally and internationally, becoming the #1 pre-ordered album on all major streaming platforms, including Amazon and iTunes, in the week before it launched.
Still, Bounty's comments might not have been directed at the young artiste as several dancehall artists, both newcomers and veterans, have either launched or announced albums in the past few months. These include Vybz Kartel, Sean Paul, Masicka, Beenie Man, Shenseea, Popcaan, Jada Kingdom, and Intence.
It's clear that Bounty's album is one of the most highly anticipated. The comment section of his announcement was flooded with upbeat responses from fellow artists who expressed excitement about the album. Bugle commented, "Ready and a wait caz mi know it a go great [fire emojis]." Baby Cham also commented fire emojis, while Trelawny native Charly Black said, "Well turrrrrble [fire emojis]."
On another post that highlighted an image of Killer (which we assume is the album cover), Vybz Kartel also expressed anticipation, writing, "TPC [fire emojis]." The two have had their differences in the past but seem to have mended fences in recent years.
The deejay's last album was Ghetto Dictionary: The Art of War, which was released in 2002.
Bounty Killer is one of the greatest of all time in dancehall. The legend, often referred to as The General, rose to fame in the early 1990s when he cemented himself as a gritty hardcore deejay from Seaview Gardens in Kingston. His him community likely helped inspired the title of the album, King of Kingston.
Since his early days as a ruthless hardcore deejay, Bounty Killer went on to become one of the most celebrated names who ever pick up the mic. With numerous classics under his belt including several international collabs, fans are clued in for his upcoming project.