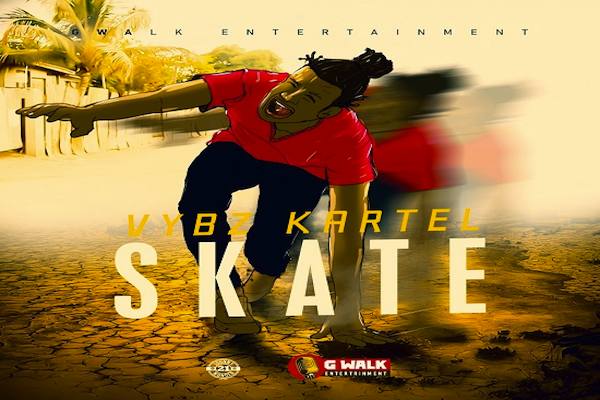 In his latest single the incarcerated Jamaican deejaay sends shots toward Jamaican recording artist Intence and his whole Jettlife camp.
Since this past April the Gaza General and Intence have aiming shots at each others via social media. The reasons behind the beef are different, some say a gal is involved, some others say that Intence and his camp are showing love to Alkaline and that rubbed the Gaza General the wrong way.
The visuals for Skate, directed by Face Expression Production, were shot nearby Intence's own house and turf, and a good observer could see the gate of Intence's home in the community of Tavern, located in Kingston,  the parrish of St. Andrew. The video is shot like a spy action movie and centers on some shoes being robbed, by somebody that resemble Intence.
Kartel packs the single with abrasive lyrics and his usual effortless style and Sikka goes hard as well. "Skate" is produced by G Walk Entertainment and distributed by Johnny Wonder, check the full lyrics where Kartel packs different types of punches, posted below and get Kartel's and Sikka Rhymes 'Skate', clicking on the links posted on below.
Yow Pablo, raise hell like Diablo (Mhm)
Yuh know when we a go fi bwoy Worlboss, ah easy kill
One don
Tell dem seh ah
A.K pon rapid ina forehead
Nuh weh nuh too far fi wi' trod it
Road deh deh, wi' a fawud, crabbit
One motion deliver di package
Empty it ina him yiy mek him have it
Run down pon di bwoy
"Talk now nuh bitch"
Bury dem a Riverton, hurry
Dem cyah recycle like rubbish
Striker, Sturridge
Sterling, courage
Marow fly, nuh bridge
Nose nah nuh [?]
Bwoy dem start war, cyah manage
Cawn dem, cawn dem like porridge
None a dem nuh badder than mi news shoes dem
Mussi have a magician round desso a fool dem
Pon a knock, bush wacker, black blood, ah who dem?
Badda dan, K shot, mek some bwoy start skate pan dem hand
Skate pan pon dem hand
Skate-skate-skate
Skate pan pon dem hand
Bwoy skate pan pon dem hand
Skate pan pon dem hand
Skate-skate-skate
Skate pan pon dem hand
Pablo
None a dem nuh badder than mi news shoes dem
Mussi have a magician round desso a fool dem
Pon a knock, bush wacker, black blood, ah who dem?
Badda dan
One don
Tell dem yah –
Sumadi missing
When it [?] nuh glisten
Rise up
All dem do a watch face
Dem nuh see dem time up
Minus, tek weh dem gyal cah mi nuh buy fuck
Who dem a style up?
All dem a talk, when dem see di V.P
Eye white yah drop like yuh see a T.V
Custom White house like mi deh a D.C
Bankrobber wid 'e cheese
Worlboss tell dem
None a dem nuh badder than mi news shoes dem
Mussi have a magician round desso a fool dem
Pon a knock, bush wacker, black blood, ah who dem?
Badda dan, K shot, mek some bwoy start skate pan dem hand
Skate pan pon dem hand
Skate-skate-skate
Skate pan pon dem hand
Bwoy skate pan pon dem hand
Skate pan pon dem hand
Skate-skate-skate
Skate pan pon dem hand
Pablo
None a dem nuh badder than mi news shoes dem
Mussi have a magician round desso a fool dem
Pon a knock, bush wacker, black blood, ah who dem?
Badda dan
Tell dem seh ah
A.K pon rapid ina forehead
Nuh weh nuh too far fi wi' trod it
Road deh deh, wi' a fawud, [?]
One motion deliver di package
Empty it ina him yiy mek him have it
Run down pon di bwoy
"Talk now nuh bitch"
Bury dem a Riverton, hurry
Dem cyah recycle like rubbish
Striker, Sturridge
Sterling, courage
Marow fly, nuh bridge
Nose nah nuh [?]
Bwoy dem start war, cyah manage
Cawn dem, cawn dem like porridge
None a dem nuh badder than mi news shoes dem
Mussi have a magician round desso a fool dem
Pon a knock, bush wacker, black blood, ah who dem?
Badda dan, K shot, mek some bwoy start skate pan dem hand
Skate pan pon dem hand
Skate-skate-skate
Skate pan pon dem hand
Bwoy skate pan pon dem hand
Skate pan pon dem hand
Skate-skate-skate
Skate pan pon dem hand
Pablo
None a dem nuh badder than mi news shoes dem
Mussi have a magician round desso a fool dem
Pon a knock, bush wacker, black blood, ah who dem?
Badda dan
None a dem nuh badder than mi news shoes dem
None a dem nuh badder than mi news shoes dem