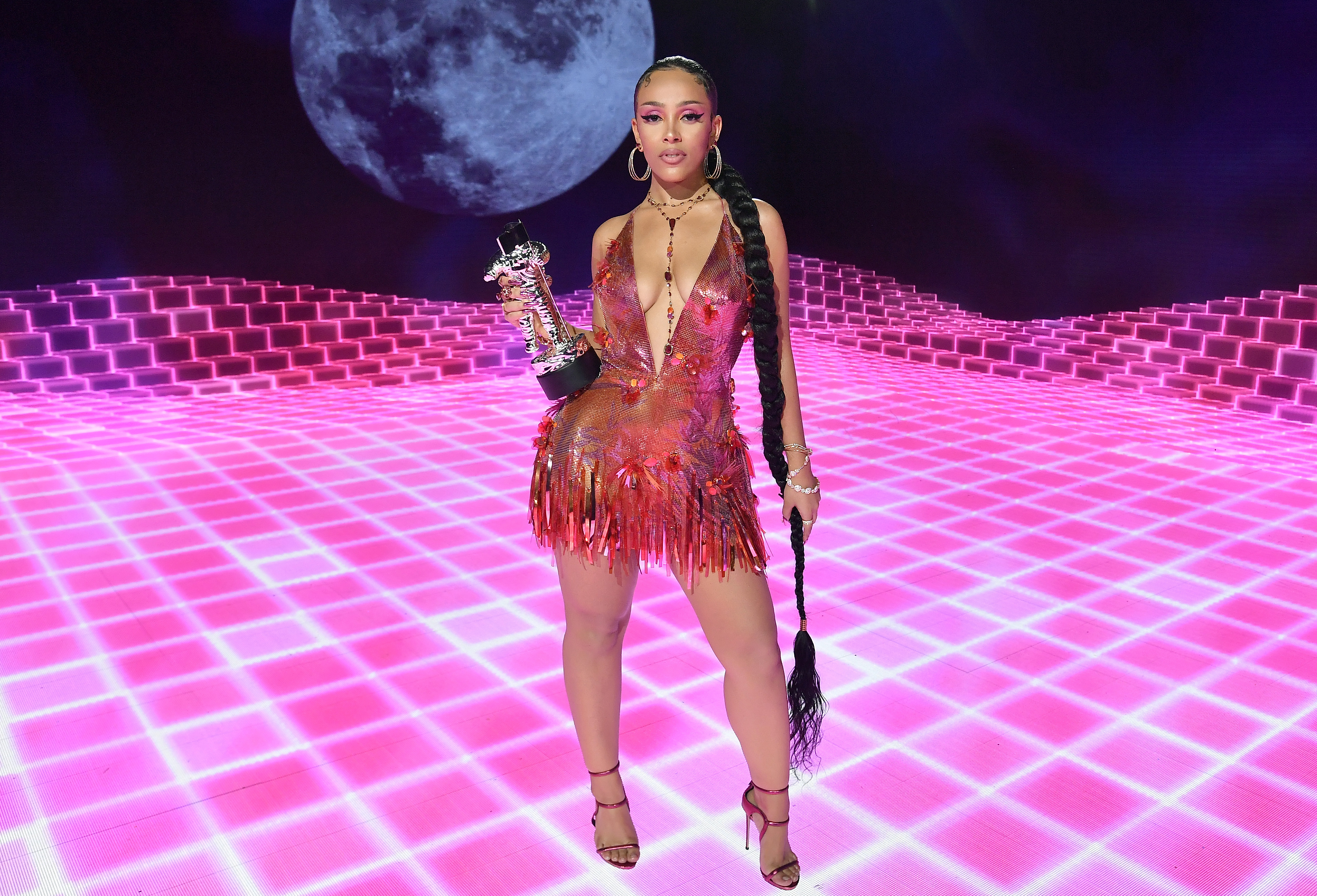 An out-of-this-world VMAs performance!
Doja Cat, neé Amala Zandile Dlamini, not only paid homage to the viral TikTok dance of her single "Say So" during her performance of the track at the 2020 MTV Video Music Awards on Sunday, but she also delivered what might be one of the best VMAs debuts ever.
Donning an alien-esque bodysuit complete with scales, the 24-year-old singer performed both "Say So" and "Like That" on an intergalactic set surrounded by dancers that appeared just as otherworldly. Cat introduced the set with a fake MTV News segment, pretending to be an anchor named "Something Quirkier" as she said, "Performing live on Planet Her is Doja Cat. Enjoy!"
The vocals and choreography were equally impressive, and the latter must've been particularly exciting to witness for the teen who created the "Say So" dance, TikToker Haley Sharpe.
The performance marked Cat's VMAs debut, which came the same year she scored nominations in four categories: Song of the Summer, Best Direction, Push Best New Artist and Song of the Year.
See the Winners of the 2020 MTV VMAs
Cat wound up taking home a moonperson for Push Best New Artist, prompting her to deliver an emotional acceptance speech.
"I'm just going to get down to it. I want to thank everybody. I wouldn't have this in my hand without the people who helped me today," Cat said, going on to shout-out people like Yeti Beats, the lead producer and collaborator on many of her projects and her managers, choreographer, dancers and label.
She continued, "I know it's been a really hard year and I just want everybody to stay safe. Take care of yourselves."
Lady Gaga and Ariana Grande Let Girl Power Rain Down During 2020 MTV VMAs Performance
Cat added that she somehow missed "one of the biggest 'thank yous,'" which then went to her fans.
"Being on social media is one thing because I joke and I meme all day, but when I stand here right now and tell you that I'm so thankful to have [you] as supporters, the fact that this happened and you are a huge part of it, means everything to me," Cat said. "And I'm not going to cry. But I love you and thank you. Stay safe and thanks, mom!"
MTV VMAs 2020: Instagrams &Twitpics
Cat's VMAs debut comes after a whirlwind year for the singer as her rise to fame on TikTok and in the music industry was interrupted in May after a 2015 song containing a racist slur resurfaced online. She was also accused of taking part in racist online chats in the past. Cat has since addressed the allegations and apologized.