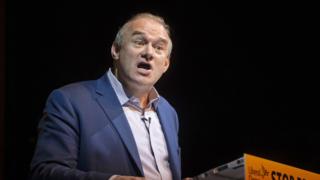 Sir Ed Davey has won the race to become the new leader of the Liberal Democrats.
The acting leader will now take over on a permanent basis after beating his competitor, fellow MP Layla Moran.
Sir Ed secured 63.5% of the vote, compared to 36.5% for Ms Moran.
At an event in London, Sir Ed said it was time for the party to "wake up and smell the coffee" after only securing 12% of the vote in the last general election.