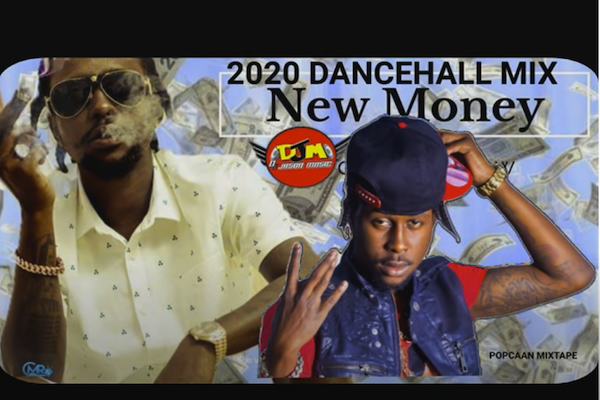 Check out a new and free dancehall mixtape that came out this month of July, brought to you by Jamaican DJ Jason and dedicated entirely to Unruly Boss Popcaan and titled "New Money".
This is a clean dancehall mixtape that will keep you company for an hour straight and playing all the latest biggest songs from Poppi.
DJ Jason included more than thirty tracks, some Popcaan biggest and newest tunes like New Money, Silence, Family, Watch Over Me, We Pray, Stay Up, Stronger Now and includes also few older tunes like Where We Come From, Unruly, Only Jah Know, World Cup, Over Dweet.
This is a goof mixtape that celebrates Popcaan's music and career via his biggest dancehall reggae anthems and comes out in the month of July, which is also Popcaan birthday month.
Available for free stream and free download, check out the full track list and play DJ Jason Popcaan mixtape below. Download Popcaan's mix via the download button posted after the audio mix.
POPCAAN DANCEHALL MIX 2020 JULY, CLEAN DANCEHALL MIX
DWNLD DJ JASON POPCAAN NEW MONEY DANCEHALL MIXTAPE 2020
1 POPCAAN – NEW MONEY
2 POPCAAN – SILENCE
3 POPCAAN – FAMILY
4 POPCAAN – WATCH OVER MY LIFE
5 POPCAAN – PRESERVE MY LIFE
6 POPCAAN – GOD ALONE
7 POPCAAN – WE PRAY
8 POPCAAN – STAY UP
9 POPCAAN – STRONGER NOW
10 POPCAAN – NAH IDLE
11 POPCAAN – INVIOABLE
12 POPCAAN – EL CHAPO
13 POPCAAN – STRAY DOG
14 POPCAAN – LOUIS HIGH DRIVE
15 POPCAAN – MY TYPE
16 POPCAAN – BODY SO GOOD
17 POPCAAN – ADDICTIVE
18 POPCAAN – UP FOREVER
19 POPCAAN – BULLET PROOF
20 POPCAAN – UNRULY LAW
21 POPCAAN – STEAMY
22 POPCAAN – WORLD CUP
23 POPCAAN – OVA DWEET
24 POPCAAN – NEW LEVEL
25 POPCAAN – JAH JAH PROTECT ME
26 POPCAAN – DREAM
27 POPCAAN – CITY
28 POPCAAN – WHERE WE COME FROM
29 POPCAAN – GANGSTER
30 POPCAAN – ONLY JAH KNOW
31 POPCAAN – UNRULY
real deal