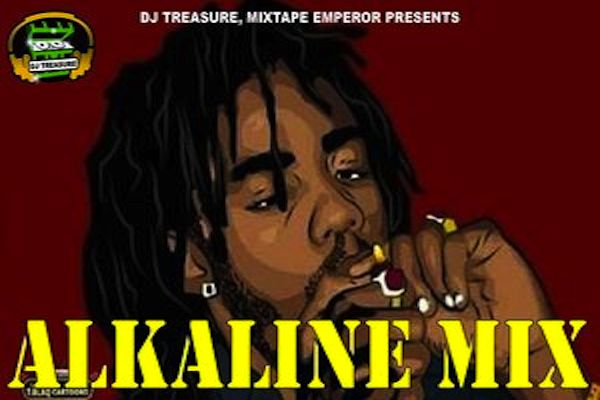 Fans of Jamaican Vendetta's deejay enjoy a new dancehall mixtape dedicated to Alkaline, brought to you by DJ Treasure.
Titled 'Alkaline Mix 2020 Raw' [Vendetta Boss] this new mix features all the latest releases from the young Jamaican Dancehall star.
Available for free stream and free download both for mobile and as a CD version, this new Alka mix will keep you company for more than half and hour blazing the young deejay latest singles such as 'Ocean Waves', 'Cree', and his ever green classics like 'Juggernut', 'Depend On Nobody' and many more.
ALKALINE MIX 2020 RAW: ALKALINE DANCEHALL MIX 2020 ✖ VENDETTA BOSS
DJ TREASURE ALKALINE VENDETTA BOSS MIXTAPE MOBILE
DJ TREASURE ALKALINE VENDETTA BOSS MIXTAPE CD
ALKALINE MIX [VENDETTA BOSS] TRACK LISTING
01 ALKALINE – OCEAN WAVES
02 ALKALINE – CREE
03 ALKALINE – MONOPOLY
04 ALKALINE – STATE OF EMERGENCY
05 ALKALINE – MOST WANTED
06 ALKALINE – HIGH PROPS
07 ALKALINE – FINE WHINE
08 ALKALINE – YARDIE FIESTA
09 ALKALINE – PERFECT
10 ALKALINE – TALK TRUTH
11 ALKALINE – GLADDEST NIGHT
12 ALKALINE – JUST THE STYLE (FEAT KRANIUM)
13 ALKALINE – BLACK HEART
14 ALKALINE – ELITE ONLY
15 ALKALINE – WITH THE THING
16 ALKALINE – JUGGERNAUT
17 ALKALINE – LOAD UP
18 ALKALINE – CITY
19 ALKALINE – DEPEND PAN NOBODY
20 ALKALINE – SUAVE
21 ALKALINE – DEATH ANNOUNCEMENTS
real deal