Jeezy and Jeannie Mai Getting Trolled With Coronavirus Insults On IG
The internet is a nasty place as Jeezy and his girlfriend Jeannie Mai are finding out.
The world has been gripped with the quick spread of the deadly Coronavirus, which has so far claimed the lives of 1,370 people. Originating in China, there are currently 60,410 confirmed cases of the disease in 28 countries around the world with no vaccine or cure available as yet. Presenting the same way as influenza, the public has been advised to be cautious when sneezing or coughing, rather doing so in one's elbow or a tissue and washing hands frequently. Many have also been seen wearing masks, particularly when traveling.
While the virus has been the subject of many memes (and people avoid Corona beer just in case), it has also spurred many examples of racism towards the global Asian community.
Jeezy and Jeannie, who are a mixed-race couple with The Real host having Chinese and Vietnamese roots, have also been targeted amongst the vitriol, as Jeannie explained on the daytime talk show.
"When Jeezy and I were in Fashion Week just recently, and there were pictures posted," Mai told her fellow hosts Adrienne Bailon, Tamera Mowry, Loni Love, and Amanda Seales. "I saw in the comments on other blogs a couple times of like, 'Don't be catching that [Coronavirus] Jeezy,' or 'She got that [Coronavirus] that latched him in.'"
"That's so hurtful because there are people that are actually dying from this," Jeannie Mai continues.
We think Jeannie said it best.
Chris Brown's Ex Says Their Daughter Royalty Will Be A Bigger Star Than Him
Royalty Brown is the real star of the family.
Chris Brown's oldest child, Royalty, showed off her singing voice in a recent video posted by her mom, Nia Guzman. The clip shows the sweet 5-year-old passionately singing the lyrics to the country pop hit "10,000 Hours", before remixing the song to sing a bit about doing the dishes and how much she loves her mom. Chris' ex posted the video to her Instagram feed with the caption, "I LOVE YOU MY BABY…MY ROYALTY!", quickly receiving many messages of adoration and support for the performance.
Followers commented to compliment Royalty's voice and encourage her to keep pursuing a career in music. One comment referred to Royalty's famous father, saying, "She is going to be just like her daddy! Royalty is going to be an amazing singer, artists, and dancer." Nia responded to the comment to say, "She is going to be everything he is and MORE!"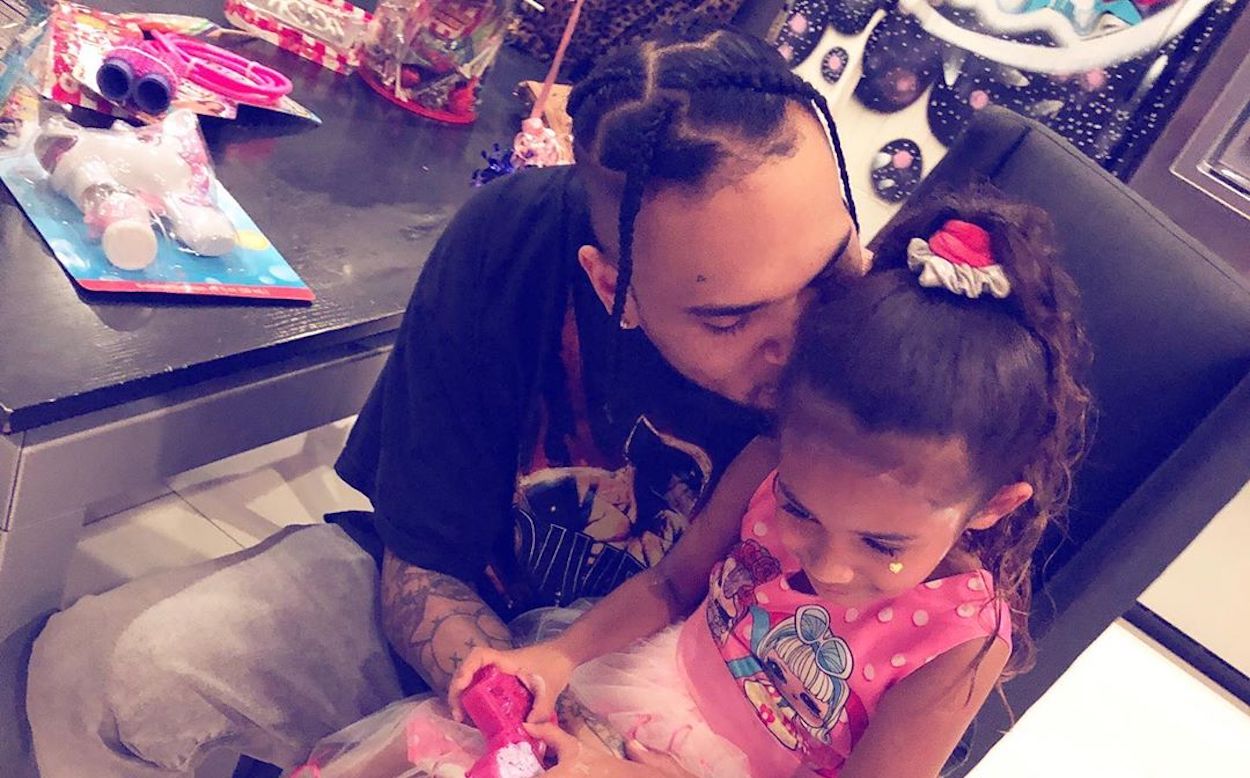 Royalty has been appearing more often in the public eye over the last couple of years, most notably for her artistic leanings. She has been seen singing and dancing, even suffering a minor head injury after trying to master her dad's famous "spin" move. While she might not be on her father's level quite yet when it comes to stage presence and performance skills, she is showing great promise for someone so young. Chris recently shared a video of his daughter dancing to his song "Gimme That" while drawing on some of the crump-style moves that helped make Chris famous.
Royalty Brown was born to Chris and Nia in 2014, although the two were not in a relationship at the time that the pregnancy was announced. Last year, Chris welcomed his second child with ex-girlfriend Ammika Harris. The two announced the birth of a little boy named Aeko Catori in December 2019. Only time will tell if both children have what it takes to be stars.