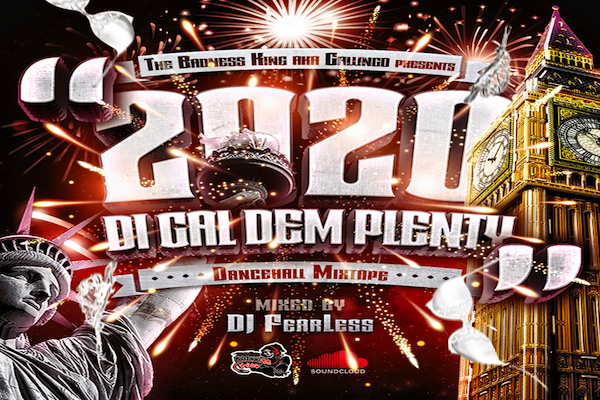 Happy New Year from DJ FearLess The Badness King! Enjoy a new fully loadeddancehall mixtape brought to you by Badness King Dj Fearless titled "Di Gal Dem Plenty".
Featuring more than
70 tracks Fearless
released his new mix with dedicated to all his female supporters. The
UK
based
DJ brings you a lot of the newest Vybz Kartel's tunes
that dropped at the very beginning of the year, including the sensational
"World Government",
and a lot of the songs featured in
Kartel's "To Tanesha" new album.
The non stop dancehall mix is fully loaded with tons of Vybz Kartel's hits of the past and present new year, and it closes with a famous World Boss anthem, "2010″, to salute the past decade, the Gaza way.
Fearless pays homage to Kartel's old and new music and spins the hottest hits from Govana, Jahvillani, Mavado, Shenseea, Aidonia, I-Octani, Popcaan, Tommy Lee Sparta, Squash, Daddy1 and many many more, check the full track list posted after the mix.
Available for free stream and free download, play  DJ Fearless "Di Gal Dem Plenty" Dancehall Mixtape 2020 below.
Dj Fearless says" Big to all his ladies supporters and listeners! big up yourself I do this for you ️ and the man dem remember a 2020 so Di Gal Dem Plenty… NUH CHAT!!!"
DJ Fearless "Di Gal Dem Plenty" Dancehall Mixtape 2020
DWNLD DJ FEARLESS DI GAL DE PLENTY TRACKED
DWNLD DJ FEARLESS DI GAL DE PLENTY MOBILE
DJ Fearless "Di Gal Dem Plenty" Tracklist
1. Vybz Kartel – Rocket To The Moon
2. Jahvillani – Fireworks
3. Govana – Up Front
4. Jahvillani – Rubba Band
5. Mavado – Top Shotta Is Back
6. Shenseea – Trick Or Treat
7. Aidonia – Aircraft
8. Vybz Kartel – Smoothie
9. Jahvillani – Sunday To Sunday
10. I-Octane – Globe Boss
11. Skillibeng – Brik Pon Brik
12. Vybz Kartel – World Government
13. Squash – Bandit
14. Vybz Kartel – One Way
15. Vybz Kartel – In The Moment
16. Vybz Kartel & Slimatic – Makes No Sense
17. Vybz Kartel & Jada Kingdom – Cast Iron Heart
18. Jahvillani – Another Day
19. Popcaan – Numbers Dont Lie
20. Vybz Kartel – Quick Quick Quick
21. Vybz Kartel & Jesse Royal – More Then You Receive
22. Vybz Kartel & Sickka Rhymes – Delusional
23. Vybz Kartel – Fell Apart
24. Aidonia – Peppa Sauce
25. Aidonia – Mi Nuh Care
26. Daddy 1 – Out Here
27. Jahvillani – Bad
28. Shane E – Gone Sleep
29. Jahvliiani – Wileside Government
30. Teejay – Owner Lane
31. Dexta Daps – No Underwear
32. Quada & Jah Vinci – Celebration
33. Dre Island & Popcaan – We Pray
34. Popcaan – Family
35. The Rara – Elegance – Dubplate
36. Jahvillani – Nuh Reason
37. Teejay – Shoob Out
38. Jahvillani – Nuh Rate Dem
39. Vybz Kartel – Any Weather
40. Vybz Kartel – Come Home
41. Vybz Kartel – In Stock
42. Daddy 1 – Anthem
43. Squash – Ohh Lala
44. Vybz Kartel – Yuh Nuh Ready
45. Intence – Go Hard
46. Peckham Raver – Bad Up – Dubplate
47. Vybz Kartel – Scorched Earth
48. Vybz Kartel – Yard Man Style
49. Tommy Lee Sparta – Hard Ears
50. Vybz Kartel – Brave
51. Vybz Kartel – Adiadiking
52. Vybz Kartel – Protect Them
53. Tommy Lee Sparta – The Power
54. Vybz Kartel – Interview
55. Squash – Scotch & Soda
56. Tommy Lee Sparta – Rich Badness
57. Jahvillani – Deh Ya England
58. The Rara – Pon Mi
59. Gabiella Walker – Face & Figga
60. Spookie Braintear – Loyalty 2 – Dubplate
61. Vybz Kartel & Sickka Rhymes – Like Im Superman
62. Vybz Kartel – Then You & Me
63. Vybz Kartel – Neva Was The One
64. Vybz Kartel & Jodi Couture – Sky Map
65. Tana Kimone – Come
66. Shenseea – Foreplay
67. Vybz Kartel – Great
68. The Rara – Piña colada – Dubplate
69. Popcaan – Gimmi Love
70. Popcaan – Promise
71. Popcaan – Lamp Shade
72. Vybz Kartel – 2010
real deal