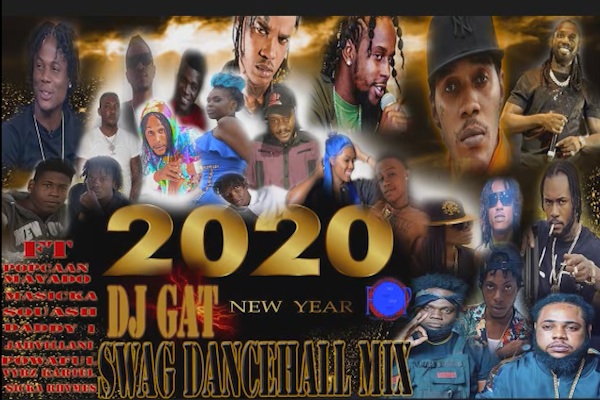 Brought to you by
DJ Gat
stream or download
"New Year Swag" Dancehall mix
featuring all the maddest dancehall songs starting with
Vybz Kartel's "World Government".
Dj Gat new non stop mix features all the trendiest songs of the past year and the hottest tunes of 2020, sporting te latest music from Jamaican recording artists like Daddy1, Squash, Chronic Law, Masicka, JahVillani & more Vybz Kartel with his anthems ADIADIKING, Protect them, Scorched Earth, Vybz Kartel & Sikka Rymes as well as Vybz Kartel & Lisa Hyper "Come Ova"and more hits from World Boss.
There is a bit for everybody in this raw new mix from Jamaican Dj Gat that includes also the latest music from Unruly Popcaan, Tommy Lee Sparta, Aidonia, Shenseea, Intence, Teejay, Mr Vegas, Mavado and brings you all the juiciest hits.
Check the full track list for DJ Gat "New Year Swag" posted after the audio mix. Available for free stream and free download get it clicking on the buttons below.
DANCEHALL MIX 2020 RAW DJ GAT NEW YEAR SWAG MIX VYBZ KARTEL MASICKA TOMMY LEE JAHVILLIANI

DWNLD DJ GAT NEW YAR SWAG MIX 2020 SPLIT FILE
DWNLD DJ GAT NEW YAR SWAG MIX 2020 MOBILE LINK
1.Vybz Kartel – World Government
2.Daddy1 – Trending King
3.Squash – Mighty
4.Chronic Law – Cyaah Stop
5.Popcaan – Numbers Don't Lie
6.ADIADIKING – VYBZ KARTEL
7.Vybz Kartel – Protect Them
8.CURRENCY – MASICKA
9.Skillibeng – Brik Pan Brik
10.JAHVILLANI – RUBBER BAND
11.Govana – Up Front
12.Shenseea – Trick'a Treat
13.Aidonia – Aircraft
14.MAVADO – TOP SHOTTA IS BACK
15.OVADOSE FT ICEBERG-NUH LEF ME GUN
16.OVADOSE X SHAWN STORM X BURNAA KUSHFILLED – PARTY
17.Tommy Lee Sparta – Under Vibes
18.MASICKA – RICH
19.Popcaan – Billions feat. Quada (Top Boy)
20.T-BLUE – NICE
21.Plata – Soulz
22.Vybz Kartel, Sikka Rymes – Like I'm Superman
23.Vybz Kartel – Scorched Earth
24.Powerful- Si Dung
25.Don Turan- Weedy Weed
26.Teejay – Stay Scheemin'
27.Intence – Leave If You Waah Leave
28.Vybz Kartel & Lisa Hyper – Come Ova
29.SOL WEATHER MAN-STOP ANNOY ME
30.LOLAA SMILES & TEEJAY – WHITE SHEET
31.SHELLINZ-BUBBLE
32.CHAPS – OH GOSH
33.JAHVILLANI – SUNDAY 2 SUNDAY
34.Jahvillani – Bad Clarks and Blue Jeans
35.SHANE O – Weh Stress a Go
36.Nazine – Happy Yah Now
37.Mr Vegas – Can't Go Without
38.Teejay – Day One
39.Young Lion-Why dem Fight Wi Suh
40.Young Lion -Give Thanks
41.Intence – Critics
42.TOMMY LEE SPARTA – SHALLOW GRAVE
43.CHRONIC LAW – HIGH GRADE KUSH
44.Vybz Kartel – Brave
45.Mavado – Flammable
46.Vybz Kartel – Pretty From Morning
47.Squash – Pitch Black
48.Chronic Law – Natural Disaster
real deal