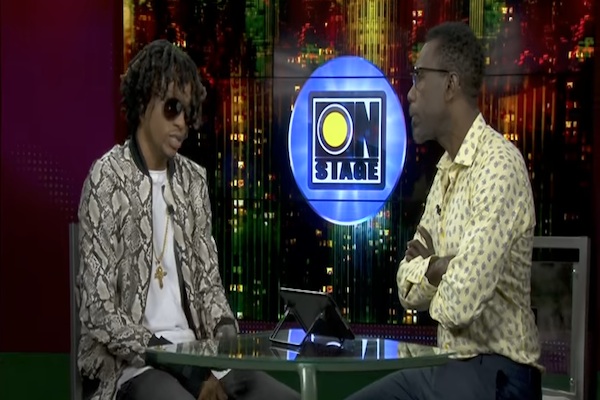 Jamaican dancehall artist Sikka Rymes the rising dancehall star from Gaza and World best right hand, that was shot 3 times by gunmen on Hope Rd. is slowly but steady recovering his health
After spending several weeks at the hospital, he was recently discharged and was able to appear OnStage TV with Winford Williams for a touching interview. Sikka explains that while is off the hospital bed he still has to return to the hospital sometimes to do eye tests and blood tests, because of his diabetes problem.
He spoke OnStage about being conscious the whole time after being shot three times. He knew that he was riding his motorcycle in a line of traffic and a car that was also in the line overtook the vehicles that were behind him and pulled up beside him and someone started firing shots at him. He was shot in his hand, his chest and his foot before he realized that the person who fired the shots had no intention to stop, and he turn the bike on the side and let it go, so it moved along the road beside the car that the attacker was in. He then managed to get up and run to a car that was not far behind and he was rushed to the hospital. The hospital staff had to cut his clothes off quickly so they could start trying to save his life.
The young Gaza artist is still trying to figure out why someone would try to hurt him, since he is known to be patient and he has never been involved in any beef with anyone. He was simply working to take care of his family. Taking care of them and helping Kartel who is in prison, was what he lived to do.
He also spoke about "Up Move" an event that he had organized for the children who had parents who couldn't afford to give them treats. He would give them ice-cream and other treats and he got sponsorship from entrepreneurs to keep it going. He really tried to uplift the youth in his community.He could only conclude that envy was the reason the gunmen had to do what they did.
The Jamaican recording artist is still experiencing the pain of his wounds and knows he needs to wait some more before he can continue with his career. He will take him until at least till Summer to recover, also his voice, and being able to record new music. While Onstage TV he promoted his new music video for his latest anthem "Gaza to Mi Bone' and said it was recorded the day before he was shot. Sikka Rymes stated that he hasn't spoken to Vybz Kartel since the shooting.
WATCH SIKKA RYMES INTERVIEW ONSTAGE TV WITH WINFORD WILLIAMS JUNUARY 2020 BELOW

WATCH SIKKA RYMES "GAZA TO MI BONE" OFFICIAL MUSIC VIDEO 2020

real deal