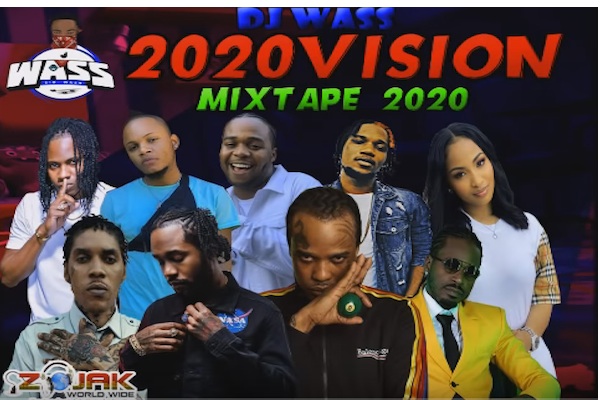 Check DJ Wass dancehall vision for 2020, he is back with a new free dancehall mixtape titled "2020 Vision".
Boasting top dancehall hits from Jamaican stars like Govana, Ding Dong, Mavado, Shenseea, Teejay, Vybz Kartel, Sparta, Daddy1, Squash, Popcaan and many many more, this is a non stop dancehall mix that will keep you company for more than an hour and fifteen minutes of music and featuring more than 50 songs.
Stream DJ Wass full 2020 Vision Dancehall Mix and download it for free using the download buttons posted after the audio track.
Stream DJ Wass 2020 Vision Dancehall Mix January 2020 

DWNLD DJ WASS 2020 VISION DANCEHALL MIX FULL CD
DWNLD DJ WASS 2020 VISION MIX MOBILE
DJ WASS 2020 VISION DANCEHALL MIX TRACK LIST:
01 – INTRO
02 – GOVANA – CONVO
03 – GOVANA – UPFRONT
04 – DING DONG – WATCH DEM
05 – AIDONIA – AIRCRAFT
06 – MAVADO – TOP SHOTTA
07 – TEEJAY – DRACO
08 – SHENSEEA – TRICK A TREAT
09 – JAHMIEL – MONEY MONEY
10 – JAHVILLANI – RUBBER BAND
11 – TEEJAY – HENNE & WEED
12 – SKILLI – BRICKS PON BRICK
13 – KOREXX – LOGO
14 – DADDY 1 – TRENDING KING
15 – DING DONG – FI WI DANCEHALL
16 – CHRONIC LAW – CYAAH STOP
17 – RYGIN KING – NEW MACHINE
18 – TEEJAY – HIGH GRADE
19 – SQUASH – MIGHTY
20 – VYBZ KARTEL – WORLD GOVERNMENT
21 – VYBZ KARTEL – SCORCHED EARTH
22 – TOMMY LEE SPARTA – TOP SHOTTA
23 – TOMMY LEE SPARTA – UNDER VIBES
24 – DAMELL – VIBE
25 – MR G – SHUT YOU MOUTH
26 – VYBZ KARTEL – BRAVE
27 – INVINCIBLE DAN – 2020 BADNESS
28 – BAZZA T – DEVIL REJECT
29 – JAHVILLANI – FIREWORKS
30 – I-SANE – 100 GRAND
31 – SWAZZ – ANO YOU ALONE
32 – J-RILE – KUFF [MAD OVA]
33 – POPCAAN – NUMBERS DON'T LIE
34 – CHRONIC LAW FT QUADA – WILD & RICH
35 – DANE RAY – MONEY PILE UP
36 – TOMMY LEE SPARTA – THE POWER
37 – GOVANA – PROTECTION
38 – VYBZ KARTEL – ROCKET TO DA MOON
39 – VYBZ KARTEL – FELL APART
40 – VYBZ KARTEL – NEVA WAS DA ONE
41 – VYBZ KARTEL – THEN YOU AND ME
42 – MIKEYLOUS – UNGRATEFUL
43 – TEEJAY – DAY ONE
44 – KOREXX – BUSINESS
45 – MASICKA – IMAGE
46 – MASICKA – RICH
47 – FIYAH KONCHOUS – NASCAR
48 – J-RILE – BAD GAL ALERT
49 – I-SANE – WORLD FILM [CUTE & GOOD]
50 – VYBZ KARTE FT JADA KINGDOM – CASDE IRON HEART
51 – JAHVILLANI – PRESERVE MI LIFE
52 – VERSHON – LOVE TALK
53 – CHRONIC LAW – STAY REAL
real deal