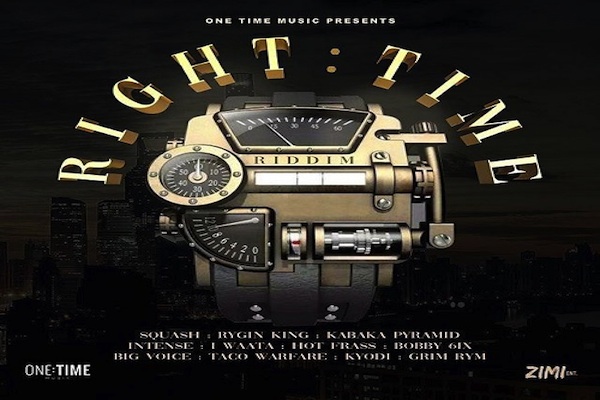 Play below a new dancehall reggae riddim called Right Time Riddim and produced by One Time Music.
Featuring a great line up of Jamaican recording artists like IWaata, Squash, Intence, Rygin King, Kabaka Pyramid and more, this is a great riddim to listen to.
"Right Time Riddim" is a well balanced project with a good balance between popular and upcoming recording Jamaican dancehall reggae artists this riddim boast great songs with positive feelings and messages.
Play the full mix below, check the riddim cover and the full track list posted below with all the artists and songs titles.
Support artists and producers and get your copy of "Right Time Riddim" clicking on the iTunes banner on this page.
Listen To "Right Time Riddim Mix" Squash, Rygin King, Kabaka Pyramid, Intence, I Waata One Time Music
01. I Waata & Mimi – One Time




02. Squash – Nobody




03. Bobby 6ix – Nah Stop Party




04. Big Voice – One Day




05. Intence – Nah Let Go




06. Rygin King – Outta Control




07. Hot Frass – Living Happy




08. Kabaka Pyramid – Friends & Family




09. Kyodi – Finally




10. Grim Rym – Hustle




11. Taco Warfare – Bar Fly




12. One Time Music – Right Time Riddim
real deal