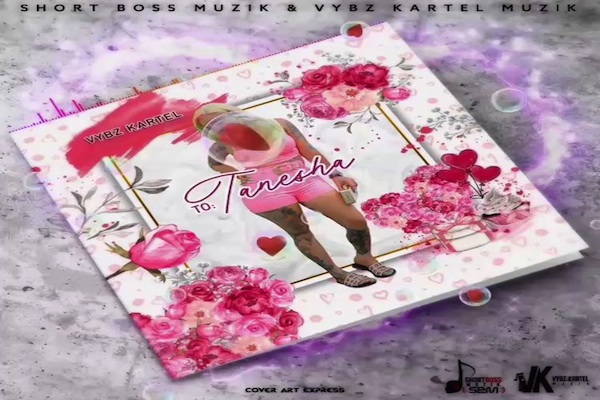 Incarcerated World Boss Vybz Kartel dropped his latest music project, an album titled 'To Tanesha'.
While paying homage and tribute to his former wife, also the owner of Short Boss Muzik, Tanesha Shorty Johnson, that co produced the album with Vybz Kartel Muzik, Kartel also explains in his album, song after song, the deep relationship among the two and the many layers to it. Let's not forget that they developed their love story over the course of almost 20 years and having three kids together.
In his new album Vybz Kartel pours his soul out and describes the ups and down of his two decades relationship with Tanesha since the two have been on and off with each others in several occasions, but always managed to re-unite.
Vybz Kartel's album 'To Tanesha' expresses the multitude of feelings Kartel has matured in recent years, over all since being behind bars. Apparently following Kartel's arrest their relationship suffered. The feelings of betrayal felt by Adidja are expressed thorough the album and in his collaborative song with Sikka Rhymes titled "Delusional" Vybz Kartel explores those feelings and situations.
Vybz Kartel's birthday was January 7th and his new 2020 album came out three days after his Earth Strong.
Vybz Kartel's album features tracks as "Delusional" with Sikka Rymes, "More Than You Receive" featuring Jamaican reggae star Jessie Royal and "Never Was The One" are a segment of the album that documents Kartel's feelings on the matter.
Vybz Kartel #To Tanesha new album features 10 tracks and a strong females presence with featuring going from Jada Kingdom to Jodi Couture and Slimatic, while Sikka Rhymes and Jesse Royal are the only males voices.
Fans of Vybz Kartel stream the full project below and support the artist and producers getting the full #To Tanesha album or just your favorite song on it via the iTunes banner on this page.
STREAM VYBZ KARTEL FULL ALBUM TO TANESHA SHORT BOSS MUZIK & VYBZ KARTEL MUZIK 2020

VYBZ KARTEL TO TANESHA ALBUM TRACK LISTING
1 VYBZ KARTEL NEVA WAS THE ONE




2 VYBZ KARTEL SIKKA RYMES DELUSIONAL




3 VYBZ KARTEL THEN YOU … AND ME




4 VYBZ KARTEL JESSE ROYAL MORE THAN YOU RECEIVE




5 VYBZ KARTEL JODY COUTURE U.T.G. NEVER WALK ALONE




6 VYBZ KARTEL ROCKET TO THE MOOM=N




7 VYBZ KARTEL IN DA MOMENT




8 VYBZ KARTEL SLIMATIC MAKES NO SENSE




9 VYBZ KARTEL JADA KINGDOM CASE IRON HEARTH




10 VYBZ KARTEL FELL APART
real deal