Nicki Minaj ex-boyfriend Safaree Samuels says his leaked eggplant is the one thing he regrets the most now that he is becoming a father.
There are only a few weeks to go before Safaree adds a new title to his resumé — father. The Love & Hip Hop star is expecting his first child with his wife, Erica Mena, who is already in her third trimester. After dating Nicki Minaj for 14 years, Safaree became engaged to Erica on Christmas Eve 2018. Ten months later, they said their "I do's" at the Legacy Castle in New Jersey, with the newlyweds confirming that a baby is on the way.
While it is often said that the first year of marriage is the hardest, the few months leading up to their engagement was pretty hard for the couple all because the internet got a little too into their business. One of Safaree's alleged ex-girlfriends exposed some text messages between them.
In February 2018, Safaree hung out for all the world to see, as photos his eggplant was leaked online. The dick pic initially circulated on social media, with its source never quite determined — though some believe the former rapper himself was responsible, in order to steal a little bit of the spotlight. So impressive was his member that a porn actress offered him $50-grand to shoot a steamy scene.
In case Y'all thirsty, he declined.
Even though he turned down the chance to be the male version of the next Jenna Jameson, the 38-year-old is worried that his future daughter will one day find those less-than-flattering photos.
"Having a daughter, I would hope that she wouldn't go Google my name one day and see a picture of my meat hanging out," he said when asked on The Real if he has any regrets as fatherhood approaches. "So if there was something I could take back — I didn't do it though!"
We are sure, however, that the couple will be encouraging their baby girl to look up pictures of the baby shower they threw in her honor. Pink balloons and pink roses were present at the Met Gala-themed affair where the mom-to-be wore a stunning rose-colored gown created by fashion designer Karen Sabag, and designer baby clothes were gifted for the princess-in-waiting.
Usain Bolt Drops New Soca Single "Energy To Burn" Remix With Ultimate Rejects
Usain Bolt dropped off a new soca single "Energy To Burn" remix with Trinidad's own Ultimate Rejects.
Usain Bolt has always branded himself as not just a speedster but someone who can accomplish anything he puts his mind to. He has dabbled in football, having trained with Borussia Dortmund and even played for the Soccer Air World XI charity team. While he has hung up his football cleats, he has taken on another one of the things he is passionate about. In recent years we see Bolt trying his hand at music, first going into the production of dancehall music, and with the soca season right around the corner, he is releasing a brand high energy, waist rotating track.
The sprint king has teamed up with the "Full Extreme" champs Ultimate Rejects for a remix to a track titled, "ENERGY TO BURN." Bolt shared a compilation video of himself and the Rejects working it out in the booth. He captioned the video, "From JAMAICA to TRINIDAD … Are you ready ?!! @ultimate_rejects x Usain Bolt (UR x UB) presents 'ENERGY TO BURN (Remix) !! …. 24hrs."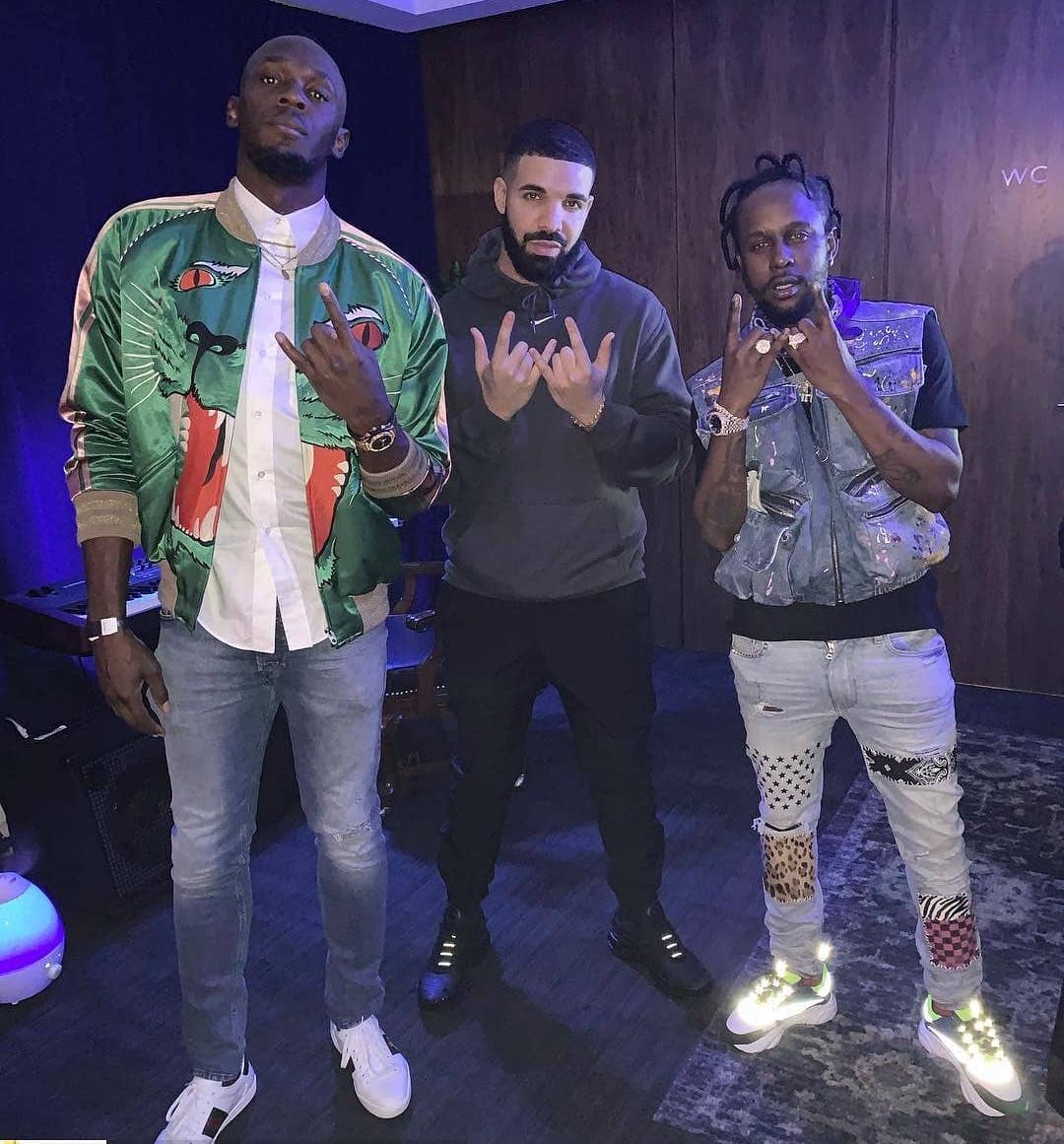 Usain Bolt has been heavily involved in the music production, more so in 2019, when his he and the A-team released the Olympe Rose Riddim. The project featured the likes of Christopher Martin, Dexta Daps, Ding Dong, Munga Honorable, Bibi Gardner, and Bolt with the intro. The main idea behind the project was to promote his Mumm Olympe Rose Champagne.
While he agreed that the music business did not prove as have easy has he thought, he soon followed up with another project, this time involving his idol Vybz Kartel. The Immortal riddim saw Kartel dropping one of his hottest tracks for 2019, titled, "Adiadking." The track saw Kartel drawing on a lot of Usain Bolt references as he assumed the King of Dancehall throne. The project also featured tracks from Ding Dong, Demarco, Christopher Martin, Masicka, and Munga Honorable.
While dancehall music is Usain Bolt's first love, he still enjoys a good time when it comes to soca carnivals and road marches. He and girlfriend Kasi J. Bennett have always brought a little bit of PDA and some heavy gyrating to the fellow revelers. With this in mind, it's not surprising that Bolt decided to team up with one of Trinidad's most energetic groups to mark his introduction into the fast-rising, soca market that so many other Jamaican artistes are trying to break into.