Cardi B was turning all the way up in Nigeria.
Cardi B's superstardom has taken her around the world, but we haven't seen her have quite as much fun as she's having in Nigeria. The "Money" rapper spent a lot of it Friday night after visiting a strip club in the African nation. Cardi has always been vocal about her past occupation in New York strip clubs, and every time we get a glimpse of her visiting a club, she shows the dancers major love.
Cardi B posted a series of clips to her Instagram Stories of her spending racks on racks in her section full of dancers. She even made it rain on the local fans who were in attendance, watching it all from the dancefloor. When she first arrived in Lagos, Nigeria, where she's billed to perform at the Livespot X Festival, she told her fans that the country reminded her a lot of the Dominican Republic, a comparison that garnered mixed reactions on social media.
Nonetheless, Cardi showed her intentions were pure and continued to big up Nigeria when she returned back to her hotel via Livestream. "I like this country a lot. You want to know why I like this country? Because you find everything that you're really looking for in this country," she said.
Cardi B having a BLAST in Nigeria! ???
pic.twitter.com/C9sGK3ekfb

— Cardi B Fan Team (@CardiBTeam) December 7, 2019
"You know this country [has] tourism, like if you want to go to beaches and relax with your couple, with your husband with your wife. They have that. If you're looking for culture, if you want to see how people are living, how people make a living, you have that. Over here it reminds me of the Carribean Islands with a touch of New York because everybody is busy."
Nigeria looks like the Dominican Republic – @iamcardib pic.twitter.com/8p2Siz8Mvx

— African Khaleesi (@OwolawiTaiwo) December 6, 2019
Cardi B also offered to pay for a fan's tickets to the festival after reposting a video of a Nigerian girl in tears saying she wasn't permitted to go. The "Bodak Yellow" star said Saturday morning that she was looking to visit the "hood" and wanted to be amongst the people. "I want to see like the real Nigeria. I don't want to eat hotel food. I want to eat like the real Nigerian food. All that fish, all that jollof rice."
You can catch a recap of Cardi B's Nigerian experience so far below.
Cardi B is a really amazing person and a gem ?, look at how she was promoting Nigeria in her live Story, Not every celebrity can do that for Africa. She's really enjoying her time here, I love it..
Even our own yeye Celebrities no fit promote the country ??, we are our own prob pic.twitter.com/OE4fVSP7wk

— Ojedele Ridwan (@gracewillfindme) December 7, 2019
Cardi B is a vibe ??? babe says she wants to see the real Nigeria, the hood, jollof and whores ??? pic.twitter.com/djhZYsrt6n

— Tessyama ? (@tescool) December 6, 2019
Cardi B in Nigeria! She looks so good! ?
pic.twitter.com/k1FylF4rjR

— Cardi B Fan Team (@CardiBTeam) December 6, 2019
With the way Cardi B was hyping Nigeria here ehnn! To visit Nigeria come dey hungry me ?

— E-zrael Ani (@EzraelAni) December 7, 2019
Usain Bolt Drops New Soca Single "Energy To Burn" Remix With Ultimate Rejects
Usain Bolt dropped off a new soca single "Energy To Burn" remix with Trinidad's own Ultimate Rejects.
Usain Bolt has always branded himself as not just a speedster but someone who can accomplish anything he puts his mind to. He has dabbled in football, having trained with Borussia Dortmund and even played for the Soccer Air World XI charity team. While he has hung up his football cleats, he has taken on another one of the things he is passionate about. In recent years we see Bolt trying his hand at music, first going into the production of dancehall music, and with the soca season right around the corner, he is releasing a brand high energy, waist rotating track.
The sprint king has teamed up with the "Full Extreme" champs Ultimate Rejects for a remix to a track titled, "ENERGY TO BURN." Bolt shared a compilation video of himself and the Rejects working it out in the booth. He captioned the video, "From JAMAICA to TRINIDAD … Are you ready ?!! @ultimate_rejects x Usain Bolt (UR x UB) presents 'ENERGY TO BURN (Remix) !! …. 24hrs."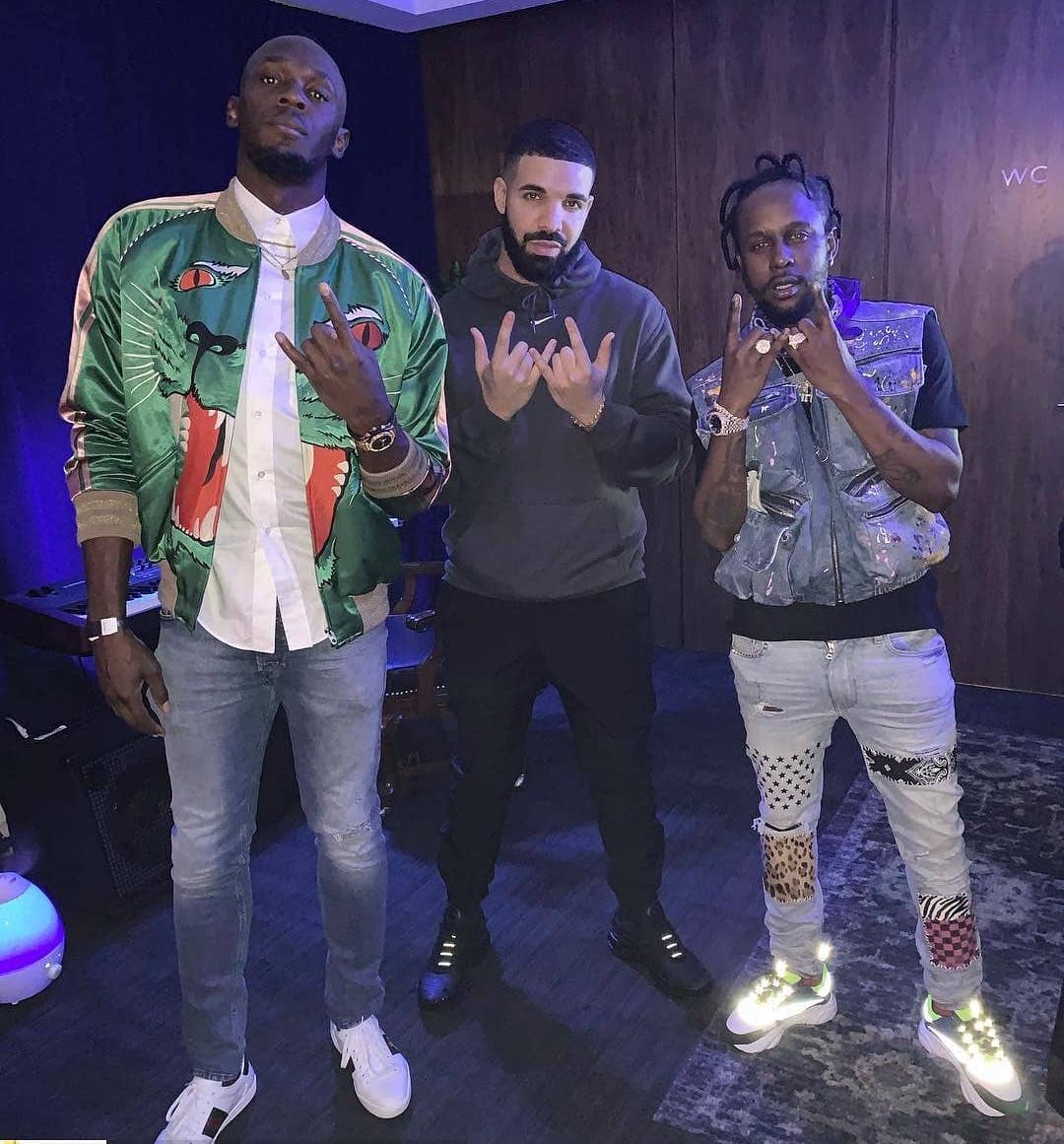 Usain Bolt has been heavily involved in the music production, more so in 2019, when his he and the A-team released the Olympe Rose Riddim. The project featured the likes of Christopher Martin, Dexta Daps, Ding Dong, Munga Honorable, Bibi Gardner, and Bolt with the intro. The main idea behind the project was to promote his Mumm Olympe Rose Champagne.
While he agreed that the music business did not prove as have easy has he thought, he soon followed up with another project, this time involving his idol Vybz Kartel. The Immortal riddim saw Kartel dropping one of his hottest tracks for 2019, titled, "Adiadking." The track saw Kartel drawing on a lot of Usain Bolt references as he assumed the King of Dancehall throne. The project also featured tracks from Ding Dong, Demarco, Christopher Martin, Masicka, and Munga Honorable.
While dancehall music is Usain Bolt's first love, he still enjoys a good time when it comes to soca carnivals and road marches. He and girlfriend Kasi J. Bennett have always brought a little bit of PDA and some heavy gyrating to the fellow revelers. With this in mind, it's not surprising that Bolt decided to team up with one of Trinidad's most energetic groups to mark his introduction into the fast-rising, soca market that so many other Jamaican artistes are trying to break into.