Bhad Bhabie drove more than an hour to fight Malu Trevejo and says that NBA YoungBoy created a group chat that instigate their beef.
The "These Heaux" rapper maybe 16, but at the moment she's trying to pass for someone half her age by picking playground fights. The teenager first became famous in 2016 when she declared, "Cash me outside, how about that?" on an episode of Dr. Phil. Once a gangsta, always a gangsta, as she is now spouting the same line to Cuban-American singer Malu Trevejo.
The feud between the two goes way back. According to Bhad Bhabie, whose real name is Danielle Bregoli, the "Luna Llena" singer has been talking nonsense about her for three years. Things escalated when NBA YoungBoy added them to a group chat together, and next we knew, Danielle was making her way to Malu's house in the middle of the night — an hour and a half away!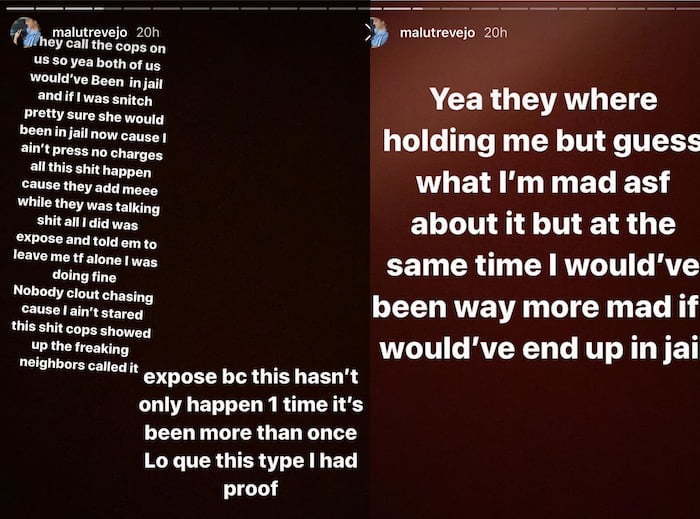 "Oh no, she comin', she comin', ooh, ooh wasting gas money on me," the Latin artist says on her Instagram. "But lemme tell you, dogs always come to me."
"She has talked sh*t about me for three years and she always say she gonna fight me and I'm here to FIGHT HER! Tell her come out the f***ing house!" Bhabie shouted to the 17-year-old's parents from the street outside her house. Understandably, Malu's dad threatened to call the cops.
Then, Bhabie's Insta… went blank. Did she delete the account? Was it stripped from her? We don't know.
What we do know is that Malu is happy she didn't get into it with the Boynton Beach girl. "They did call the cops on us," she said on IG. "I'm glad we didn't do sh*t because I would have been in jail, and she would have been in jail. And I'm not pressing charges because I'm not dumb… I'm not going waste my time on no f***ing body. I'm not going to do anything bad to anyone."
This is the second time this week that Bhad Bhabie has been in people's faces. After receiving accusations of cultural appropriation due to her box braids, the teen clapped back on Instagram, referring to black women as 'bald head hoes' and saying, "To all the black females that are saying my hair [ain't] meant for box Braids guess the f**k what y'all hair [ain't] meant to be straight but y'all glue whole wigs on to your heads and sew brazilian/Indian/ Peruvian hair which [isn't anything] like your natural hair texture at all."
Where the hell is this girl's momma?!
Chris Brown Explains Why He Is Still In Love "WITH HER" Rihanna or Karrueche Tran
Chris Brown is alluding to an ex that he is still in love with. Could he be talking about Rihanna or Karrueche Tran?
Chris Brown has definitely commanded our attention with his latest "anybody's guess" social media post. The singer who just welcomed his second child and first son with his believed to be girlfriend Ammika Harris, shared a suspicious caption alongside a short gif-like video he posted.
In the Instagram post, Chris is seated in a radio interview setting and appears to be blushing quite intensely behind his gorgeous smile. In the caption, Chris said, "When someone asks, after all this time… why are u still in love WITH HER? My ANSWER: BECAUSE TIME HAS NO RELEVANCE WHEN ITS UNCONDITIONAL," the singer wrote.
Fans were quick to start guessing who Chris might be talking about. Of course, many are speculating that the singer must be talking about once the love of his life and newly single global megastar, Rihanna. Chris Brown and the island beauty had a very high profile relationship in the decade prior to the last. When we put it that way, it sounds like a really long time ago, but like Breezy said, "time has no relevance when it's unconditional."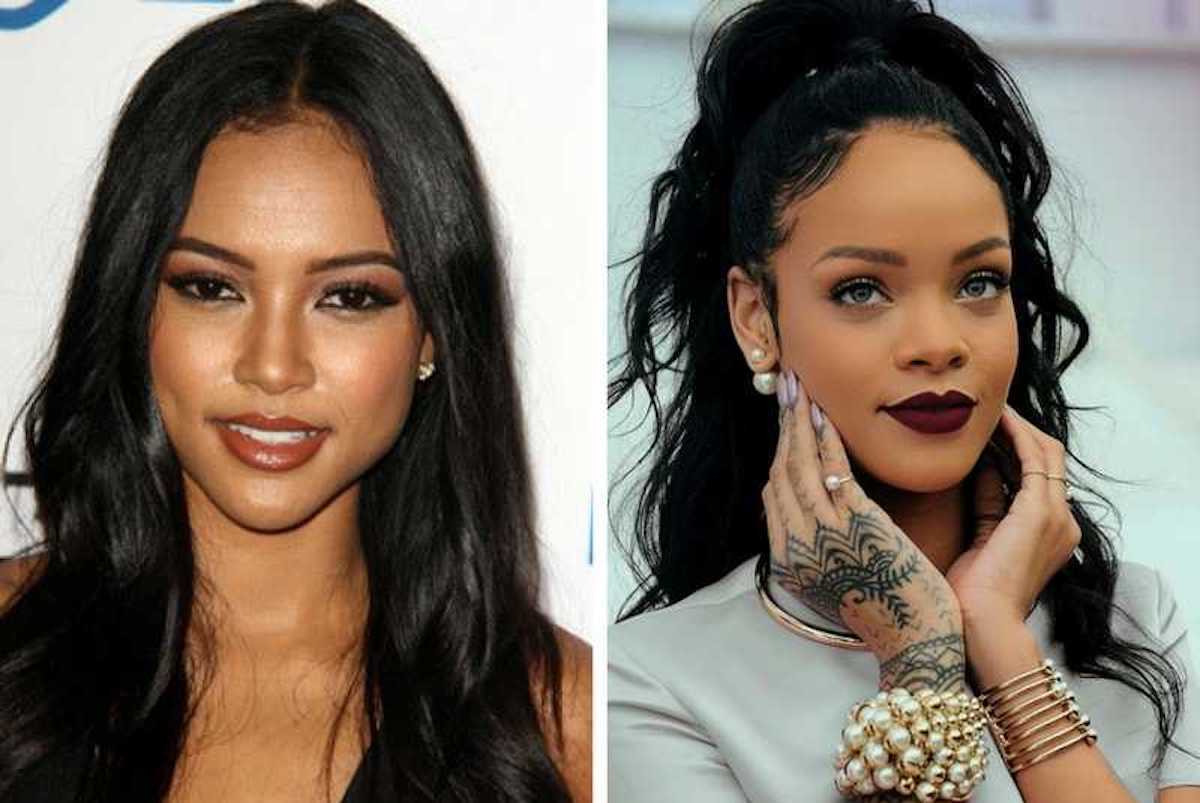 There are also some fans who believe that Chris Brown could be talking about another popular ex, one that he's never been shy to name drop in his songs, Karreuche Tran. Though the singer's recent ex is currently in a much publicized and seemingly happy relationship with Victor Cruz, this could hardly thwart Chris Brown's undying love for the model and actress.
Fans are still trying to decipher the mysterious caption scribed by the vocal powerhouse and dancing king. In my analysis, I would say Chris Brown might have already given himself away. I ask that you take a moment to review exhibit A, Chris Brown's own lyrics: "When she touches me, I'm wishing that they were your hands/And when I'm with her it's only bout the sex/WITH YOU I HAD A BAD ROMANCE/And if I could, straight up man I would/'CAUSE NOBODY COMPARES TO YA," he sang on his 2011 record "She Ain't You." Hmmm, who could Chris Brown have had a "bad romance" with by the year 2011? Who could no one compare to in his eyes at that time?
While we're all free to speculate, the singer never gave any direct hints to who he was talking about. After receiving a prompt influx of comments from curious fans, Chris was forced to turn off the comments before later deleting the post altogether. What do you think inspired him to confess in the first place? Maybe the truth will be uncovered in an upcoming interview. Well, we can hope.