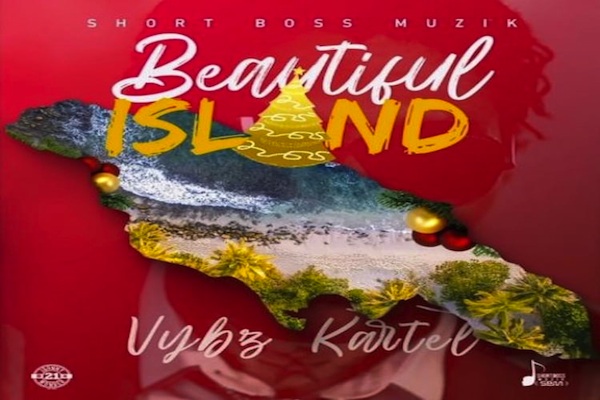 Vibe to a new superdope music single from Dancehall King Vybz Kartel titled "Beautiful Island".
From '

Sky Map"

with Jodi Couture to "Y

ardman Style

", Kartel dropped a new single produced by Short Boss Music.
Despite Santa not granting Vybz Kartel's biggest wish to be free for Christmas this year, and despite the long wait for the verdict that is still pending after more than a year, Vybz Kartel is still wishing to Jamaica and all his fans a Merry Xmas this year, with another season greeting hot tune. A tradition he has been following up since his beginnings.
Of all the new releases this is our favorite. it boast a super catchy and hypnotic dance beat and Kartel's voice and lyrics do the rest.
'Beautiful Island' is a super hit with a festive feeling and a Merry Xmas chorus that talks about all the magic things to do in Jamaica for the holiday season. Another heart felt tribute from WorlBoss to Jamrock. Addi singsAmerica can't hold me this time of the year, UK can't hold me, chek the full lyrics after the official audio for the song posted below.
Get Vybz Kartel 'Beautiful Island' on iTunes clicking on the banner on this page.
Vybz Kartel 'Beautiful Island' Official Audio Short Boss Muzik
Vybz Kartel 'Beautiful Island' Lyrics
[Intro]
I'm coming home
It's a holiday, America cyah hold me now
Christmas a J.A, what a happy crowd
Weh di dance dem deh from country come a town?
I'm coming home
It's a holiday, Britian cyah hold me now
Christmas a J.A, what a happy crowd
Weh di dance dem deh from country come a town?
Tell Portmore
[Verse 1]
Di whine cake set a record
Red label whine sorrel a go sell off
Paint up di place, whitewash di side walk
Oh my God today a today di year to hear dance
So much love is showing, Christmas breeze is blowing
Nah, it won't be snowing, it's perfect
[Chorus]
Beautiful Island, beautiful people
I only wanna wish you a very merry Christmas (A very merry Christmas)
I only wanna wish you a very merry Christmas
Very merry Christmas & a happy new year
A very merry Christmas, very merry Christmas
[Verse 2]
Da goodie deh a weh she deh pon?
Mi tell yuh mada "Mummy me a tek har"
Now is the fi giving & joy
Leff Westmoreland, go MoBay very high
So much love is showing, Christmas breeze is blowing
Nah, it won't be snowing, it's perfect
Sing
[Chorus]
Beautiful Island, beautiful people
I only wanna wish you a very merry Christmas (A very merry Christmas)
I only wanna wish you a very merry Christmas
Very merry Christmas & a happy new year
A very merry Christmas, very merry Christmas
Ooh
[Verse 3]
Beautiful
Happy holiday, so we do it over yah
Our yaad girls hotter than every iron
And mi wah di wul a dem cuz dats just who I am
Clappers a go buss louder dan a giant
Grand Market, A.M go to P.M
Get a call from Blacks, not U.I.M
Africa di motherland seh Addi bumayeng
real deal