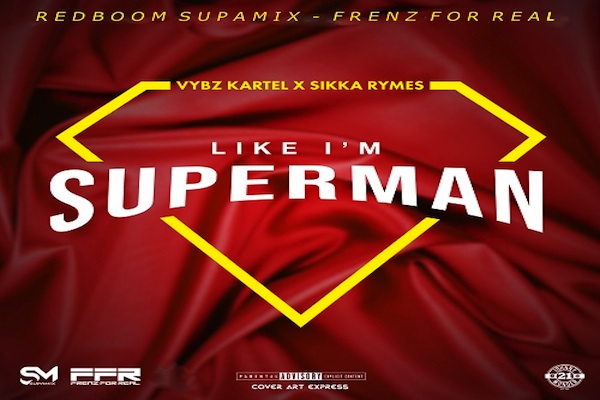 World Boss Vybz Kartel and Sikka Rhymes dropped a new official music video for "Like I'm Superman'.
The single is produced by famed music producer Redboom & Frenz For Real, and distributed by Johnny Wonder.
The official music video, directed by Warriors Film Jamaica, is becoming pretty popular with more than a million views already.
While Vybz Kartel is still behind bars and could not take part to the video, his best man and cousin Sikka Rhymes is the leading figure in the video, that tells a crazy story or just what happens when people play games in relationships, and the unexpected twists these games can take.
World Boss

is like a superman for the gyals so if he looses one he has another waiting on cue. This is a song that tells a story and is also full of lyrics, check them after the video to sing along/
After almost 10 years behind bars and still awaiting for his appeal's trial verdict for more than a year and counting now, Vybz Kartel is sure like a superman for the music industry and the new string of hot records for all the seasons and tastes he has been dropping without a stop, Kartel is still the undefeated King of Dancehall Music and no other artist can keep up with him.
Sikka Rhymes and Kartel voices blend perfectly in this catchy new anthem that marks the first single of the month of November 2019 from the Gaza General.
Available in all major music platforms get Vybz Kartel & Sikka Rhymes new single 'Like I'm Superman' on iTunes clicking on the banner on this page.
WATCH VYBZ KARTEL SIKKA RHYMES LIKE I M SUPERMAN OFFICIAL MUSIC VIDEO WARRIOR FILMS 2019



[Intro: Sikka Rhymes & Vybz Kartel]
Ah di VP
Yuh lie to mi (*hisses teeth*)
Yuh lie to mi (Cold heart gyal)
[Chorus: Vybz Kartel]
That's alright, d'even worry 'bout it (Nah)
'Member mi know yuh never love nobody (True)
I'll be your right, like I've always been (Yeah)
Ah fuck dem gyal yah like I'm superman (Hmm)
Yuh body build from ah supermodel (Yeah)
Sexy shape like ah Cola bottle (Hmm)
I'll be your right, like I've always been (Yeah)
I'll fuck dem gyal yah like I'm superman
Tell har no
[Verse 1: Sikka Rymes]
Gyal
Mi nah go beat yuh fi yuh fuck up craze
Just ah mek yuh go yuh ways, before yuh mek mi show mi tears
Yuh never care nuh time ah when time mi show yuh mi care
Mi madda warn mi bout di bitch yah, but mi never hear
She feel like seh mi wouldn't make it out
But when mi check it out, she never give ah fuck about
How mi feel, when she have another man ah fuck har out
Tell mi seh she love mi, when she know she don't
[Chorus: Vybz Kartel]
That's alright, d'even worry 'bout it (Nah)
'Member mi know yuh never love nobody (True)
I'll be your right, like I've always been (Yeah)
Ah fuck dem gyal yah like I'm superman (Hmm)
Yuh body build from ah supermodel (Yeah)
Sexy shape like ah Cola bottle (Hmm)
I'll be your right, like I've always been (Yeah)
I'll fuck dem gyal yah like I'm superman
Tell har no
[Verse 2: Sikka Rymes]
Addi
Di same fuckery, but another day
Mi know she have a man ah text weh store as har madda name
But ah di fool mi play, make she feel she win di game
Fuck har best friend an mek she know seh wi think di same
Easy
Mi just ah cool, mi never lose it
Why yuh wan' fi use mi, cyan play mi like nuh Loodi
Bonnie and Clyde, ah so wi roll like inna di movie
But yuh rather be a next man groupie
[Chorus: Vybz Kartel]
That's alright, d'even worry 'bout it (Nah)
'Member mi know yuh never love nobody (True)
I'll be your right, like I've always been (Yeah)
Ah fuck dem gyal yah like I'm superman (Hmm)
Yuh body build from ah supermodel (Yeah)
Sexy shape like ah Cola bottle (Hmm)
I'll be your right, like I've always been (Yeah)
I'll fuck dem gyal yah like I'm superman
Tell har no
[Verse 3: Sikka Rymes]
She think mi woulda alright
Fuck you and yuh wild life
Mi nuh wan' be part ah it
Bitch, dah gyal yah heart too cold
Suh mi plug har out inno, yeah mi defrost di witch
Yeah wi coulda be friends, bestest of friends
But now ah di end ah wi
Now the link yuh inna start sink, so yuh wan' mi fi come back
[Chorus: Vybz Kartel]
That's alright, d'even worry 'bout it (Nah)
'Member mi know yuh never love nobody (True)
I'll be your right, like I've always been (Yeah)
Ah fuck dem gyal yah like I'm superman (Hmm)
Yuh body build from ah supermodel (Yeah)
Sexy shape like ah Cola bottle (Hmm)
I'll be your right, like I've always been (Yeah)
I'll fuck dem gyal yah like I'm superman
Tell har no
That's alright, d'even worry 'bout it (Nah)
'Member mi know yuh never love nobody (True)
I'll be your right, like I've always been (Yeah)
Ah fuck dem gyal yah like I'm superman (Hmm)
Yuh body build from ah supermodel (Yeah)
Sexy shape like ah Cola bottle (Hmm)
I'll be your right, like I've always been (Yeah)
I'll fuck dem gyal yah like I'm superman
Tell har no
real deal