The Rev. Francis Rouleau has had his bags packed since mid-October to return to the Christ Roi neighborhood of Port-au-Prince, Haiti, where he serves as chaplain for the Diocese of Norwich's Outreach to Haiti program.
But all he can do now is look for the sparse news stories and keep checking his WhatsApp message feed on his cellphone.
He received one such message recently from his friend, the bishop of Jacmel, Haiti.
"Pray for Us," the bishop wrote.
Violent and peaceful political demonstrations, riots and demands by protesters that Haitian President Jovenel Moïse step down amid allegations of corruption and lack of progress on promised infrastructure improvements have crippled the country.
According to news stories from the Associated Press and the Miami Herald, nearly two dozen people have been killed in the violence and more than 200 injured. Schools in urban areas have been closed since September, and farmers in outlying areas cannot get their goods to the cities. Stores are closed due to both supply shortages and the demonstrations. Food and water shortages are starting to mount.
The AP on Oct. 21 reported that several young men had been shot and wounded as they set up roadblocks in Jacmel — where the bishop was asking Rouleau for prayers.
Several people who have been in contact with friends, family and staff in Haiti told The Day last week that travel anywhere by bus or car is both dangerous and nearly impossible. Protesters have blocked streets with metal barricades, burning tires and whatever debris they can find. Protesters throw rocks, or worse, fire shots at vehicles trying to cross the barricades. Taking a public transportation bus means risking being hijacked, they said.
"It's been impossible (to go back)," Rouleau said. "It would risk lives of other people to go down there. I can do more from here than I could from there."
Rouleau normally spends nine to 10 months a year in Haiti. But when he returned to the diocesan Outreach to Haiti office in Norwich this summer to raise money and connect with the 16 Roman Catholic parishes in America with twin parish relations with parishes in Port-au-Prince, he was stuck.
In a statement provided to The Day on Friday, Delta Airlines announced plans to suspend direct service between Atlanta and Port-au-Prince as of Jan. 9, 2020, "due to a soft demand environment." The airline is working to refund or to "reaccommodate" customers booked for after Jan. 9.
"Even as Delta strengthens its overall presence throughout Latin America and the Caribbean, the airline must respond to market conditions to maintain its long-term viability," the statement from spokeswoman Sarah Kaufman said.
Susan Wallace, executive director of the Norwich diocese's Outreach to Haiti since June, said she traveled to Haiti in June and September, as the program hired a new director of operations in Haiti in June. Outreach to Haiti has 21 staff in Haiti to operate its medical clinic, health center, nutrition program and education program for students and for mothers to start micro businesses.
"Our staff obviously is somewhat affected," Wallace said. "There has been an uptick in the number of demonstrations and an increase in the level of violence."
Wallace said there also have been two "extraordinarily large" peaceful demonstrations, one led by artists and artisans and one by religious organizations, also asking the president to step down.
The Outreach to Haiti executive committee met last week to discuss the rising tensions in Haiti and the desire to keep critical medical programs open. The staff there is preparing for potential loss of power, gasoline and supply shortages if the unrest continues, Wallace said.
"Our number one concern is for the safety of our staff, and number two is to keep the medical clinic open," Wallace said. "… When demonstrations are in the area of the clinic, it is more challenging for staff to get to work and for people to come to the clinic."
James Michel, chairman of the Board of Trustees for Outreach to Haiti, said Haiti is in a "dire situation right now," and Outreach must try to keep the health clinic open for families in need of medical care.
He praised the staff and said they send detailed updates daily to him and to Wallace. Michel said he is less concerned about the potential for damage to the Outreach to Haiti facilities, because the diocese has been operating in the neighborhood since 1986 and is a well known, well respected entity.
"The community is very protective of us," Michel said. But he added the reconstruction of the diocese's facility destroyed in the 2010 earthquake has slowed, because supplies cannot get through.
The Haitian Health Foundation, based in Norwich, operates health clinic, nutrition and assistance programs in Jeremie, Haiti — on the northern shore of the peninsula that juts out in the southwest area of the country. Executive Director E. Marilyn Lowney, said the foundation sent a large container of donated supplies to Haiti Oct. 19, and the clinic remains open.
"We're one of the few charities still operating in the area," Lowney said.
Lowney said foundation officials do not discuss politics. Like the diocese's Outreach to Haiti, Lowney said it's critical to remain open to provide health and nutritional services to clients. She touted the success of the foundation's Center of Hope, a program for severely malnourished children that provides gastric tube feeding. The center has not had a child in two years, Lowney said, signaling the success of extensive nutrition education and food programs to families.
But she fears a possible slippage if supplies are cut off.
"Every time a child becomes that malnourished, they lose IQ points and become physically challenged," Lowney said.
Enoch Petit Homme, English language intervention specialist at Norwich Free Academy and moderator of the NFA student Haitian Club, said he is in constant contact with family in Haiti, as are NFA's many Haitian students. NFA students are trying to follow the news on TV or social media, Petit Homme said.
"Most of my students have family there who are either directly or indirectly affected by what's going on there," Petit Homme said. "It's our job here in the school to remind the kids there's not much we can do right now, except focus on your school work and check in with your families to make sure they are safe."
By his estimate, Haiti is evenly divided, with about a third of the population pushing for Moïse to resign, a third wanting him to stay and another third "either way." Petit Homme has family in all camps and said when family members talk, they try to avoid politics. He has family in areas affected by the violence and others in areas that are mostly peaceful.
"The country is crippled right now," said Petit Homme, who lost several dozen family members in the 2010 earthquake. "Those who have a job cannot get to work, and students can't get to school."
NFA students with family in Haiti are frustrated that their family's homeland can't seem to rise above turmoil, whether political or natural disasters, Petit Homme said. There are signs of hope, as the younger generation in Haiti has become more educated. Most are high school graduates and those who can afford it, attend college. Some are taking advantage of scholarships to study medicine in Cuba. But when they return to Haiti to practice medicine, they find hospital infrastructure and supplies lacking, he said.
"It's frustrating as well," he said of the political unrest. "Elected people in Haiti, some of them are good people. However, what are they doing to help the masses, the people who elected you? They're very good at making promises, but when it comes to keeping promises, it's very difficult. That's what's happening with this president. He promised they would have electricity 24/7, using solar and wind, however, we have not seen much of that work being done, and it's been two years."
c.bessette@theday.com
Haitians Angered Over Craft Visit and US Support of Moise – The Haitian Times
Haitians are less than enthused over Ambassador Kelly Craft's visit to Haiti on Wednesday, calling out the United States' support for the unpopular Jovenel Moise as hypocritical and duplicitous.
Videos circulated on social media and WhatsApp of protesters expressing anger over the U.S.'s interference in Haitian politics, signaling Craft's visit as the latest example of U.S. meddling. 
Critics point out that while Craft is calling for the end of corruption and human rights violations in Haiti, she ignores that Moise is accused of being at the helm of these abuses in the country. 
"A fully functioning government must, fight corruption; investigate and prosecute human rights abusers, including those responsible for the La Saline and Bel Air killings; and combat narcotics and human trafficking," the United States Permanent Representative to the United Nations said following a meeting with Moise and other political actors. 
"President Moise and other democratically elected leaders have an obligation to come together, put aside differences, and find an inclusive solution for the benefit of the people of Haiti."
The Haitian Times was founded in 1999 as a weekly English language newspaper based in Brooklyn, NY.The newspaper is widely regarded as the most authoritative voice for Haitian Diaspora.
Latest posts by Haitian Times (see all)
joe bruschy proposes a school around a vast playground in haiti
architect joe bruschy proposed the design of a school in the rural area of cabaret, haiti. built out of locally-sourced materials, the project aims to provide the children of the town with a suitable space to learn and grow.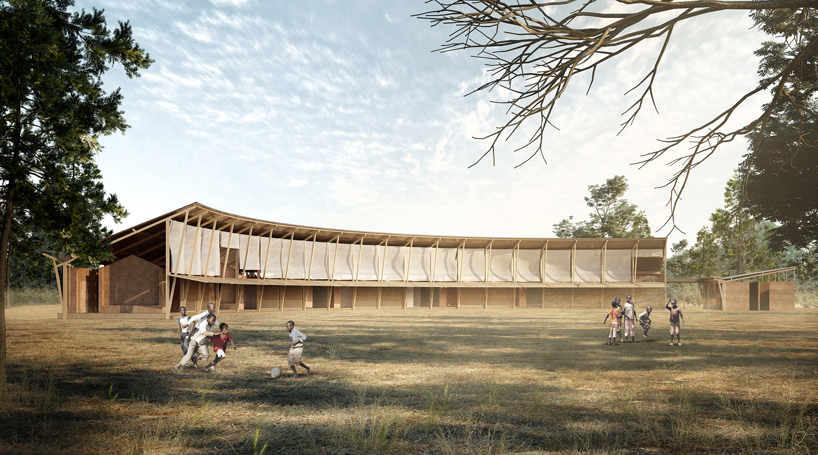 joe bruschy created the school around a vast playground. the horizontal, continuous structure houses four classrooms and a multi-purpose room, all facing the courtyard in a classic amphitheatre figure. this shape forms the school's core, where the building's placement is carefully selected in order to transform an immense site location into one more appropriate towards the scale of the building and its students.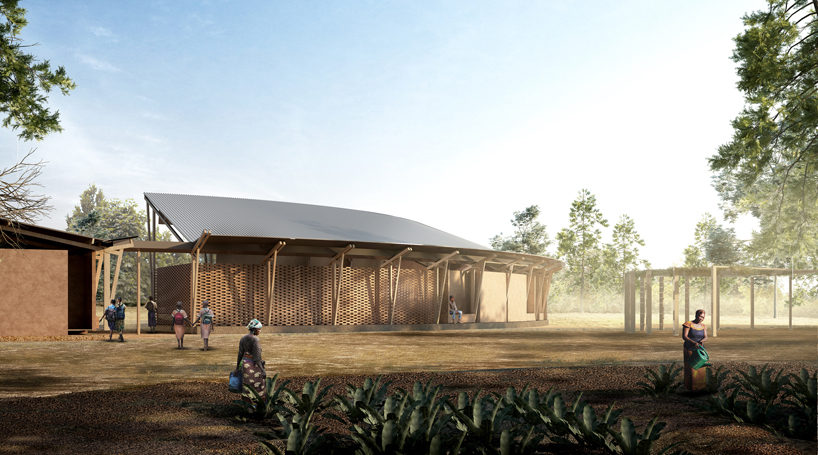 the design creates a better atmosphere between the building and the pre-existing nature-assembled environment that confines the site. at the lower south-east side of the school, a second volume emerges, confining a more formal entrance that draws the visitor past the north-east facade, a pergola and vegetable garden before encountering this secondary structure, where the teacher's room, kitchen, storage room and bathrooms are located.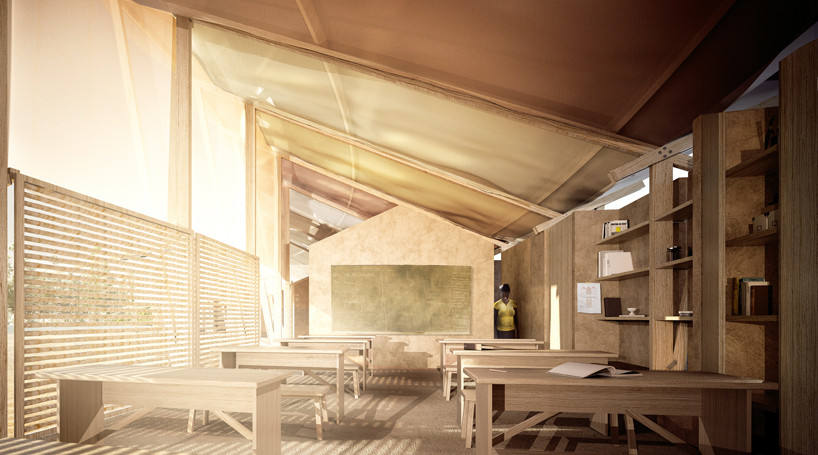 between these more utilitarian spaces, and taking advantage of being located at the site's lowest point, a large water cistern is fed by the water collected in the sloping roofs. from the cistern the water can be used in the kitchen, bathrooms or even in the vegetable garden, which not only helps the school be more self-sufficient, but also provides unmeasurable pedagogical value.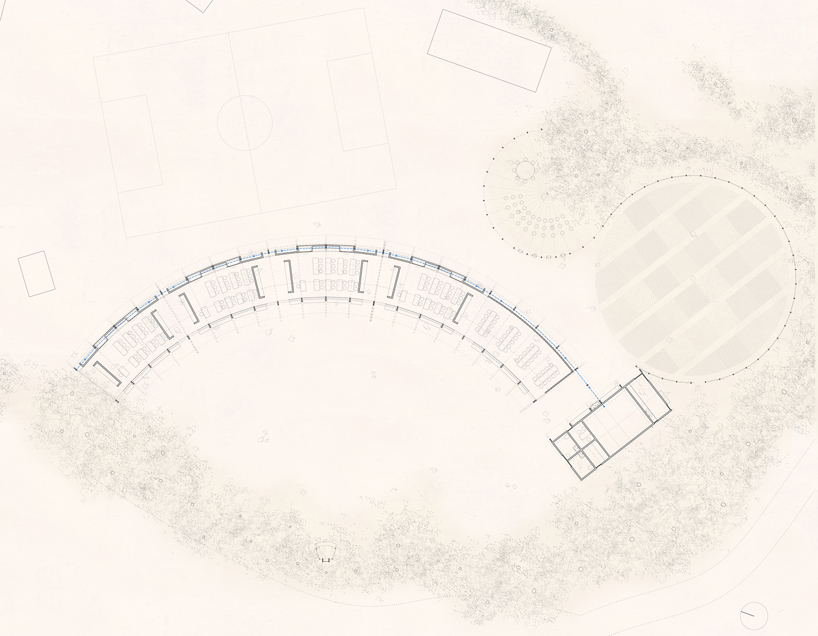 the building draws inspiration from local vernacular architecture techniques and materials, aiming to design in a contemporary language without losing connection to its roots. therefore, most of the materials are locally obtained, such as the wood for the structure and furniture, earth-based bricks and mortar and cloth sourced from the re-emerging haitian cotton industry. employing such distinct materials, enables the project to showcase a richness in textures and ambiances.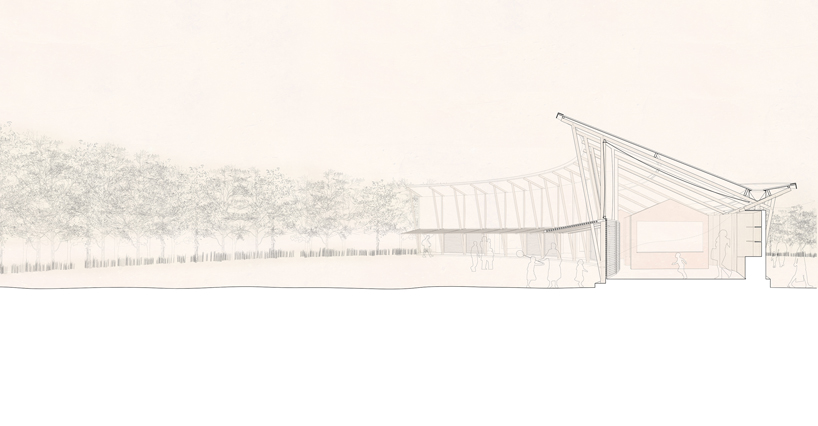 this is apparent in the contrast between the east and west facades. with the first presenting itself as a low, opaque and heavy wall, built in a wooden saint andrew's cross structure, filled with adobe and covered in an earth-based mortar, a variation of the tiwoch technique. on the west side however, that opens itself up to the playground, we can find a lighter and more breathable construction system, that draws inspiration from the typical clissage, allowing the interior space to be filled by a filtered light while slightly shielding the students from excessive exterior distractions.
above them, and connecting both facades, curtains extend from the playground to the east façade, hiding the roof structure behind cloth dyed in playful colours. all of these lighter elements are meant to be easily removed and stored, making sure they can be readily repaired or shielded from severe weather.
project info:
architecture: joe bruschy
location: cabaret, haiti
designboom has received this project from our 'DIY submissions' feature, where we welcome our readers to submit their own work for publication. see more project submissions from our readers here.
edited by: cristina gomez | designboom
Comfort Strengthens Partnership with Haiti Following Successful Medical Mission
By U.S. Navy Petty Officer Second Class Bobby Siens
November 20, 2019
U.S. Navy Hospital Ship USNS Comfort departed Port-au-Prince, Haiti, following the completion of the ship's 12th and final medical mission in Central America, South America, and the Caribbean, November 11.
"Haiti is the last stop of the U.S. Navy's Enduring Promise five-month mission in Latin America, Central America, and the Caribbean," said Michele Sison, U.S. ambassador to Haiti. "This visit has again displayed the strong ties between our two countries; as friends and neighbors, our two nations work together to make life better for all. We support the Haitian people's aspirations for a better life. It truly is an enduring promise."
During the six-day mission in Port-au-Prince, more than 900 medical professionals provided care for 3,603 patients at a shore-based medical site and performed 76 surgeries aboard the ship.
"Offering quality healthcare to a population suffering from all kinds of harm was the motivation of the USNS Comfort," said Normil Rameau, general director of Haiti's national police. "I want to emphasize the level of empathy and the degree of humanity the personnel of the hospital ship showed in the care provided to our brothers and sisters of Haiti."
During the ship's stop, they learned that a local hospital's maternity program was in need of an important medicine.
"We were informed through formal channels that there was a patient with eclampsia," said Commander Todd Morris, director of medical services aboard Comfort. "The treatment is to provide an anti-seizure medication, specifically magnesium sulfate. We were able to find the medicine and transport it safely to the hospital to help the patient."
The medicine was able to help multiple patients and local aide providers were exceptionally appreciative.
"You can imagine how stymied we were, as a high-risk maternity center," said Father Rick Frechette, an American priest and founder of St. Luke Foundation Hospital. "We take our hats off to [Comfort], for coming to our rescue with this life-saving drug."
Comfort's team consists of more than 900 personnel, including medical specialists from the U.S. military, nongovernmental organizations (NGO) volunteers, and personnel from partner nations. The entire Comfort team is comprised of military and civilian personnel from the United States and partner nations, including Argentina, Brazil, Canada, Costa Rica, Dominican Republic, Mexico, and Peru, as well as several NGOs creating a dynamic team capable of delivering a variety of services.
U.S. Navy Admiral Craig S. Faller, commander of U.S. Southern Command, visited the crew to thank them for the work put forth during their visit to Port-au-Prince.
"Each of you should leave this mission knowing that you made a difference," said Adm. Faller. "I'm proud for the difference that we made here in Haiti; every little bit matters."
This marks the sixth Comfort visit to Haiti and the seventh to the region since 2007. This deployment is a part of the U.S. Southern Command's Enduring Promise initiative and reflects the United States' ongoing commitment to friendship, partnership, and solidarity with partner nations in the Caribbean, Central America, and South America.