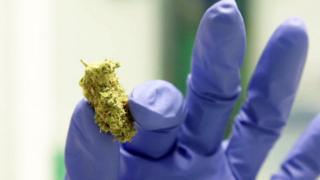 Two cannabis-based medicines, used to treat epilepsy and multiple sclerosis, have been approved for use by the NHS in England.
It follows new guidelines from the drugs advisory body NICE, which looked at products for several conditions.
Charities have welcomed the move, although some campaigners who have been fighting for access to the drugs have said it does not go far enough.
Both medicines were developed in the UK, where they are also grown.
Doctors will be able to prescribe Epidyolex, for children with two types of severe epilepsy – Lennox Gastaut syndrome and Dravet syndrome – which can cause multiple seizures a day.
Clinical trials have shown the oral solution, which contains cannabidiol (CBD), could reduce the number of seizures by up to 40% in some children.
Epidyolex was approved for use in Europe in September, but in draft guidance NICE initially said it was not value for money.
It costs between £5,000 and £10,000 per patient each year – but the manufacturer, GW Pharmaceuticals, has agreed a lower discounted price with the NHS.
It is estimated there are 3,000 people with Dravet and 5,000 with Lennox Gastaut syndrome in England.
The drug does not contain the main psychoactive component of cannabis, THC.
Decisions on drug availability are devolved around the UK, but the NICE guidance should also apply in Wales and Northern Ireland. Scotland may follow suit next year.
The other treatment, Sativex, is a mouth spray that contains a mix of THC and CBD.
It has been approved for treating muscle stiffness and spasms, known as spasticity, in multiple sclerosis. But doctors will not be allowed to prescribe it to treat pain.
It was the first cannabis-based medicine to be licensed in the UK after clinical trials, and has been available on the NHS in Wales since 2014. It costs around £2,000 a year per patient.
Back then, regulators in England said it was not cost effective, but now that decision has been reversed. It should also be available in Northern Ireland.
What has been the reaction?
Prof Helen Cross, a consultant in paediatric neurology at Great Ormond Street Hospital, who led UK trials of Epidyolex said it was "great news".
"Dravet and Lennox Gastaut syndromes are both complex difficult epilepsies with limited effective treatment options and this gives patients another option… that could make a difference to care," she said.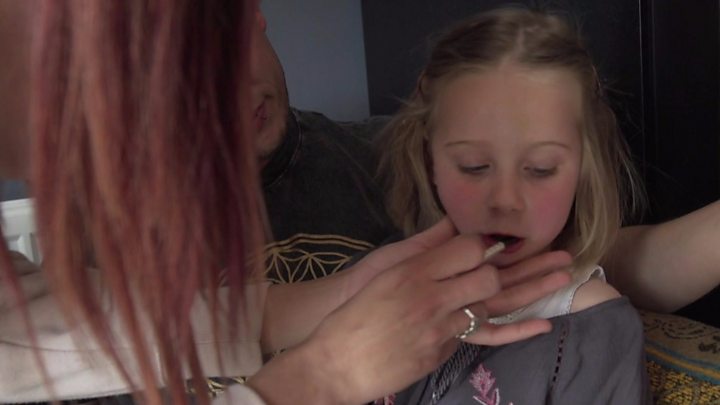 Galia Wilson, chairwoman of Dravet Syndrome UK, said: "Many families come to us asking about the potential of cannabis-based medicines, particularly cannabidiol, and we are thrilled that one is now available on the NHS."
But not everyone is happy. Many parents of children with epilepsy are paying thousands of pounds a month for medicines imported from Europe and Canada that contain both THC and CBD.
They have reported dramatic reductions in the number and severity of seizures in their children, and are furious that NICE has not approved any cannabis-based medicines for childhood epilepsy that contain both components.
The campaign group, End Our Pain, said the new guidelines were a "massive missed opportunity".
Spokeswoman Millie Hinton said: "This restrictive guidance is condemning many patients to having to pay for life-transforming medicine privately, to go without or to consider accessing illegal and unregulated sources."
How did we get to this point?
The law was changed in November 2018 to allow specialist doctors to prescribe cannabis medicines, but this has happened in only a handful of cases.
Most doctors have been unwilling to write prescriptions for medicines because, unlike Epidyolex and Sativex, they have not been through randomised controlled trials.
Multiple sclerosis charities also argue the guidelines from NICE do not go far enough.
Genevieve Edwards, from the MS Society, said they had been campaigning for access to Sativex for years and "it was brilliant NICE has finally listened".
However, she said the guidelines did not go far enough because no cannabis-based treatments had been recommended to treat pain – a common symptom of MS.
She also added that even more people could miss out "because Sativex would be funded by local bodies – who might not have the resource they need to prescribe it".
VodaLend Business Advance gives SMEs access to short term funding
Access to funding is still a major concern for local SMEs and Vodacom Business has launched a new product tailored at addressing that concern.
VodaLend Business Advance offers up funding ranging from R10 000 to R1.5 million repayable over six to 12 months. Of course in order to qualify a business will have to be registered and operational for at least 12 months. Revenue will also need to clock in at R500 000 plus and of course your credit standing must be good.
The VodaLend application process is completely digital according to Vodacom Business and applications will take less than 10 minutes to complete.
"Small and medium-sized businesses are the backbone of South Africa's economy and contribute significantly to employment in the country as well as the gross domestic product which is why ensuring their growth and success is vitally important," chief officer of financial services at Vodacom, Mariam Cassim said in a statement.
Vodacom Business says that SMEs will also receive Business Legal Assist at no further cost should they qualify for funding. This service will allow business owners to field legal questions for the duration of the funding term.
"Vodacom Financial Services intends to go beyond just providing funding and is looking to be a partner in growth for SMEs. With the trust we have built as a leading telco, we want to ensure financial inclusion for all within the financial services space and will continue to deliver best-in-class services and products," says Cassim.
For more information head to the Vodacom Business website.
Three-in-10 adults in emerging economies have no phone
As ownership of mobile phones, especially smartphones, spreads rapidly across the globe, an average of three-in-10 adults in emerging economies still do not own a phone.
This is one of the key findings of a Pew Research Center survey conducted among 28 122 adults in 11 emerging economies, including SA.It is part of a series of reports about the mobile landscape in emerging economies.
The report found there are still notable numbers of people who do not own or even use someone else's mobile phone, with the mobile divide most pronounced in Venezuela (32%), India (30%) and the Philippines (27%), countries where about three-in-10 adults do not own a mobile phone.
In SA, 5% of surveyed respondents do not have or share a mobile phone, while Tunisia has 4%, Lebanon 9%, Kenya 3% and Jordan 3%.
The report found a median of 7% of polled people borrow or share phones with others.
Among non-mobile phone users, a median of 51% across eight countries say the cost of a phone is the reason they do not have one, with non-users in Venezuela (89%) and Tunisia (71%) topping the list.
A median of 34% of non-mobile users report that data costs are a reason, notes Pew.
"The spread of mobile phones brings a variety of benefits to users in emerging economies, and they can clearly spell out what appeals to them about the arrival of a phone in their lives," explains Laura Silver, senior researcher at Pew Research Center.
"Still, our survey shows these devices bring new challenges and headaches to users at the same time they open up new divisions in their societies. It turns out that digital divides take several forms in these countries."
According to a report by research firm Statista, today about 20 million to 22 million South Africans use a smartphone, which accounts for about one-third of the country's population.
The non-users are divided over whether they would like to own a mobile phone in the future: Venezuelan non-users stand out for their keen interest in acquiring a mobile phone; 86% of mobile phone non-users in Venezuela say they would like to get a phone in the future.
Elsewhere, these numbers vary markedly, from around half or more desiring a mobile phone in SA (65%), Colombia (61%) and Tunisia (52%), to fewer than half in Mexico (41%), the Philippines (35%), India (31%) and Lebanon (9%).
At the same time, the Pew research shows mobile divides also exist among those who own phones. A median of 46% of respondents say they frequently or occasionally have difficulties getting reliable phone connections, 37% say it can be a challenge to pay for their phones, and 33% report finding places to charge their phones is a problem at least occasionally.
In some countries, mobile owners' challenges are particularly striking. In Lebanon, for example, 66% of owners say they avoid doing things with their phones because those activities use too much data. In Jordan, nearly half (48%) report having trouble paying for their phone, while in Tunisia, four-in-10 (40%) say it can be a challenge to find places to recharge their phones.
Pew researchers also found that in some countries, issues of technological literacy are particularly pronounced. For example, around a quarter of Indians (26%) say the primary reason they share a phone is because it is too complicated to use, followed by Mexicans (11%) and Filipinos (10%).
"Beyond those concerns, there are other issues that can disrupt life for some phone users and sharers. Around three-quarters or more of mobile phone owners in every country except India report concerns about identity theft, and around nine-in-10 or more in Mexico (95%), Colombia (94%), Tunisia (90%), SA (89%) and the Philippines (89%) say they are at least somewhat concerned about the security issue," notes the report.
How to sign up for the Huawei Developer programme
Earlier today Huawei kicked off its second South African developer day, and the first to be held in Cape Town. It is a larger event than the one it held in Johannesburg a few months ago, with the Chinese company pushing harder to get its local developer ecosystem up and running.
The initiative forms part of a greater ambition for the growth of Huawei Mobile Services (HMS), with an estimated 15 million users of the platform being noted for the African continent.
So the big question, and the reason you likely clicked on this story, is how to register as a member of the Huawei Developer programme.
Here's the steps you'll need to follow: 
First you'll need to head to the local Huawei Developer site here.
Next you'll need to fill in your details on the registration, with it featuring standard information such as your email address and phone number in order to create a Huawei ID.
From there it gets a tad more complicated, with an identity verification page popping up and requiring users to register as company developers by supplying a Data Universal Numbering System (DUNS) ID.
There are two methods to apply for the DUNS number. The first takes 10 to 15 minutes to apply for and costs roughly $80 to facilitate, as well as five to 15 days to complete and receive your number. The other free, but takes far longer at between 30 to 45 working days to complete.
Once the registration process has been completed, you'll be given a Business Registry License by Huawei.
This is when the exciting stuff can start happening, as now you'll be able to begin uploading your apps to the Huawei App Gallery.
All in all it is a relatively simple process, but can take a few days depending on how the DUNS process takes. The wait appears to be worth it though, as Huawei has confirmed its commitment to the local developer community.
To that end it wants to get 1 000 developers through its local Shining Star programme within the first year, and has also incentivised the programme for both individuals/SMMEs and corporates/commercial partners respectively. These include both cash prizes and devices for members who perform well and sign up quickly.
With Huawei aiming to create a thriving developer community, it should be interesting to see how the Shining Star and Developer programmes look in the next few years.