By Danica Coto | Associated Press
PORT-AU-PRINCE, Haiti — Thousands of protesters clashed with police as they looted stores and tried to break through a barricade leading toward the residence of Haitian President Jovenel Moïse Friday in one of the biggest demonstrations in weeks to demand his resignation. The violence came a day after a journalist covering the demonstrations was fatally shot in his car.
A group of motorcycle drivers gunned their engines in front of the police barricade blocking the sole street leading to the upscale Port-au-Prince neighborhood, with one person holding up a dead dog that had been dragged through the streets by a rope. A small group yelled: "Here's Jovenel!"
Police fired tear gas and bullets into the air. Protesters burned tires and spilled oil on streets in parts of Haiti's capital, warning the demonstrations could get even more violent as anger over corruption, rising inflation and a lack of basic goods continued to roil the Western Hemisphere's poorest country.
"We're going to break and destroy everything" if Moïse doesn't resign, said Reynald Brutus, a 28-year-old unemployed protester.
Friday's protest came after reporter Néhémie Joseph of Radio Méga, who had been covering the protests, was found dead in his car late Thursday in the town of Mirebalais, northeast of Port-au-Prince, according to Radio Vision 2000.
In a Facebook post in late September, Joseph said that a couple of politicians had threatened him after one of his shows and accused him of inciting protests. It was unclear, however, if this was the motive for his killing.
"The press should not have to claim victims and bodies as their own," the Association of Professional Journalists of Artibonite said, calling on justice officials to investigate the killing.
Joseph is the third Haitian journalist killed in less than two years. Radio Sans Fin reporter Pétion Rospide was fatally shot in June as he drove home, while freelance journalist Vladjimir Legagneur disappeared in March 2018 while working on a story.
The most recent killing comes amid a spike in violence in Haiti's capital and surrounding communities as protests that have caused nearly 20 deaths and almost 200 injuries paralyze the country for nearly a month. Businesses remain shuttered and an estimated 2 million children have not been able to go to school, according to the United Nations.
"It's a very, very serious situation," said Michèle Pierre-Louis, a former prime minister with the non-governmental organization FOKAL. "No one is really talking about the suffering of the people. The consequences are terrible."
On Friday, some normally clogged streets of Port-au-Prince were largely empty as people stayed indoors out of fear.
A crowd gathered in Pétionville yelled and pushed on the occasional car that tried to drive through.
Among those watching was 33-year-old Naomi Pierre, who works at the police academy.
"I like what's going on," she said. "It's for the best of the country."
Pierre has two children who haven't been able to go to school for a month, and she lamented the lack of food, medical care, electricity and security.
"Everyone's walking up and down with their heart beating scared," she said.
Earlier this week, Moïse announced the creation of a commission charged with finding a solution to end the worsening crisis, but opposition leaders have rejected his call for dialogue and unity.
Many are calling for a more in-depth investigation following a report by Haiti's Senate that accuses former top government officials from the administration of former president Michel Martelly of misusing at least $2 billion in funds tied to a Venezuelan subsidized oil program that were meant for social programs.
The report also names a company that Moïse once owned. Moïse, who was Martelly's hand-picked successor, has denied the allegations.
Haitians Angered Over Craft Visit and US Support of Moise – The Haitian Times
Haitians are less than enthused over Ambassador Kelly Craft's visit to Haiti on Wednesday, calling out the United States' support for the unpopular Jovenel Moise as hypocritical and duplicitous.
Videos circulated on social media and WhatsApp of protesters expressing anger over the U.S.'s interference in Haitian politics, signaling Craft's visit as the latest example of U.S. meddling. 
Critics point out that while Craft is calling for the end of corruption and human rights violations in Haiti, she ignores that Moise is accused of being at the helm of these abuses in the country. 
"A fully functioning government must, fight corruption; investigate and prosecute human rights abusers, including those responsible for the La Saline and Bel Air killings; and combat narcotics and human trafficking," the United States Permanent Representative to the United Nations said following a meeting with Moise and other political actors. 
"President Moise and other democratically elected leaders have an obligation to come together, put aside differences, and find an inclusive solution for the benefit of the people of Haiti."
The Haitian Times was founded in 1999 as a weekly English language newspaper based in Brooklyn, NY.The newspaper is widely regarded as the most authoritative voice for Haitian Diaspora.
Latest posts by Haitian Times (see all)
joe bruschy proposes a school around a vast playground in haiti
architect joe bruschy proposed the design of a school in the rural area of cabaret, haiti. built out of locally-sourced materials, the project aims to provide the children of the town with a suitable space to learn and grow.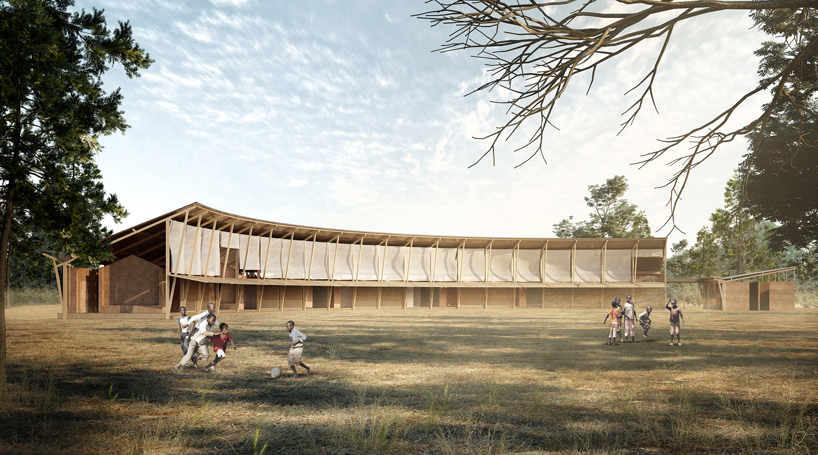 joe bruschy created the school around a vast playground. the horizontal, continuous structure houses four classrooms and a multi-purpose room, all facing the courtyard in a classic amphitheatre figure. this shape forms the school's core, where the building's placement is carefully selected in order to transform an immense site location into one more appropriate towards the scale of the building and its students.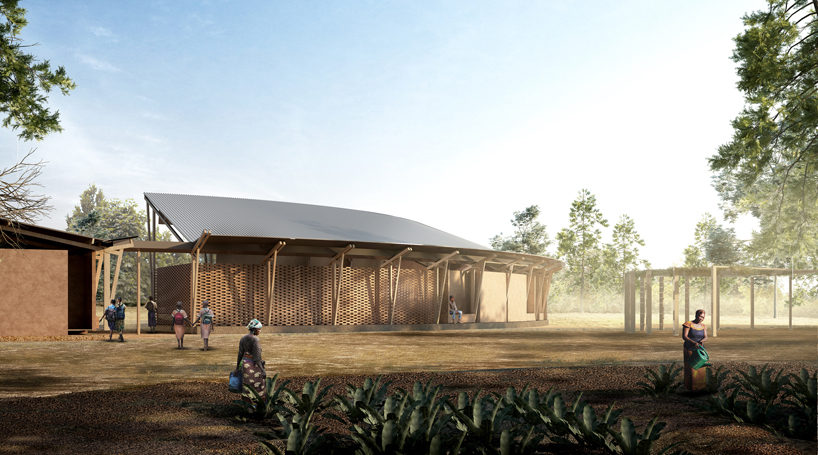 the design creates a better atmosphere between the building and the pre-existing nature-assembled environment that confines the site. at the lower south-east side of the school, a second volume emerges, confining a more formal entrance that draws the visitor past the north-east facade, a pergola and vegetable garden before encountering this secondary structure, where the teacher's room, kitchen, storage room and bathrooms are located.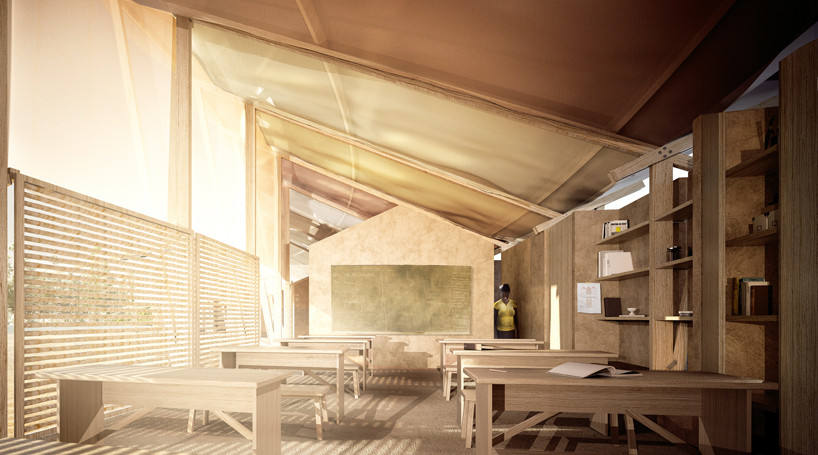 between these more utilitarian spaces, and taking advantage of being located at the site's lowest point, a large water cistern is fed by the water collected in the sloping roofs. from the cistern the water can be used in the kitchen, bathrooms or even in the vegetable garden, which not only helps the school be more self-sufficient, but also provides unmeasurable pedagogical value.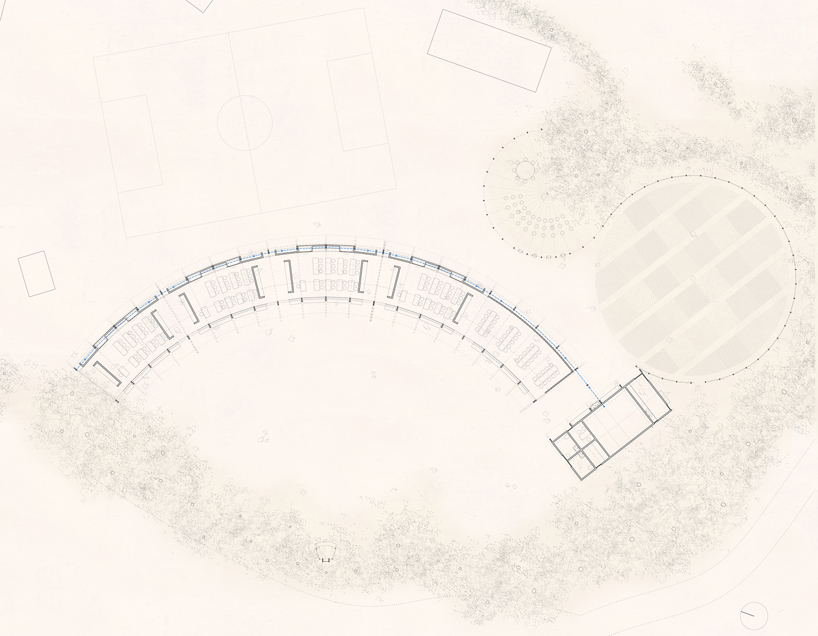 the building draws inspiration from local vernacular architecture techniques and materials, aiming to design in a contemporary language without losing connection to its roots. therefore, most of the materials are locally obtained, such as the wood for the structure and furniture, earth-based bricks and mortar and cloth sourced from the re-emerging haitian cotton industry. employing such distinct materials, enables the project to showcase a richness in textures and ambiances.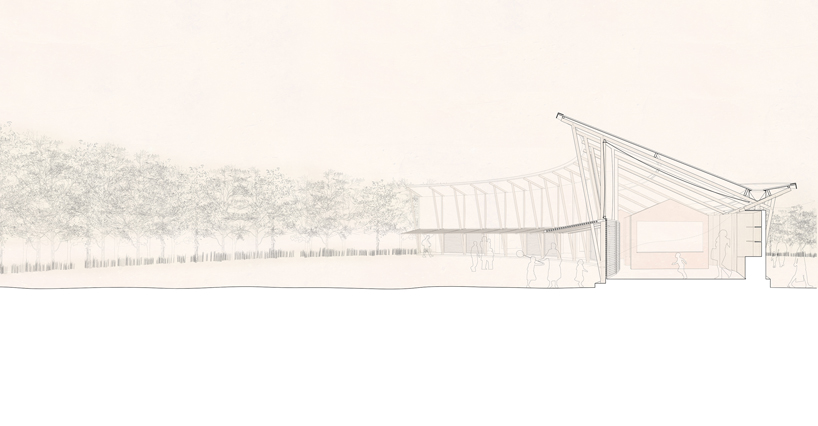 this is apparent in the contrast between the east and west facades. with the first presenting itself as a low, opaque and heavy wall, built in a wooden saint andrew's cross structure, filled with adobe and covered in an earth-based mortar, a variation of the tiwoch technique. on the west side however, that opens itself up to the playground, we can find a lighter and more breathable construction system, that draws inspiration from the typical clissage, allowing the interior space to be filled by a filtered light while slightly shielding the students from excessive exterior distractions.
above them, and connecting both facades, curtains extend from the playground to the east façade, hiding the roof structure behind cloth dyed in playful colours. all of these lighter elements are meant to be easily removed and stored, making sure they can be readily repaired or shielded from severe weather.
project info:
architecture: joe bruschy
location: cabaret, haiti
designboom has received this project from our 'DIY submissions' feature, where we welcome our readers to submit their own work for publication. see more project submissions from our readers here.
edited by: cristina gomez | designboom
Comfort Strengthens Partnership with Haiti Following Successful Medical Mission
By U.S. Navy Petty Officer Second Class Bobby Siens
November 20, 2019
U.S. Navy Hospital Ship USNS Comfort departed Port-au-Prince, Haiti, following the completion of the ship's 12th and final medical mission in Central America, South America, and the Caribbean, November 11.
"Haiti is the last stop of the U.S. Navy's Enduring Promise five-month mission in Latin America, Central America, and the Caribbean," said Michele Sison, U.S. ambassador to Haiti. "This visit has again displayed the strong ties between our two countries; as friends and neighbors, our two nations work together to make life better for all. We support the Haitian people's aspirations for a better life. It truly is an enduring promise."
During the six-day mission in Port-au-Prince, more than 900 medical professionals provided care for 3,603 patients at a shore-based medical site and performed 76 surgeries aboard the ship.
"Offering quality healthcare to a population suffering from all kinds of harm was the motivation of the USNS Comfort," said Normil Rameau, general director of Haiti's national police. "I want to emphasize the level of empathy and the degree of humanity the personnel of the hospital ship showed in the care provided to our brothers and sisters of Haiti."
During the ship's stop, they learned that a local hospital's maternity program was in need of an important medicine.
"We were informed through formal channels that there was a patient with eclampsia," said Commander Todd Morris, director of medical services aboard Comfort. "The treatment is to provide an anti-seizure medication, specifically magnesium sulfate. We were able to find the medicine and transport it safely to the hospital to help the patient."
The medicine was able to help multiple patients and local aide providers were exceptionally appreciative.
"You can imagine how stymied we were, as a high-risk maternity center," said Father Rick Frechette, an American priest and founder of St. Luke Foundation Hospital. "We take our hats off to [Comfort], for coming to our rescue with this life-saving drug."
Comfort's team consists of more than 900 personnel, including medical specialists from the U.S. military, nongovernmental organizations (NGO) volunteers, and personnel from partner nations. The entire Comfort team is comprised of military and civilian personnel from the United States and partner nations, including Argentina, Brazil, Canada, Costa Rica, Dominican Republic, Mexico, and Peru, as well as several NGOs creating a dynamic team capable of delivering a variety of services.
U.S. Navy Admiral Craig S. Faller, commander of U.S. Southern Command, visited the crew to thank them for the work put forth during their visit to Port-au-Prince.
"Each of you should leave this mission knowing that you made a difference," said Adm. Faller. "I'm proud for the difference that we made here in Haiti; every little bit matters."
This marks the sixth Comfort visit to Haiti and the seventh to the region since 2007. This deployment is a part of the U.S. Southern Command's Enduring Promise initiative and reflects the United States' ongoing commitment to friendship, partnership, and solidarity with partner nations in the Caribbean, Central America, and South America.