Appeal underscores "widespread" fear among people of Haitian descent
NASSAU, BAHAMAS- The International Organization for Migration has launched a $10 million funding appeal for Hurricane Dorian relief operations in The Bahamas.
The appeal has allocated $2.5 million for camp coordination and management, $2.4 million for shelter support and non-food items and $1 million for early recovery efforts, with the remaining funding to go to information management, protection, and public works like large-scale debris removal.
It claims vulnerable Haitian migrants, as well as documented migrants and Bahamians of Haitian descent, fear arrest and deportation after losing documents in the storm.
The appeal furthered those migrants were living in "very precarious conditions" even before the deadly Category 5 hurricane splintered shantytown communities.
The IOM's camp coordination and management covers efforts to assist government plans to establish a site for 2,000 people in Spring City, Abaco.
IOM's shelter allocation will assist families – who can return to their homes with small-scale repairs through the provision of cash and/or labor, technical advice and tool-kits.
It underscored the government's Prohibition to Build Order in shantytown communities has left populations without land to rebuild; and outlined plans to conduct a rapid assessment of Bahamian land and property.
The IOM's funding requirement covers operations from September 2019 until April 2020. The agency is reportedly working to establish an office in Nassau (New Providence), Marsh Harbour (Abaco), and Freeport
(Grand Bahamas).
Early recovery efforts include plans to coordinate temporary employment or voluntary work of displaced populations affected by Hurricane Dorian. It cited "immediate needs to increase household income and enhance coping capacity and resilience, while strengthening social cohesion".
The report added host communities in areas of displacement would be considered where possible, adding the lack of access to basic services and limited opportunities "may lead to tensions between displaced and
host communities".
"On Abaco Island," the appeal read, "following the Hurricane, Haitian communities have been decimated, with thousands of men, women, and children displaced. Some Haitians have gone to official shelters on New
Providence and other islands while others have not left the island.
"While many Haitian migrants have regular status, others are undocumented and fear arrest and deportation, and have therefore avoided contact with rescuers. Fear is however widespread, even among documented migrants and Bahamian nationals of Haitian descent, some of whom have lost their documents in the hurricane."
The appeal highlighted the IOM's Caribbean Needs Assessment on Migration Governance in 2018, which stated 25 % of the national population of the Bahamas are Haitian nationals – including both regular and irregular
migrants.
It noted training for humanitarian actors on victim identification, assistance and referral; sensitization for front-line officers and service providers, was a primary need identified by The Bahamas government during the IOM's 2018 needs assessment.  "The situation on Grand Bahama and Abaco islands has deteriorated rapidly. Affected sites, particularly in central Abaco, are destroyed and remain uninhabitable," the appeal read.
The IOM is an inter-governmental organization linked to the United Nations but it does not receive core funding.
It works closely with governmental, intergovernmental and non-governmental partners to promote humane and orderly migration management.
The Bahamas is one of 173 member states.
As part of early recovery, the IOM will also "conduct market assessment, including rapid labor market assessment and where appropriate supply chain analysis, to identify sources of income for displaced people."
The organization will also provide market-based programming, such as asset replacement grants, training for employment and job placement programmes, and for using appropriate modalities such as conditional cash transfer.
Haitians Angered Over Craft Visit and US Support of Moise – The Haitian Times
Haitians are less than enthused over Ambassador Kelly Craft's visit to Haiti on Wednesday, calling out the United States' support for the unpopular Jovenel Moise as hypocritical and duplicitous.
Videos circulated on social media and WhatsApp of protesters expressing anger over the U.S.'s interference in Haitian politics, signaling Craft's visit as the latest example of U.S. meddling. 
Critics point out that while Craft is calling for the end of corruption and human rights violations in Haiti, she ignores that Moise is accused of being at the helm of these abuses in the country. 
"A fully functioning government must, fight corruption; investigate and prosecute human rights abusers, including those responsible for the La Saline and Bel Air killings; and combat narcotics and human trafficking," the United States Permanent Representative to the United Nations said following a meeting with Moise and other political actors. 
"President Moise and other democratically elected leaders have an obligation to come together, put aside differences, and find an inclusive solution for the benefit of the people of Haiti."
The Haitian Times was founded in 1999 as a weekly English language newspaper based in Brooklyn, NY.The newspaper is widely regarded as the most authoritative voice for Haitian Diaspora.
Latest posts by Haitian Times (see all)
joe bruschy proposes a school around a vast playground in haiti
architect joe bruschy proposed the design of a school in the rural area of cabaret, haiti. built out of locally-sourced materials, the project aims to provide the children of the town with a suitable space to learn and grow.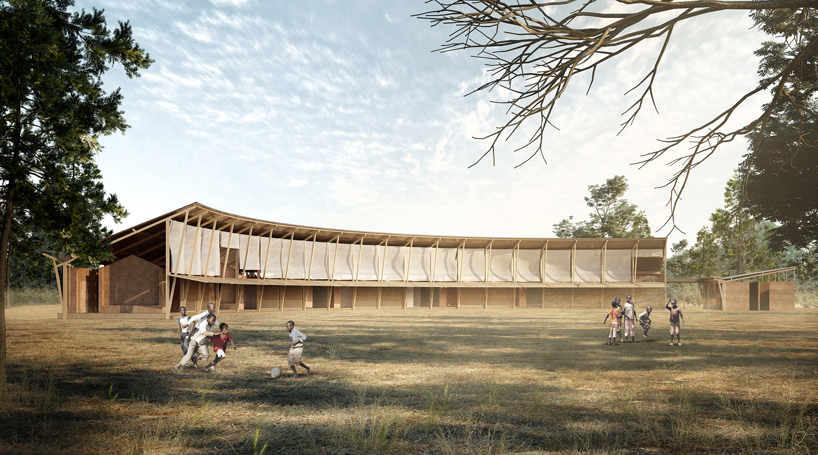 joe bruschy created the school around a vast playground. the horizontal, continuous structure houses four classrooms and a multi-purpose room, all facing the courtyard in a classic amphitheatre figure. this shape forms the school's core, where the building's placement is carefully selected in order to transform an immense site location into one more appropriate towards the scale of the building and its students.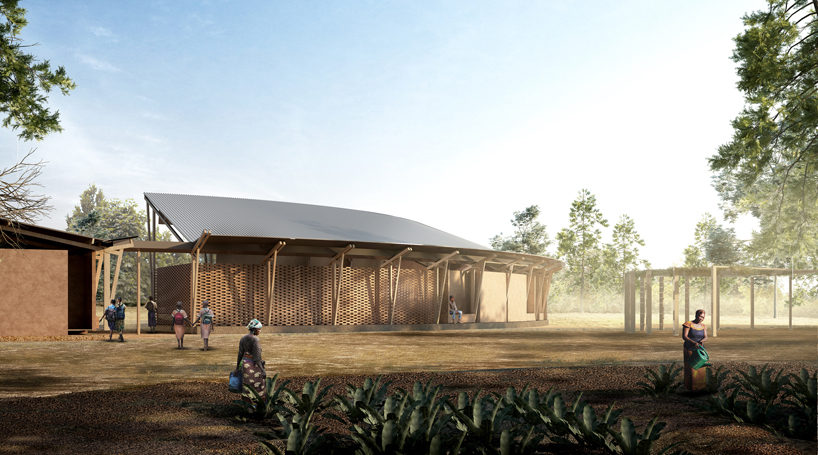 the design creates a better atmosphere between the building and the pre-existing nature-assembled environment that confines the site. at the lower south-east side of the school, a second volume emerges, confining a more formal entrance that draws the visitor past the north-east facade, a pergola and vegetable garden before encountering this secondary structure, where the teacher's room, kitchen, storage room and bathrooms are located.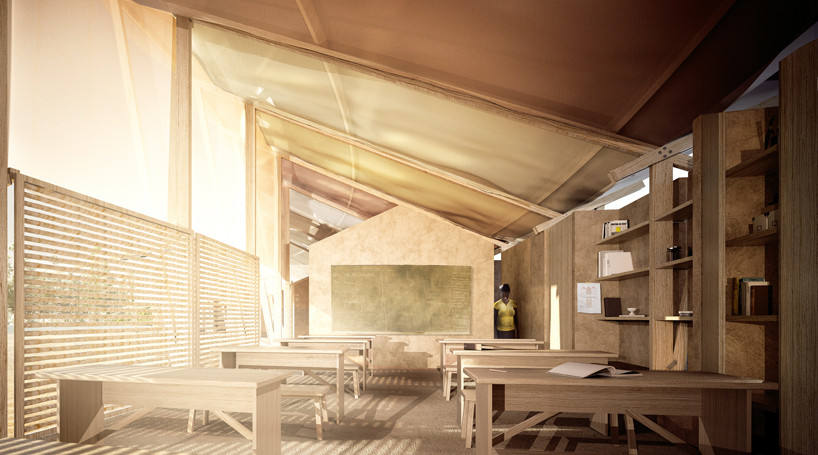 between these more utilitarian spaces, and taking advantage of being located at the site's lowest point, a large water cistern is fed by the water collected in the sloping roofs. from the cistern the water can be used in the kitchen, bathrooms or even in the vegetable garden, which not only helps the school be more self-sufficient, but also provides unmeasurable pedagogical value.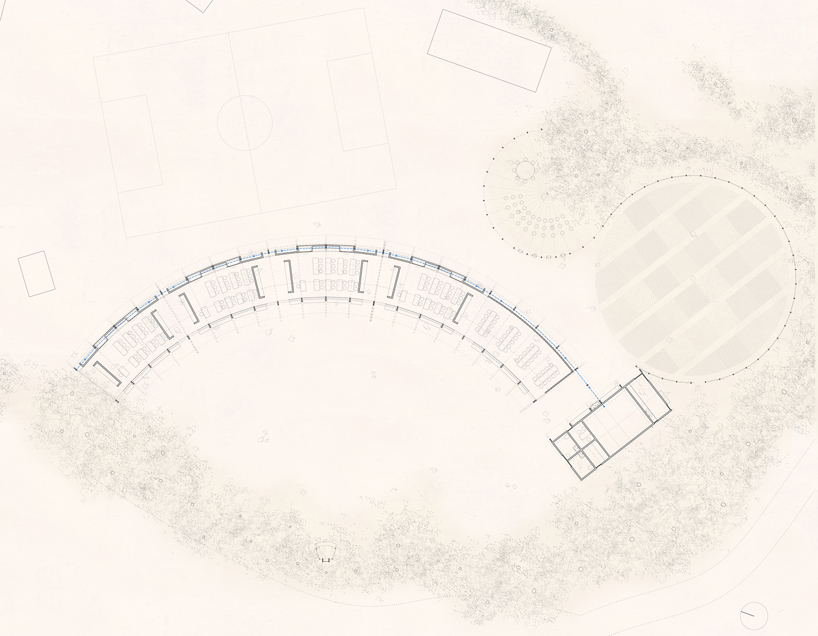 the building draws inspiration from local vernacular architecture techniques and materials, aiming to design in a contemporary language without losing connection to its roots. therefore, most of the materials are locally obtained, such as the wood for the structure and furniture, earth-based bricks and mortar and cloth sourced from the re-emerging haitian cotton industry. employing such distinct materials, enables the project to showcase a richness in textures and ambiances.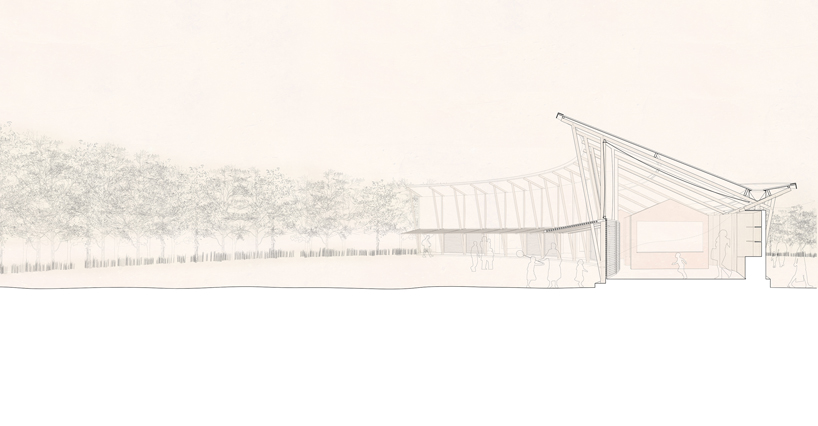 this is apparent in the contrast between the east and west facades. with the first presenting itself as a low, opaque and heavy wall, built in a wooden saint andrew's cross structure, filled with adobe and covered in an earth-based mortar, a variation of the tiwoch technique. on the west side however, that opens itself up to the playground, we can find a lighter and more breathable construction system, that draws inspiration from the typical clissage, allowing the interior space to be filled by a filtered light while slightly shielding the students from excessive exterior distractions.
above them, and connecting both facades, curtains extend from the playground to the east façade, hiding the roof structure behind cloth dyed in playful colours. all of these lighter elements are meant to be easily removed and stored, making sure they can be readily repaired or shielded from severe weather.
project info:
architecture: joe bruschy
location: cabaret, haiti
designboom has received this project from our 'DIY submissions' feature, where we welcome our readers to submit their own work for publication. see more project submissions from our readers here.
edited by: cristina gomez | designboom
Comfort Strengthens Partnership with Haiti Following Successful Medical Mission
By U.S. Navy Petty Officer Second Class Bobby Siens
November 20, 2019
U.S. Navy Hospital Ship USNS Comfort departed Port-au-Prince, Haiti, following the completion of the ship's 12th and final medical mission in Central America, South America, and the Caribbean, November 11.
"Haiti is the last stop of the U.S. Navy's Enduring Promise five-month mission in Latin America, Central America, and the Caribbean," said Michele Sison, U.S. ambassador to Haiti. "This visit has again displayed the strong ties between our two countries; as friends and neighbors, our two nations work together to make life better for all. We support the Haitian people's aspirations for a better life. It truly is an enduring promise."
During the six-day mission in Port-au-Prince, more than 900 medical professionals provided care for 3,603 patients at a shore-based medical site and performed 76 surgeries aboard the ship.
"Offering quality healthcare to a population suffering from all kinds of harm was the motivation of the USNS Comfort," said Normil Rameau, general director of Haiti's national police. "I want to emphasize the level of empathy and the degree of humanity the personnel of the hospital ship showed in the care provided to our brothers and sisters of Haiti."
During the ship's stop, they learned that a local hospital's maternity program was in need of an important medicine.
"We were informed through formal channels that there was a patient with eclampsia," said Commander Todd Morris, director of medical services aboard Comfort. "The treatment is to provide an anti-seizure medication, specifically magnesium sulfate. We were able to find the medicine and transport it safely to the hospital to help the patient."
The medicine was able to help multiple patients and local aide providers were exceptionally appreciative.
"You can imagine how stymied we were, as a high-risk maternity center," said Father Rick Frechette, an American priest and founder of St. Luke Foundation Hospital. "We take our hats off to [Comfort], for coming to our rescue with this life-saving drug."
Comfort's team consists of more than 900 personnel, including medical specialists from the U.S. military, nongovernmental organizations (NGO) volunteers, and personnel from partner nations. The entire Comfort team is comprised of military and civilian personnel from the United States and partner nations, including Argentina, Brazil, Canada, Costa Rica, Dominican Republic, Mexico, and Peru, as well as several NGOs creating a dynamic team capable of delivering a variety of services.
U.S. Navy Admiral Craig S. Faller, commander of U.S. Southern Command, visited the crew to thank them for the work put forth during their visit to Port-au-Prince.
"Each of you should leave this mission knowing that you made a difference," said Adm. Faller. "I'm proud for the difference that we made here in Haiti; every little bit matters."
This marks the sixth Comfort visit to Haiti and the seventh to the region since 2007. This deployment is a part of the U.S. Southern Command's Enduring Promise initiative and reflects the United States' ongoing commitment to friendship, partnership, and solidarity with partner nations in the Caribbean, Central America, and South America.