Diddy Goes On Date With An Actress, Lori Harvey Is Unbothered
Diddy was spotted with a gorgeous new mystery woman, and she is definitely not Lori Harvey.
On Friday night, Diddy arrived at the popular Nobu restaurant in Los Angeles, California, in his Maybach at around 10:00 pm. TSR reported that a source told them that the hip hop mogul was the first to exit the vehicle and duck into the restaurant before his gorgeous lady friend followed a half a minute later. This tactic is normal for celebrities who are trying to avoid any paparazzi or tabloid attention.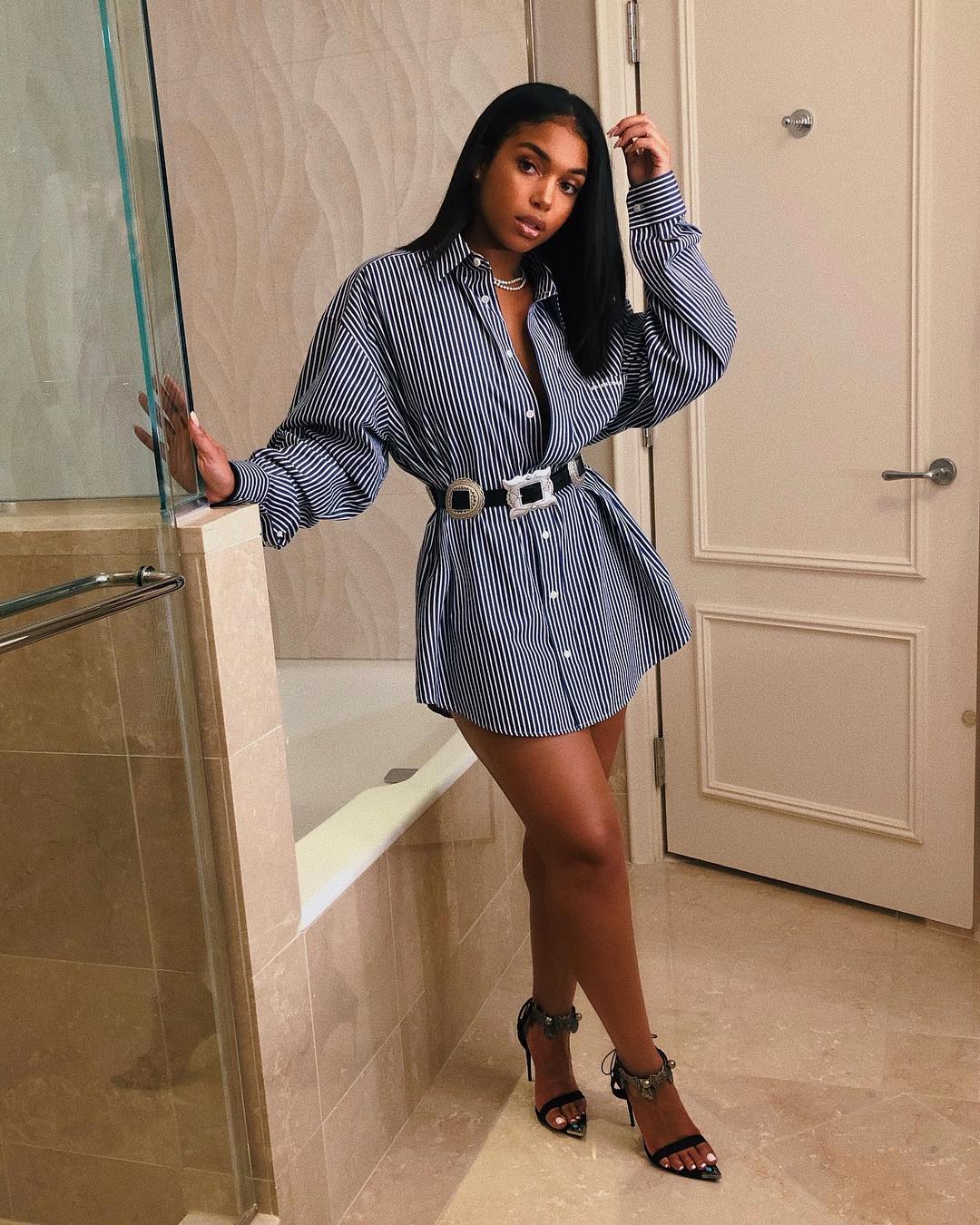 The woman who was later identified as a Hollywood actress emerged from Diddy's Maybach and was escorted into Nobu by security personnel. She was dressed in a black joggers-type pants with a black crop top and overlaying brown fur which seems like a dinner date and after-party attire. Far be it from us to speculate but in these paparazzi photos that have now gone viral, Diddy seems to be attempting to have a discreet rendezvous with the stunning actress. Based on Lori Harvey's Instagram stories, she was out of town at the time, attending a Homecoming weekend event at Howard University in Washington, DC.
Though Diddy and Lori Harvey never publicly confirmed their relationship, most fans believe it's quite evident that they're an item. However, some are suggesting that the two might not have been that serious from the get-go, especially since Lori has been linked to Diddy's son Justin Coombs in the past.
"Diddy is wit a new woman every week now he's wildin," one user commented online. Interestingly, reports are that Diddy's dinner date also knows Justin quite well and is reportedly close to the family. "I wonder if she dated his son too!" another fan commented.
Diddy is yet to address the rumors surrounding his late-night date, but then again, he is not exactly known for clearing the air when he is linked to beautiful women. One thing is for sure, if he was attempting to be inconspicuous for Lori's sake, that mission has failed.
Tahiry Jose Responds To Backlash From Love & Hip Hop NY Fans
Tahiry Jose has stepped forward to addressed backlash she's been getting from Love and Hip Hop New York fans.
One of the major storylines on this season of Love and Hip Hop New York is the "love triangle" between Cyn Santana, Joe Budden, and Tahiry Jose. Tahiry is an OG cast member and former long term girlfriend who famously turned down Joe's marriage proposal in Times Square. Cyn and Joe Budden were engaged for about a year before calling it off due to alleged infidelity. The two also share a two-year-old son together.
Tahiry and Cyn have been butting heads on this season of LHHNY over their respective relationships with Joe, and they both seem to be in some sort of competition to be "THE ex." In a recent episode, the two had yet another sit-down conversation about the issues between them, which seem to be centered around Joe. Keep in mind that neither woman is currently having a romantic relationship with him, so they say.
Cyn Santana shared that she was uncomfortable with the way Tahiry comes at her "Spicy", and says that she should have more respect for their situation because she is the mother of his child and ex-fiance. However, Tahiry openly questioned if Joe was being honest with Cyn about how often she and Joe talk. She said, "I'm sure he is trying to protect your feelings because I don't think he's being honest with you about certain things."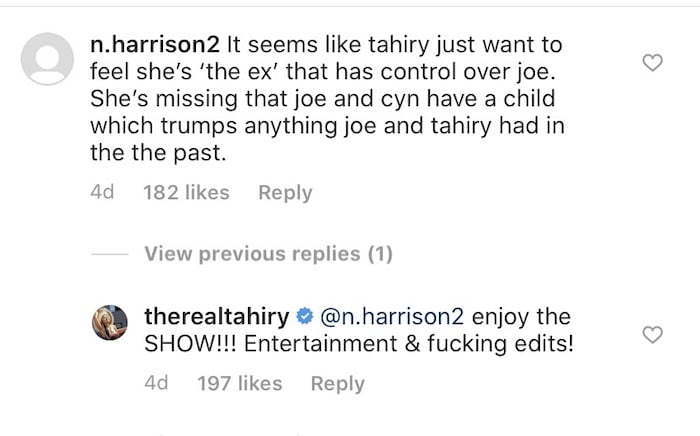 After the episode aired fans on Twitter were not feeling some of the things that Tahiry had to say and felt that she was being messy for the TV cameras. One fan said, "It seems like tahiry just want to feel she's 'the ex' that has control over Joe. She's missing that Joe and cyn have a child which trumps anything Joe and tahiry had in the the past."