Spice says she wasn't wearing any underwear at the BET Awards when she appeared on the red carpet with Dexta Daps.
Dancehall diva Spice arrived at the BET Hip Hop Awards on Saturday night with Dexta Daps by her side. The "Sheets" deejay had already sparked a little controversy with her choice of escort considering the salacious headlines they inspired in the past. If you need a reminder, Spice and Dexta Daps put on quite the erotic performance on stage at a show in New York this summer. The raunchy video that went viral shows Spice twerking and grinding on Dexta as his bedroom songs filled the speakers.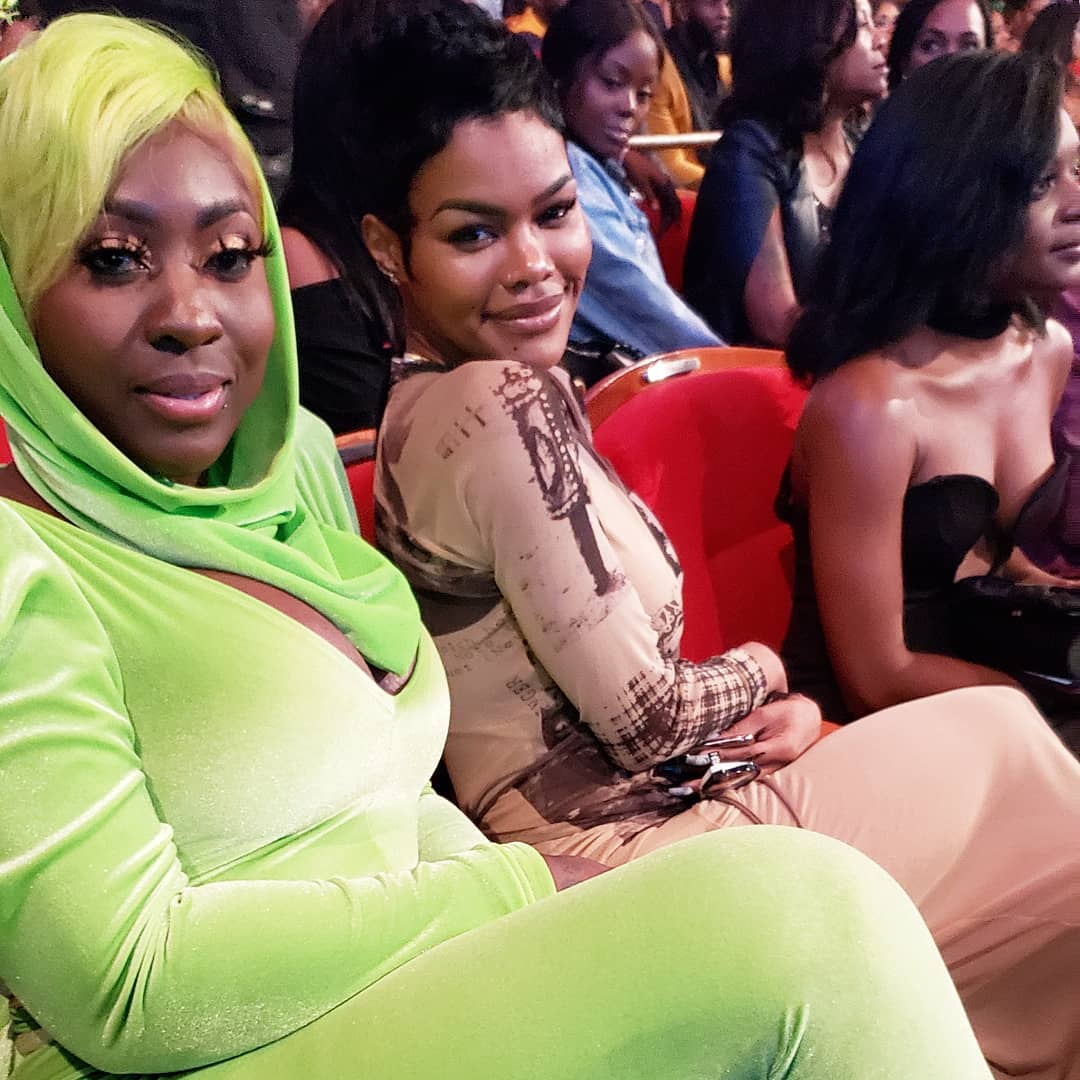 Dexta Daps made his BET Hip Hop Awards debut appearance on the red carpet at the Cobb Energy Performing Arts Centre in Atlanta, Georgia, on October 5. Daps looked dapper as usual, clad in black pants and shirt with a jacket that had gold stripes along both sleeves. Next to him was the 'Cool It' deejay herself who donned a neon green rayon and silk velvet bodysuit ensemble that hugged her tight waist and showed off her ample curves. She also wore a headpiece made of the same material and a neon green wig by Puddon Plussweet.
Though Spice's bright outfit really stood out, viewers could not help but notice that something else was prevalent in the photos as well. It seems the 'No Underwear' singer inspired Spice to do just that as she later admitted that she showed up without panties on. The Dancehall diva was noticeably going commando in these photos. As more fans started to notice, and Spice's 'buff' became the new narrative, she quickly made a post to address the situation.
"See the real panty dropper yah @dextadaps and its obvious say mi nah wear no underwear (I will next time)," Spice captioned the red carpet photo. Though the image has since been removed from the dancehall deejay's Instagram account, several other media accounts have already posted the screenshot leaving proof of Spice's regrettable decision for the world to see at any time.
Agant Sasco Joins Lineup For Popcaan's 'Unruly Fest'
Popcaan has added Agent Sasco to "Unruly Fest" lineup.
Popcaan's "Unruly Fest" promises to be more than just a show but an overall experience. Last year's staging saw the Jamaican people being treated to a wide array of performances, with Canadian born mega superstars Drake and Tory Lanez being the surprise guest artistes. You have to admit, the organizers of the festival have their hands full with trying to top last year's list of performers, which many have called one of the best and most well put together they had ever seen.
In all fairness, a good place to start is with Agent Sasco. Sasco provides the right blend of energy and realism through his music. During his performances, he usually activates his former Assassin persona and delivers hits such as "Girl's Gone Wild," "We a Bad From," and many others hits spanning his almost two-decade-long career when he gets on stage. More recent tracks done on under the moniker Agent Sasco provide a more reggae-infused flavor. Tracks such as "Winning Right Now," "Mix Up," and "Bank Of the Hope" are a few of the songs we also expect him to deliver.
We may even see host Popcaan being called out for the remix of "Bank Of the Hope," which was released earlier this year. The Agent and Popcaan have teamed up on stage in the past, and that is actually one of the core ideas sung by Popcaan in one of the verses. The two have also joined forces on many Dre Skull productions, such as the remix to "There's Gonna Be (Good Times)."
I'm sure the event's organizers have more in store for patrons. Stay tuned to Urban Islandz for more information on the lineup for Unruly Fest.
https://www.instagram.com/unrulyfest/
Summer Walker Cancels Tour Dates, Blames Social Anxiety
Summer Walker blames social anxiety for the cancellation of several upcoming tour dates.
Summer Walker, the R&B singer and Atlanta native, announced several upcoming concert cancellations on her First and Last Tour, explaining on Instagram that her social anxiety has become too overwhelming for her to push through. In the video, Summer sent love to her fans and asked for their support so that she can continue her career, saying, "I hope you all can understand. I'm grateful for every single one of you, and I hope you understand that wellness/mental health is important." She went on to assure fans that their tickets would be refunded.
Walker opened up about her anxiety in social situations earlier this month after a fan complained about her unfriendly demeanor during a meet and greet. The fan posted a picture of herself with the singer on Instagram, claiming that she was told not to touch or sit too close to Summer and that the artist "barely spoke to anyone." Summer quickly responded to fans who felt slighted by their interactions with her in an Instagram post of her own, explaining that she is an empath. Empaths are people who are especially sensitive to other people's emotions and energies and can feel drained after being around large groups or meeting a lot of people.
Summer explained her personal experience with meeting fans further, saying, "There's a lot of people out here faking the funk with a smile on their face like they got it together but inside your actually suffering… BUT I CAN FEEL IT."
The singer cut twenty of her twenty-nine remaining shows of the tour. Only last week, she headlined a sold-out show in Los Angeles and spoke about her mental health struggles on stage, saying, "If anybody in here has social anxiety, I just wanna let you know that sh*t is real, but don't let it stop the bag."
Love & Hip Hop: Spice Says Instagram Removing Likes Is Bad For Business
Dancehall diva Spice, says the policy decision by Instagram to hide "likes" for users in the United States, beginning this week, is putting artistes like her at a disadvantage.
According to the Spanish Town native, who has more than 2.4 million Instagram followers, IG features heavily as a promotional tool, and the number of 'likes' her post accrue, is also her primary means of data gathering and statistical analysis.
"First of all, my Instagram page is my marketing tool," Spice told Jamaican radio station Irie FM in an interview. It is really what I use to reach out to my fans; people out there in the public. I use that page to try to get a feedback, so the comments, the likes, and everything that the fans out there, if they would comment or if they click 'like', that is what would indicate to me if they are feeling something."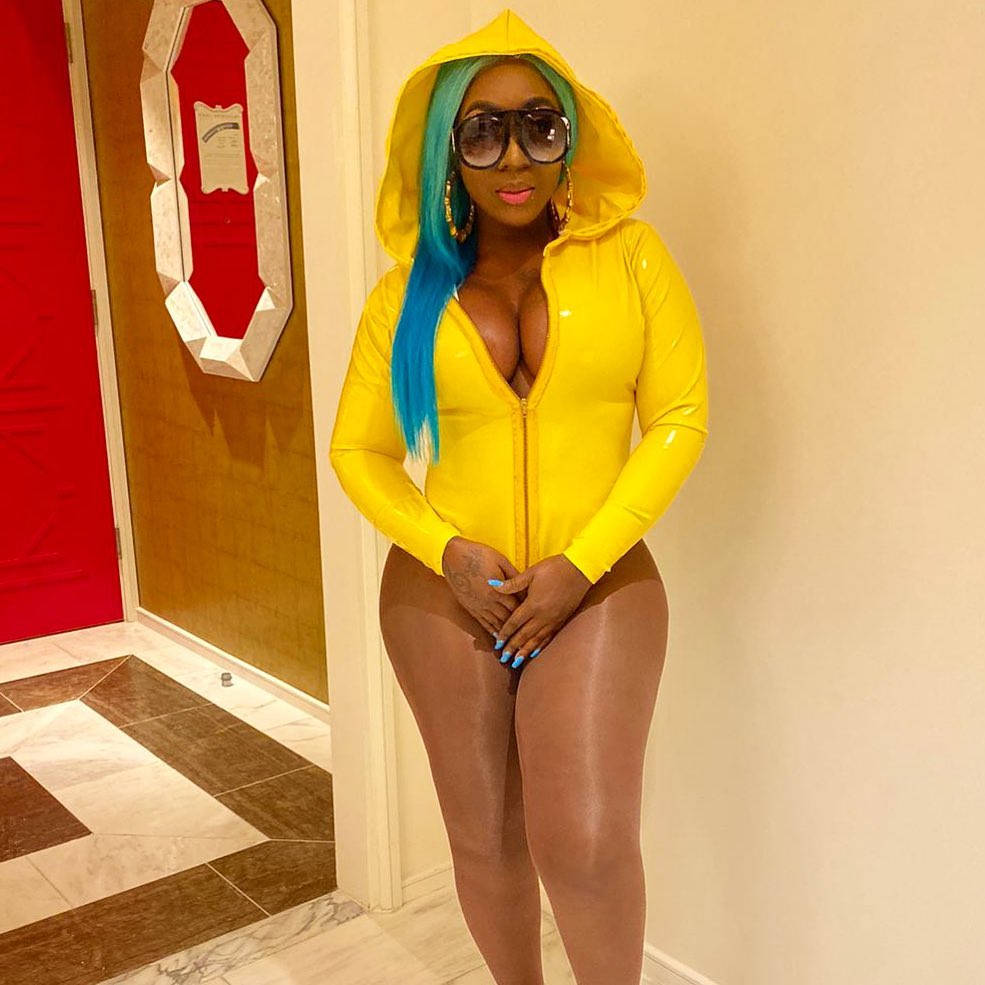 "So a lot of people do not know that the like button is very important on Instagram, because it's the public's way of interacting with you to say whether or not they like something, if dem a feel it, yes or no," Spice continues. "So if I post a music it is the number of likes on that song that can indicate to me that is a song weh mi can run with…becaw di public like it and dem click di like button because them a feel it."
Last week Instagram's top management announced at a symposium that the company's teams were testing 'making like counts private', so only the persons who make posts will be able to see how many people liked their posts. At the time, they said the idea surrounding the decision was to 'depressurize' Instagram and make it less of a competition and more of a space for users to focus on connecting with other people and things that give them inspiration.
For Spice, who posts on Instagram sometimes several times daily, if the like button is permanently removed, then she would lose a key decision-making tool.
"So if that should be taken away, it is going to impact negatively with the whole Instagram stuff, because if you post something, you don't know if the majority like it or not. In the back end of my Instagram page on a weekly basis I can go and I can see people liking it, where they are liking it from, which video was liked more, which picture was liked more. So that indicates to me what my followers like; it keeps my page going," the Queen of Dancehall said.
Some followers who viewed the news item on Instagram appeared ambivalent about the situation. "Don't do it for the likes; do it for the love, OK," one fan said.
Another follower directed his comments to Spice, whom he described as his' dream wife'. "Yuh have man a kill fi likes and woman and kids a dad to babes. Gd maybe, IG bing back som of us into urselves again, although some a go mad out…real good move inna da fake world yah," he declared.