Bounty Killer gets recognized as a social entrepreneur.
Bounty Killer was the toast of academics at the University of Technology (UTech) last week Wednesday when he was cited as the consummate social entrepreneur, for, among other things, his work as a dubplate specialist. According to researchers Bounty, whose real name is Rodney Pryce, provided "more opportunities or a more professional consideration with respect to how dubplates were treated within the music industry of Jamaica."
"Well I never even know I was a social entrepreneur," Bounty told Onstage's Winford Williams during an interview at the event.
"When they came to me and told me about Social Entrepreneur, I said: 'what kinda words are dat?' I neva know there was such ting. So when I was doing all of these social tings, I never know you become 'Social Entrepreneur," he said laughing.
Researchers said Bounty was not only an entrepreneur but was a philanthropist in his community, factors which led to the overwhelming request from students for his work to be researched.
For the Killer, he was all too happy to oblige, as although he dropped out of school at an early age and still managed to become successful, he understands how limited education can be a barrier in life.
"So when they came and said they want to do interview and all these things because they see me as a social entrepreneur, I said OK, it's cool, because social thing is just a part of mi life… and they said they want me to be at the launch. I was an entrepreneur and never know," he said.
Bounty's 1994 hit Book Book Book was also celebrated at the event. According to the warlord, he never envisioned that it would become a hit song much less a Dancehall classic.
"It was something that we saw coming up in the ghetto where lot of people got the opportunity and never make use of it and some people make it without education and feel like OK, you never need education. But education is just your direction of the world. It is your instruction of what take place in life. So I just wanted to put my two cents on the topic of importance education that time," he said.
"I never think it would be such a classic… because nobaddy no want hear bout school when dem a big people. So Dancehall never seem like a place weh embrace dat type a song. But just because we came from the ghetto and we know how important education is to we as strugglers, I did the song. And 25 years later, many of my ardent fans come up and say dat song was such a motivation to dem and I realize it really touch a lot of people life…" he added.
Bounty said participation in the University's program was a special occasion for him and a significant recognition and achievement.
"I think education is that vehicle that can take you any part of the world as long as you put the key in that ignition," he said.
Agant Sasco Joins Lineup For Popcaan's 'Unruly Fest'
Popcaan has added Agent Sasco to "Unruly Fest" lineup.
Popcaan's "Unruly Fest" promises to be more than just a show but an overall experience. Last year's staging saw the Jamaican people being treated to a wide array of performances, with Canadian born mega superstars Drake and Tory Lanez being the surprise guest artistes. You have to admit, the organizers of the festival have their hands full with trying to top last year's list of performers, which many have called one of the best and most well put together they had ever seen.
In all fairness, a good place to start is with Agent Sasco. Sasco provides the right blend of energy and realism through his music. During his performances, he usually activates his former Assassin persona and delivers hits such as "Girl's Gone Wild," "We a Bad From," and many others hits spanning his almost two-decade-long career when he gets on stage. More recent tracks done on under the moniker Agent Sasco provide a more reggae-infused flavor. Tracks such as "Winning Right Now," "Mix Up," and "Bank Of the Hope" are a few of the songs we also expect him to deliver.
We may even see host Popcaan being called out for the remix of "Bank Of the Hope," which was released earlier this year. The Agent and Popcaan have teamed up on stage in the past, and that is actually one of the core ideas sung by Popcaan in one of the verses. The two have also joined forces on many Dre Skull productions, such as the remix to "There's Gonna Be (Good Times)."
I'm sure the event's organizers have more in store for patrons. Stay tuned to Urban Islandz for more information on the lineup for Unruly Fest.
https://www.instagram.com/unrulyfest/
Summer Walker Cancels Tour Dates, Blames Social Anxiety
Summer Walker blames social anxiety for the cancellation of several upcoming tour dates.
Summer Walker, the R&B singer and Atlanta native, announced several upcoming concert cancellations on her First and Last Tour, explaining on Instagram that her social anxiety has become too overwhelming for her to push through. In the video, Summer sent love to her fans and asked for their support so that she can continue her career, saying, "I hope you all can understand. I'm grateful for every single one of you, and I hope you understand that wellness/mental health is important." She went on to assure fans that their tickets would be refunded.
Walker opened up about her anxiety in social situations earlier this month after a fan complained about her unfriendly demeanor during a meet and greet. The fan posted a picture of herself with the singer on Instagram, claiming that she was told not to touch or sit too close to Summer and that the artist "barely spoke to anyone." Summer quickly responded to fans who felt slighted by their interactions with her in an Instagram post of her own, explaining that she is an empath. Empaths are people who are especially sensitive to other people's emotions and energies and can feel drained after being around large groups or meeting a lot of people.
Summer explained her personal experience with meeting fans further, saying, "There's a lot of people out here faking the funk with a smile on their face like they got it together but inside your actually suffering… BUT I CAN FEEL IT."
The singer cut twenty of her twenty-nine remaining shows of the tour. Only last week, she headlined a sold-out show in Los Angeles and spoke about her mental health struggles on stage, saying, "If anybody in here has social anxiety, I just wanna let you know that sh*t is real, but don't let it stop the bag."
Love & Hip Hop: Spice Says Instagram Removing Likes Is Bad For Business
Dancehall diva Spice, says the policy decision by Instagram to hide "likes" for users in the United States, beginning this week, is putting artistes like her at a disadvantage.
According to the Spanish Town native, who has more than 2.4 million Instagram followers, IG features heavily as a promotional tool, and the number of 'likes' her post accrue, is also her primary means of data gathering and statistical analysis.
"First of all, my Instagram page is my marketing tool," Spice told Jamaican radio station Irie FM in an interview. It is really what I use to reach out to my fans; people out there in the public. I use that page to try to get a feedback, so the comments, the likes, and everything that the fans out there, if they would comment or if they click 'like', that is what would indicate to me if they are feeling something."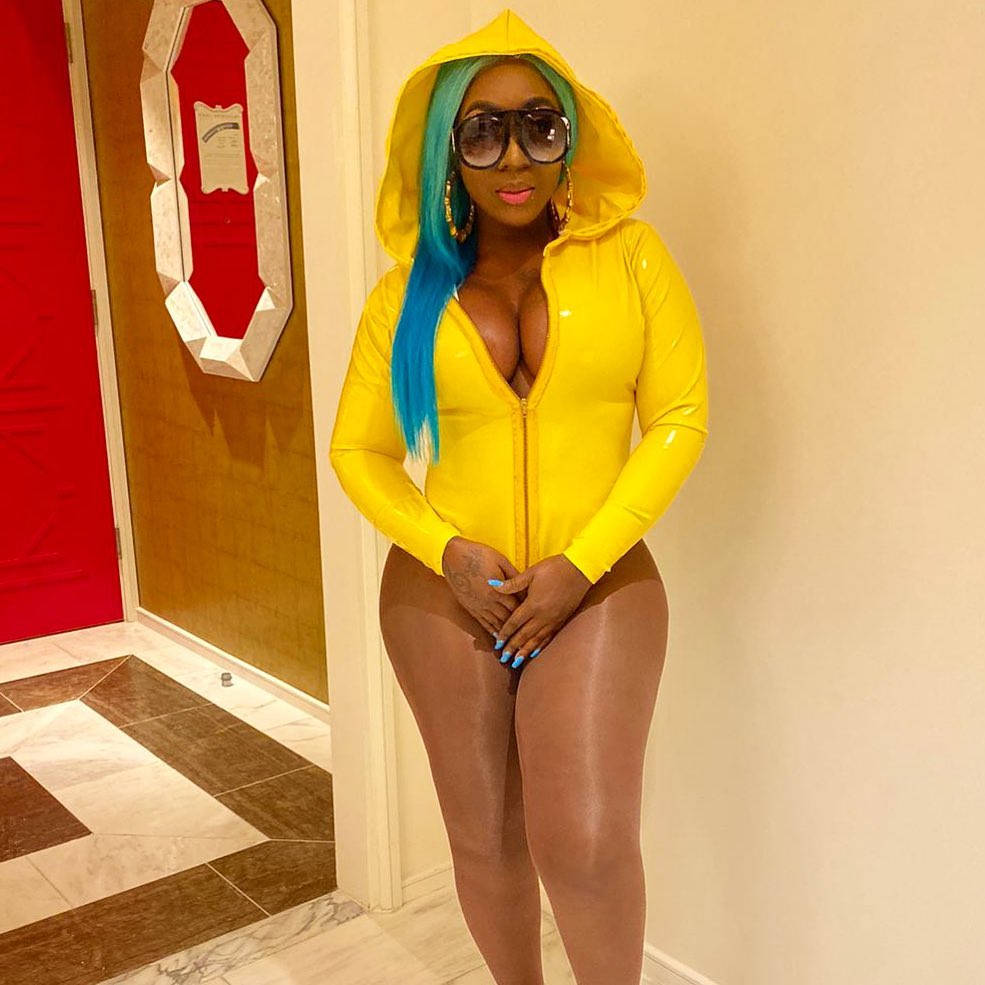 "So a lot of people do not know that the like button is very important on Instagram, because it's the public's way of interacting with you to say whether or not they like something, if dem a feel it, yes or no," Spice continues. "So if I post a music it is the number of likes on that song that can indicate to me that is a song weh mi can run with…becaw di public like it and dem click di like button because them a feel it."
Last week Instagram's top management announced at a symposium that the company's teams were testing 'making like counts private', so only the persons who make posts will be able to see how many people liked their posts. At the time, they said the idea surrounding the decision was to 'depressurize' Instagram and make it less of a competition and more of a space for users to focus on connecting with other people and things that give them inspiration.
For Spice, who posts on Instagram sometimes several times daily, if the like button is permanently removed, then she would lose a key decision-making tool.
"So if that should be taken away, it is going to impact negatively with the whole Instagram stuff, because if you post something, you don't know if the majority like it or not. In the back end of my Instagram page on a weekly basis I can go and I can see people liking it, where they are liking it from, which video was liked more, which picture was liked more. So that indicates to me what my followers like; it keeps my page going," the Queen of Dancehall said.
Some followers who viewed the news item on Instagram appeared ambivalent about the situation. "Don't do it for the likes; do it for the love, OK," one fan said.
Another follower directed his comments to Spice, whom he described as his' dream wife'. "Yuh have man a kill fi likes and woman and kids a dad to babes. Gd maybe, IG bing back som of us into urselves again, although some a go mad out…real good move inna da fake world yah," he declared.