It seems Likkle Vybz and Likkle Addi are gearing up to take the dancehall by storm with the official release of their new single "Skinny Jeans."
The duo is coining the moniker UTG which is an abbreviation for "Uptown Gaza." A post previewing the newly released song was made to Vybz Kartel's Instragam page 3 days ago. His fans immediately erupted in excitement and started to expressed their desire to have the full release. Their desires were fulfilled, as "Skinny Jeans" was released to Likkle Vybz's Youtube page on September 19, 2019.
The song is laced with lyrics and flow with lines like, "Inna Clarks, gyal a pass, we floss, top-class dem a come cross and a brace pon di boss and me nah laugh, well tuff me no soft dis a no draft, me a make a move drop your shorts, no we never wrong, we ever right paragraph."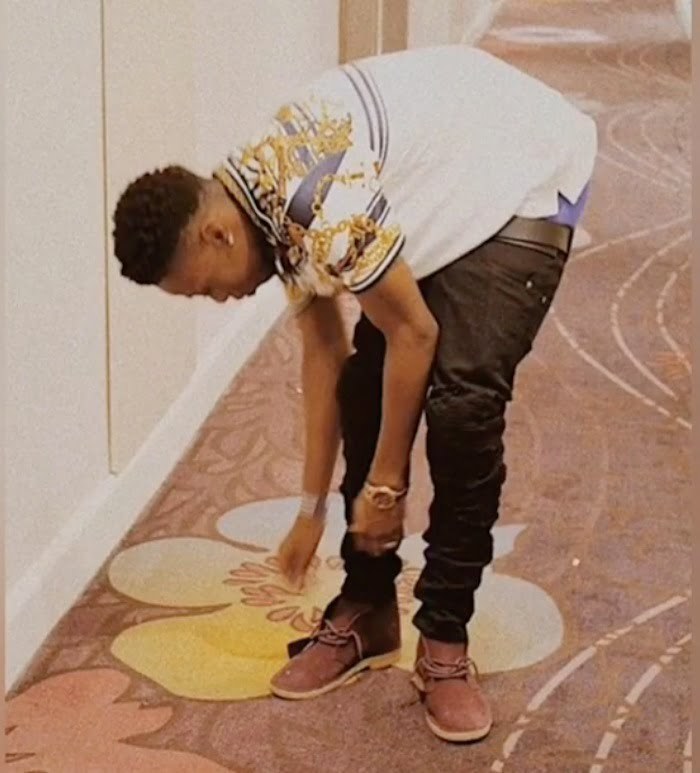 With their father being 'The Lyricist' of dancehall music, it is no surprise that the song would pack a punch. The young entertainers proudly sing about their apparel, "Where wa you feel like wear, Me a wear wa me feel like wear." Jamaicans have an obsession with the Clarks brand and they are no different. They sing, " Bankrobber Clarks and skinny jeans, …. Wa kinda Clarks that yuh ina, a knockoff, yuh make Bobus laugh."
Vybz Kartel caused a frenzy in 2010 when he released the track titled, "Clarks." The track, which also featured Popcaan and Gaza Slim, was a megahit. He followed "Clarks" with two other successful tracks, "Clarks Again" and "Wear Weh You Have" on the Wallabee Riddim. The songs reignited the fire for the much loved Desert Clarks, which saw an increase in the price as a result of the high demand.
"Skinny Jeans" was released on the Vybz Kartel Music label and is being distributed by Johnny Wonder.
Many are saying the future of dancehall looks promising and Likkle Vybz and Likkle Addi may just be the ones leading the charge.
Check out the full track for " Skinny Jean" below.
Bounty Killer Steps Up Pressure On Government, 'Leave Lungs of Jamaica' Intact
Bounty Killer says he is not easing up the pressure on the Jamaican Government over allegations of proposed mining within sections of the Cockpit Country in Trelawny until the issue is resolved.
According to Bounty Killer, he will not sit idly by and allow what he described as the "lungs of Jamaica" to be vandalized because, as a true patriot, he intends to grow old and die in the country of his birth.
"Cause if dem mine deh so mi haffi go move enuh. Remember say we a plan fi old bout yah enuh. Me never leave Jamaica for a year yet enuh. From di day I become a superstar, the most I leave Jamaica fah is two months…I don't play wid my Jamaica. If three months come mi sick; mi haffi go breathe Jamaica breeze. I don't know bout no odda Jamaican. Dis is a serious ting in my life," Killer declared.
"So mi deal wid my Jamaica. So, mi cannot live nowhere else. Me plan fi old and dead a Jamaica, so listen mi no mining can't gwaan inna di Cockpit caw mi haffi breathe out yah. Cause my lungs need a lot a air; fresh one too. So I am asking, Mr. Andrew Holness, who is the current Prime Minister, please sir, no mining in the Cockpit.
Bounty also contended that the Holness administration could easily forego any contract that was signed to allow bauxite mining in the area as the State owns majority shares in the Noranda Bauxite Company, which is seeking to operate in the region.
"The thing they are saying now is that the Government has 51 percent shares in Noranda, so it's the Government and Noranda trying to mine us, which is not good. The fact is that if the Government have 50 percent of the shares, they can overturn the deal. So tell you what, go mine somewhere else. There is a lot of great resources in Jamaica, not just right there," he argued.
"They have been mining all over Jamaica and getting great resources over the years and minerals elsewhere. A weh dung deh so suh? Leave dat little spot," he ordered.
Bounty cited the effects of climate change in places such as the Amazon and the incessant heat in Jamaica this past summer as a further indication that the Cockpit must be preserved.
He also predicted that if mining is allowed, chaos will reign on the island, as Jamaicans across the political divide are united on the issue.
"So we just asking the governments, because dem seh one government sign it and one government is endorsing or carrying out di deal, so we are calling on all Government of Jamaica, no mining in the Cockpit. And that's serious," he warned.
"As yuh see, a lot of Jamaicans overseas took it up and went to the United Nations the other day and speaking on it so you know di is no push under the rug suppm no more. Wi no even haffi mek no more noise cause every serious Jamaican like mi willing to take it wherever," he added.
Meek Mill Finds Offset's Doppelganger Lacking, Asks About Cardi B
Meek Mill spotted Offset at Rolling Loud … or so he thought.
Philly rap icon Meek Mill has been in a light-hearted positive mood since coming home from jail and leading a nationwide prison reform movement. The Championships MC has undergone a complete rebrand, which includes his funny social media presence. Meek is very active both on Instagram and Twitter, and his content often goes viral, just as it did this past weekend during Rolling Loud festival in New York.
The Dreamchasers rapper posted a quick video of a guy who looked very similar to Migos band member Offset, with long dreads, darker skin, and a beard. "@OffsetYRN bouta touch this Rolling Loud stage with me," the caption read. You can hear Meek in the background saying, "Ain't it Cardi's birthday dog, what you doing here?" as the look alike quickly glanced over to the camera. Offset, and his wife Cardi B celebrated her 27th birthday over the weekend, so the joke was right on point.
The video quickly made its rounds on social media as fans weighed in on whether or not the gentleman actually looked like Offset. Meek continued to clown around after quickly going from New York to vacation by Monday, posting videos and photos of himself diving into a pool and chilling on the beach. He even posted a caption contest saying, "Best caption get a rack lol," under a photo of him emerging from the water.
You can catch the Offset doppelganger below and decide for yourself if he really looks like the Atlanta MC.
Meek Mill found Offset's twin at Rolling Loud ? pic.twitter.com/zGbrtrhMPm

— Rap All-Stars ? (@RapAllStars) October 13, 2019
Macka Diamond Says Her Dancehall Career Still Popping, Fans Urged Her To Retire
Macka Diamond says her detractors who are trying to drive her out of the dancehall industry will never succeed as she is in-demand globally, even as her royalties continue to reap her tons of money.
According to Macka Diamond, she has constantly been touring and has even performed in countries that few, if any Jamaicans artistes have toured. "Mi not just singing for Jamaica alone. Mi love Jamaica and this is where mi from but mi a sing to the world," she said recently on The Fix entertainment program.
The entertainer who recorded her first song at 16, said she has to stand up and be counted because many female deejays as they age, fall prey to the criticisms and age discrimination, and prematurely leave the industry, while their male counterparts remain until they are old and grey.
"When me look pon di man dem, dem a perform till dem old and people still accepting them. Me look good same way; mi no see nuttn wrong wid mi. When me look inna my mirror mi no si no old lady wid no stick and mi no si no problem. Mi still sound good. Mi voice no sound cracky -cracky. Di older mi get, mi a sound sweeter," she boasted.
"I just left Seychelles, a place in Africa and Mauritius… If me did follow weh people a seh how mi old, I wouldn't go to South Africa di odda day. I went to couple shows in New York the other day and people were crazy and people were: 'oh wi glad fi see yuh," Macka added.
Macka also said some of her songs have been trending in South America, particularly "Play Tune," which she recorded more than a year ago, which has more than three million YouTube views.
"It's a tug of war for me to go to Costa Rica now with the same Play Tune song. It has been number one all over the Spanish countries. Play Chune, dat is one of my biggest royalty cheques right now. I can stay home and don't go nowhere fi di month and I get cheque offa dat song and it not playing nowhere in Jamaica," she said.
She said many female artistes, could still be reaping even greater financial benefits if they had refused to be dictated to, or fallen for the 'age card.'
"Even if mi sing music and mi no get no show, music is selling and dats where I earn my money. A lot a dem don't understand dat part suh dem just tink seh 'shi a try fi compete wid di young people dem'. Noooo. I am doing my job; I am selling products. If mi even sing 10 song and put it up online on iTunes, I make money. That's how I make my money and pay my bills,' she stated.
She said many people who see her performing in front of small crowds fail to understand that the number of patrons at a venue in many cases has no bearing on how much the artiste is paid.
"A lot of people don't know and wi seh' 'wi see har inna one show wi just 10 people' but that 10 people just shell dung di bar and no care. When yuh grow up inna di music you will understand dat. People will invite you to all just a wedding and pay you di same amount a money weh yuh get fi deh in front a 20,000 people," she explained.