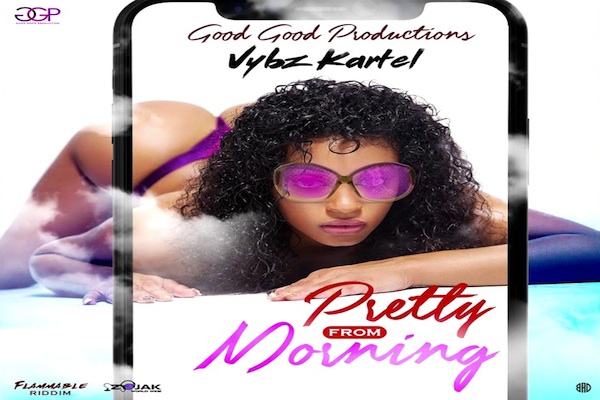 Good Good Production and Vybz Kartel teamed up again in their latest "Flammable' Riddim, that dropped just a couple of days ago.
Fresh off the press 'Flammable Riddim' is a pure fire and Vybz Kartel delivers one of the riddim main single titled 'Pretty From Morning'.
'Flammable Riddim' is one big  dancehall riddim not to miss and blasts a crazy line up of super heavy weights, top Deejays like Mavado, Squash, Chronic Law and many more, but, useless to say, is really incarcerated world boss Vybz Kartel that takes the riddim with 'Pretty from Morning'.
As usual Addi di Teacha teachs to his own, and while all the other artist have songs about war, gun, money, Vybz Kartel takes the riddim with a super catchy, irresistable and hot gayl tune.
Is not a mystery that Kartel loves the ladies very uch  and in this new single all his passion comes out with dope lyrics and a great dellivery, with this riddim that sounds hand crafted for him.
Good Good Production Flammable Riddim is pure fire and Vybz Kartel song is on a class of his own, piling up views on views on the official audio posted below.
Behind bars for more than 8 years now and still awaiting for more than a year now for his appeal's verdict, Vybz Kartel confirms his status of a dancehall God that is able to maintain his crown and prestige in dancehall music; His latest releases 'Badmind', 'Beat Dem Bad,' 'Loving Every Minute,' 'Drone Dem' and now 'Pretty From Morning' crowns him once again the King of dancehall, with so many anthems under his belt for the summer season 2019 there is no contender, once again to Vybz Kartel's hegemony in dancehall music.
Already available in all major music platform you can get Vybz Kartel "Pretty From Morning' or the whole 'Flammable Riddim' clicking on the iTunes Banner on this page.
[Intro: Girl & Vybz Kartel]
Good Good, tell dem gyal ya doh start wid mi. A wah do dem man clown mongrel looking gyal yah? My body good & it a mad dem. No skeleton nuh inna mi belly a cause problem. Tell dem fi walk fast & gwan wid dem self & doh come size up, a wah do dem?
Yo yo
[Verse 1]
You too cute & everything you do a dutty gyal a follow you
You body healthy so nothing nuh haffi renew
Dem claim say dem hot and can't buy a cup a soup
Tek dem one anedda man and haffi model inna crew
Block di gyal, Facebook a say you true
If she say nothing to you say aye gyal wah mek you so loose
Walk bare foot she couldn't step inna you shoes
Hotter than Greek fire gyal you man a mussi Zeus
[Chorus]
Baby you pretty from morning, she pretty Friday, you pretty from Sunday
Pretty hairstyle, pretty awesome
Pretty iPhone, pretty password
Baby you pretty from morning, she pretty Friday, you pretty from Sunday
Pretty hairstyle, pretty awesome
Pretty iPhone, pretty password
[Verse 2]
You look cute
If anuh di Brazilian you inna di Peru
She never see a Fendi, never see a Jimmy Choo
If you want see her without make up
Gwaan pan google go type in Beekle juice
It sound awful but it a di truth
Big up every gyal but it's not especially for you
You man a gi yuh money, him a gi yuh revenue
Anuh money mek you pretty baby you born cute
[Chorus]
Baby you pretty from morning, she pretty Friday, you pretty from Sunday
Pretty hairstyle, pretty awesome
Pretty iPhone, pretty password
Baby you pretty from morning, she pretty Friday, you pretty from Sunday
Pretty hairstyle, pretty awesome
Pretty iPhone, pretty password
real deal