WASHINGTON (Reuters) – U.S. President Donald Trump said on Sunday that the United States was "locked and loaded" for a potential response to the attack on Saudi Arabia's oil facilities, after a senior official in his administration said Iran was to blame.
A satellite image shows an apparent drone strike on an Aramco oil facility in Abqaiq, Saudi Arabia September 14, 2019. Planet Labs Inc/Handout via REUTERS
Trump also authorized the use of the U.S. emergency oil stockpile to ensure stable supplies after the attack, which shut 5% of world production.
"There is reason to believe that we know the culprit, are locked and loaded depending on verification, but are waiting to hear from the Kingdom as to who they believe was the cause of this attack, and under what terms we would proceed!" Trump said on Twitter.
Earlier in the day, a senior U.S. official told reporters that evidence from the attack, which hit the world's biggest oil-processing facility, indicated Iran was behind it, instead of the Yemeni Houthi group that had claimed responsibility.
U.S. Secretary of State Mike Pompeo also said there was no evidence the attack came from Yemen, where a Saudi-led coalition has been battling the Houthis for over four years in a conflict widely seen as a proxy war between Saudi Arabia and Shi'ite Muslim rival Iran.
"Amid all the calls for de-escalation, Iran has now launched an unprecedented attack on the world's energy supply," he said.
Iranian Foreign Ministry spokesman Abbas Mousavi dismissed the U.S. allegation it was responsible as "pointless". A senior Revolutionary Guards commander warned that the Islamic Republic was ready for "full-fledged" war.
"All American bases and their aircraft carriers in a distance of up to 2,000 kilometers around Iran are within the range of our missiles," the semi-official Tasnim news agency quoted Commander Amirali Hajizadeh as saying.
Tensions between Washington and Tehran were already running high because of a long-running dispute between the two nations over Iran's nuclear program that led the United States to impose sweeping sanctions.
Oil prices surged more than 15% at the open on Sunday on worries over global supply and soaring tensions in the Middle East. State oil giant Saudi Aramco said the attack on Saturday had cut output by 5.7 million barrels per day.
The U.S. official, who asked not to be named, said on Sunday there were 19 points of impact in the attack on Saudi facilities and that evidence showed the launch area was west-northwest of the targets – not south from Yemen.
The official added that Saudi officials indicated they had seen signs that cruise missiles were used in the attack, which is inconsistent with the Iran-aligned Houthi group's claim that it conducted the attack with 10 drones.
"There's no doubt that Iran is responsible for this. No matter how you slice it, there's no escaping it. There's no other candidate," the official told reporters.
Riyadh has accused Iran of being behind previous attacks on oil-pumping stations and the Shaybah oil field, charges that Tehran denies, but has not blamed anyone for Saturday's strike. Riyadh also says Tehran arms the Houthis, a charge both deny.
Richard Nephew, a program director at Columbia University's Center on Global Energy Policy, said that if Iran was responsible for the attack, it may be as retribution for U.S. sanctions.
"They are making decisions about whether and how to respond to what they see as a massive attack on their interests from the U.S. via sanctions by attacking U.S. interests in turn, and those of U.S. partners they believe are responsible for U.S. policy," he said.
Aramco gave no timeline for output resumption. A source close to the matter told Reuters the return to full oil capacity could take "weeks, not days".
Riyadh said it would compensate for the damage at its facilities by drawing on its stocks, which stood at 188 million barrels in June, according to official data.
Trump said that "based on the attack on Saudi Arabia, which may have an impact on oil prices, I have authorized the release of oil from the Strategic Petroleum Reserve, if needed, in a to-be-determined amount sufficient to keep the markets well-supplied."
The Saudi bourse closed down 1.1% on Sunday, with banking and petrochemical shares taking the biggest hit. Saudi petrochemical firms announced a significant reduction in feedstock supplies.
"Abqaiq is the nerve center of the Saudi energy system. Even if exports resume in the next 24 to 48 hours, the image of invulnerability has been altered," Helima Croft, global head of commodity strategy at RBC Capital Markets, told Reuters.
CALLS FOR RESTRAINT
According to the U.S. official, 17 structures at Abqaiq sustained damage on their west-northwest facing sides, along with two points of impact at Saudi's Khurais oil field.
Consultancy Rapidan Energy Group said images of the Abqaiq facility after the attack showed that about five of its stabilization towers appeared to have been destroyed, and would take months to rebuild – something that could curtail output for a prolonged period.
"However Saudi Aramco keeps some redundancy in the system to maintain production during maintenance," Rapidan added, meaning operations could return to pre-attack levels sooner.
Some Iraqi media outlets said the attack came from there. Baghdad denied that on Sunday and vowed to punish anyone using Iraq, where Iran-backed paramilitary groups wield increasing power, as a launchpad for attacks.
Kuwait, which borders Iraq, said it was investigating the sighting of a drone over its territory and coordinating with Saudi Arabia and other countries.
U.N. Secretary-General Antonio Guterres condemned Saturday's attacks and called on all parties to exercise restraint and prevent any escalation. The European Union warned that the strikes posed a real threat to regional security, and several nations urged restraint.
The attack came after Trump said a meeting with Iranian President Hassan Rouhani was possible at the U.N. General Assembly in New York this month. Tehran ruled out talks until sanctions are lifted.
But Trump appeared on Sunday to play down the chances he might be willing to meet with Iranian officials, saying reports he would do so without conditions were not accurate.
As recently as last Tuesday, Pompeo said that Trump "is prepared to meet with no preconditions."
Saudi de facto ruler Crown Prince Mohammed bin Salman told Trump that Riyadh was ready to deal with "terrorist aggression". A Saudi-led coalition has responded to past Houthi attacks with air strikes on the group's military sites in Yemen.
The conflict has been in military stalemate for years. The Saudi alliance has air supremacy but has come under scrutiny over civilian deaths and a humanitarian crisis that has left millions facing starvation.
Reporting by Roberta Rampton and Arshad Mohammed; Additional reporting by Rania El Gamal and Parisa Hafezi, Saeed Azhar and Hadeel Al Sayegh in Dubai, David Shepardson and Timothy Gardner in Washington, William James in London, John Irish in Paris, Alex Lawler, Julia Payne and Ron Bousso in London, Robin Emmott in Brussels and Devika Krishna Kumar and Michelle Nichols in New York; Writing by Ghaida Ghantous and Richard Valdmanis; Editing by William Maclean and Peter Cooney
Vaping nearly killed me, says British teenager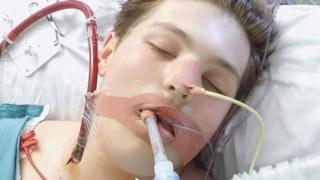 A teenage boy nearly died after vaping caused a catastrophic reaction in his lungs, doctors in Nottingham say.
Ewan Fisher was connected to an artificial lung to keep him alive after his own lungs failed and he could not breathe.
Ewan told BBC News e-cigarettes had "basically ruined me" and urged other young people not to vape.
His doctors say vaping is "not safe", although health bodies in the UK say it is 95% safer than tobacco.
Listen: Beyond Today – Can vaping kill you?
What happened?
Ewan started vaping in early 2017. He was 16 at the time and wanted to quit smoking to improve his boxing.
Despite being under age, he said, "it was easy" to buy either cigarettes or e-cigarettes.
In May that year, Ewan was finding it harder and harder to breathe.
His mother took Ewan to accident and emergency on the night before his GCSE exams, because he was coughing and choking in his sleep.
His lungs were failing and he very quickly ended up on life-support in intensive care in Queen's Medical Centre in Nottingham.
"I thought I was going to die," Ewan told BBC News.
Ewan was getting worse. Even ventilation could not get enough oxygen into his body and his life was in the balance.
He was taken to Leicester and attached to an artificial lung or ECMO (extra-corporeal membrane oxygenation) machine.
"This machine saved my life," he said.
Large tubes took blood out of Ewan, removed the carbon dioxide, added oxygen and pumped the blood back into his body.
"He had very serious respiratory failure, he had to go to ECMO and that is a very big deal," Dr Jayesh Bhatt, a consultant at Nottingham University Hospitals, told BBC News.
"He got as ill as anyone can get."
The case – from May 2017 – has just come to light in the journal Archives of Disease in Childhood.
How is Ewan now?
Ewan, who is 19 on Tuesday, had a long recovery. It was six months before he was properly up and on his feet again.
"I'm still not back to normal, I'd say 75-80%, it's in the last six months that I'm feeling a bit stronger in myself," he said.
"Vaping has basically ruined me, I try to tell everyone and they think I'm being stupid, I tell my mates and they don't listen.
"They still do it, they all still vape, but they've seen what I've been through.
"Is it worth risking your life for smoking e-cigs?
"I don't want you to end up like me and I don't want you to be dead, I wouldn't wish [that] on anyone."
Ewan also fears being around other vapers – everywhere from the pub to High Street – could damage his lungs again.
Is vaping to blame?
His doctors say the answer is yes.
Ewan developed a condition called hypersensitivity pneumonitis – something he was breathing in was setting off his immune system, with catastrophic consequences.
"You get an over-exuberant inflammatory response and the lungs pay a price and develop respiratory failure," Dr Bhatt said.
One of the most common forms of hypersensitivity pneumonitis is "bird fancier's lung", which is caused by particles from feathers or bird droppings.
When scientists tested the two e-cigarette liquids Ewan had been using, they found one of them was triggering an immune reaction.
Dr Bhatt said: "The real learning point is vaping is not safe, especially for young people, they should never go near it.
"We consider e-cigarettes as 'much safer than tobacco' at our peril."
How common is this?
There are 3.6 million people vaping in the UK and reactions like this are rare.
However, doctors have told BBC News Ewan's case is not an isolated incident.
"As vaping becomes more popular, we are beginning to see more cases," Dr Hemant Kulkarni, a consultant in paediatric respiratory medicine at Sheffield Children's NHS Foundation Trust, said.
He told BBC News: "Some of the cases my colleagues and I have seen are teenagers presenting with severe lung injury and some of these have been life-threatening.
"However, in the cases I've been involved in, patients are now regaining normal lung function."
Dr Kulkarni is "surprised" e-cigarettes are advertised in the UK, given the severe reaction they can cause in children and a lack of scientific studies on their safety.
Is vaping dangerous?
Smoking is pretty much the worst thing you can do for your health.
E-cigarettes are promoted in the UK as a way to quit because they let people inhale nicotine in vapour rather than breathing in smoke.
Ewan's reaction to vaping was extreme, but what about the rest of us who would not end up with hypersensitivity pneumonitis?
Public Health England says vaping is 95% safer than smoking but is not without risks.
Rosanna O' Connor, the body's director of drugs, alcohol and tobacco, said: "Smoking kills half of lifelong smokers and accounts for almost 220 deaths in England every day.
"Our advice remains that while not completely risk free, UK regulated e-cigarettes carry a fraction of the risk of smoked tobacco."
But there are arguments about how safe vaping really is.
The World Health Organization says e-cigarettes are "undoubtedly harmful and should therefore be subject to regulation".
It also raises concerns vaping is being aggressively marketed at young people – particularly through the use of flavourings – and risked re-normalising smoking.
Is Ewan's case similar to those in the US?
The deaths of 39 people in the US have been connected to vaping and have prompted worldwide concern about its safety.
There have been 2,051 cases of e-cigarette, or vaping, product use associated lung injury (called EVALI) in the outbreak.
Most of those cases, but not all, have been linked to vaping THC, the psychoactive ingredient in cannabis.
Ewan was vaping standard e-cigarettes bought from a shop.
What do experts says?
Dr Nick Hopkinson, the medical director of the British Lung Foundation, said: "If people switch completely from smoking to vaping, they will substantially reduce their health risk as e-cigarettes do not contain tobacco and any harmful components are present at a much lower level.
"People who do switch should try to quit vaping in the long term too but not at the expense of relapsing to smoking – and non-smokers should not take up vaping."
Prof John Britton, the director of the UK Centre for Tobacco and Alcohol Studies, at the University of Nottingham, said: "This is worrying, and the risk needs to be acknowledged, but in absolute terms it is extremely small and, crucially, far smaller than that of smoking.
"The advice remains the same: if you smoke, switch to vaping; if you don't smoke, don't vape."
Follow James on Twitter.
England v Montenegro: Raheem Sterling to miss Euro 2020 qualifier at Wembley
England forward Raheem Sterling will not play in the Euro 2020 qualifier against Montenegro on Thursday "as a result of a disturbance in a private team area", the Football Association has announced.
The 24-year-old Manchester City player was involved in an on-field argument with Liverpool and England defender Joe Gomez, 22, during the Reds' 3-1 Premier League victory at Anfield.
"Unfortunately the emotions of yesterday's game were still raw," said England boss Gareth Southgate.
"One of the great challenges and strengths for us is that we've been able to separate club rivalries from the national team.
"We have taken the decision to not consider Raheem for the match against Montenegro on Thursday. My feeling is that the right thing for the team is the action we have taken.
"Now that the decision has been made with the agreement of the entire squad, it's important that we support the players and focus on Thursday night."
England play their 1,000th senior men's international on Thursday and a win at Wembley would book a spot at Euro 2020 with one qualifying game to spare.
The Three Lions are top of Euro 2020 Qualifying Group A, three points clear of the Czech Republic and four ahead of Kosovo with the top two nations advancing.
A win for Southgate's side will see them qualify, while a point will also be enough if the match between the Czech Republic and Kosovo also ends in a draw.
England then play their final group match away in Kosovo on Thursday, 17 November.
More to follow.
Russia throws more weight behind Haftar in Libya
The proliferation of outside forces in the conflict, with different and obscure agendas, complicates peace efforts.
First published by ISS Today
After some equivocation, Moscow is now reportedly throwing its weight more fully behind Libya's maverick General Khalifa Haftar in his attempt to overthrow the United Nations-backed Tripoli government of Fayez al-Sarraj.
About 200 highly trained and well-armed Russian fighters recently entered the battle for control of Tripoli, according to The New York Times, quoting United States intelligence sources. The battle has raged since 4 April when Haftar, backing the eastern government based in Tobruk, launched a major offensive against the capital. The Russian troops are all evidently mercenaries from the private military company Wagner, which is rumoured to be controlled by President Vladimir Putin.
Haftar, who heads what he calls the Libyan Arab Armed Forces (LAAF), formerly the Libyan National Army, is also being supported by the United Arab Emirates, Egypt, Saudi Arabia and, in part, France. Turkey is the strongest external military backer of al-Sarraj's Government of National Accord.
The New York Times quotes US intelligence sources saying the injection of the Wagner special forces, equipped with special sniper rifles and backed by hundreds of drones and Russian Sukhoi fighter jets, could tilt the war in Haftar's favour.
These same trademarks characterised Wagner's operations in Syria, the paper notes. It also quotes officials of al-Sarraj's forces complaining that the United States (US) has abandoned them, as indeed the US recently abandoned its Kurdish Syrian allies, leaving them at the mercy of their Turkish enemies, plus the Russians and the Syrian government.
The unpredictable Trump administration has certainly been fickle in Libya, backing al-Sarraj's government but also expressing support for Haftar's campaign against Tripoli. In April the US joined Russia in blocking a United Kingdom-backed resolution calling for an immediate ceasefire, soon after Haftar began his offensive.
Russia's precise strategy in Libya is not easy to read either. Al-Sarraj reportedly attended last month's first Russia-Africa summit in Sochi on the Black Sea, where he met Russian officials, presumably to complain about the growing presence of Russian mercenaries in Haftar's army. It isn't clear if he met Putin, or what response he got from the Russians. The recent expansion of the Russian military presence, if true, would suggest it wasn't what he wanted.
Haftar's people had hoped to exploit the summit by organising press events to publicise their claim that they were only fighting alleged terrorists among the militias defending Tripoli. According to Kirill Semenov, writing for the Al-Monitor journal, the Haftar faction had planned to claim at the summit that Russian jihadists had also been transferred from Syria to Tripoli to join al-Sarraj's forces. But the latter's unexpected arrival at the summit rather upstaged their propaganda ploy.
Semenov believes al-Sarraj's presence at the Sochi summit was evidence of disagreements among different factions of the Russian government about how to handle the Libyan crisis, including whether to fully back Haftar, or hedge its bets.
The use of private military companies is generally contentious. South Africa, for example, has outlawed them. But Moscow doesn't seem embarrassed, in principle, about the activities of companies like Wagner.
At a seminar last month in Pretoria, Russia's new ambassador to South Africa Ilya Rogachev said: "Private military companies are not necessarily bad … I think it depends on the goals that are assigned to these companies." If they were used to suppress Shi'a Muslims in Basra it would be bad. But if they helped defeat the Islamic State of Iraq and the Levant – as they had in Syria – it would be good.
He also indicated that Moscow was indeed exercising control over these companies, the implication being that it approved their activities, such as in Libya. Russia has also entered the Central African Republic, and recently northern Mozambique, reportedly using Wagner as its proxy. In Mozambique's northern Cabo Delgado province the company is helping Maputo fight jihadist insurgents, now evidently affiliated to Islamic State.
Despite Rogachev's candour, using Wagner does still seem to allow Moscow some deniability, while nevertheless executing its foreign policy designs. In Africa these range from oil, gas and diamond commercial opportunities to wider geo-strategic ambitions to gain a foothold on the continent and check the influence of the US, China and others. The Sochi summit itself was part of that initiative.
In Libya, apart from those general aims, Moscow may also be looking for permanent access to a North African port or base, with influence over sea routes to the entrance to the Suez.
The presence of so many outside forces in Libya's conflict, with different and obscure agendas, needs to be discussed and resolved. The UN's Libyan envoy Ghassan Salamé intends to invite these external forces, as well as the Libyan combatants, to a conference which he and the German government are planning for later this year. Salamé told The New York Times that if external players were removed from the equation, the Libyans themselves could resolve the conflict.
That might be debatable, though the externals are certainly amplifying the warfare. The conference does seem to have a better chance than previous attempts to bring the combatants together, organised by Italy and France. Both were seen to have too many national interests in play to be neutral referees, while Germany is more objective.
And the African Union? It wants to be part of the action but at an AU Peace and Security Council (PSC) and UN Security Council meeting last month, the latter rejected the AU's proposal for a joint UN-AU special envoy on Libya, according to the latest PSC Report of the Institute for Security Studies (ISS). Sources say the AU is unhappy as it has been offered no more than observer status at the proposed UN-German conference.
One could perhaps question what value the AU might add were it more involved. But at least it would boost the legitimacy of the process – at least in Africa – as the PSC Report argues. That's important, given lingering resentment across the continent about how the AU was sidelined from international efforts to end the civil war in 2011.
In every way, the stakes are high in the latest peace moves. "This is potentially very serious for Africa," says Anton du Plessis, ISS Executive Director. "If it goes wrong it could aggravate the already de-stabilising influence of the Libyan conflict on the region and on migration routes to Europe." DM
Peter Fabricius is an ISS Consultant
---
Comments – share your knowledge and experience
Please note you must be a Maverick Insider to comment. Sign up here or if you are already an Insider.