50 Cent and Wendy Williams are well on their way to make peace.
Talk Show Host Wendy Williams makes a statement that stops 50 Cent right in his tracks. Could their long-standing beef now be behind them? In a recent television appearance, Wendy said she was probably the first radio host to play 50 Cent's music. Long before Wendy became miss "how you doing?" on her celebrity drama and gossip talk show, she was a radio DJ and host. Williams quickly earned a reputation of being one of the best radio hosts in the business. Her way with words and her ability to go head to head with the industries heavyweights gained her much respect.
Back in 2009, in recognition of her talent and hard work as a radio host, Williams got inducted into the National Radio Hall of Fame. This cemented her as one of the most powerful radio personalities in the world. She is one of the few persons who can be credited for introducing quite a number of upcoming entertainers who have gone on to achieve success.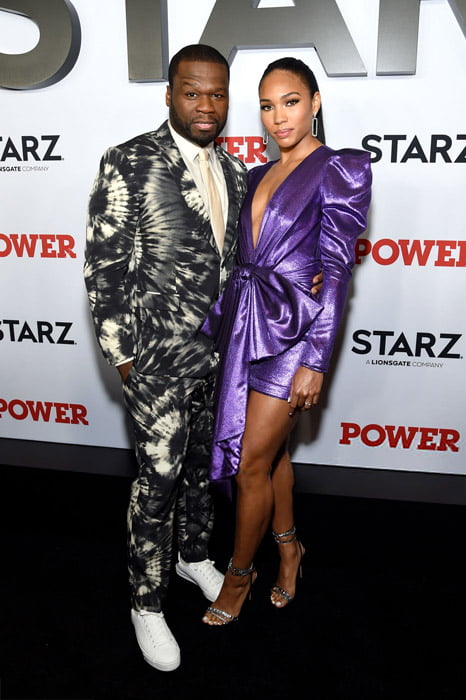 However, in recent times, she has become more of a mockery and is constantly the subject of ridicule. From the way she looks to the dissolution of her marriage, everyone has had something negative to say about her, and 50 Cent has been at the top of the list for years now. Wendy has proven though that she can go toe to toe with the best and for every hit 50 has taken at her she has come back swinging. 50 cent's latest post regarding Wendy particularly stood out as it took on a more tender and comedic tone. Fif appears to be waving the white flag and making peace with the talk show host.
During her sit down on Watch What Happens Live With Andy Cohen, Wendy and Cohen decide to play "Plead the Fifth." During the game, Cohen asks Wendy to say three nice things, about 50 Cent. This is what she had to say, "He's not a bad-looking man, I respect his hustle, and I was one of the first people to ever play his music. As a matter of fact, probably the first, on a cassette on the radio where I got suspended for two weeks without pay cause I used to be a renegade like that."
Wendy Williams went on to explain that she was suspended from the radio station because 50 was not on the approved playlist. Still, that didn't deter her as she supported the rapper and was willing to take the risk to promote his music.
50 Cent got wind of the broadcast and reposted a snippet of it on his Instagram page. "What is this, ok we gonna let you in TYCOON next time," he said before adding, "but you can't just be coming to my party's wit no invite."
What fifty is referencing in his post is a rumor that circulated back in August. It was said that 50 Cent wouldn't allow Wendy into his Tycoon pool party in New Jersey. The "Power" creator then seemingly confirmed the rumor himself on social media by posting a video that appeared to show Wendy being turned away from the event. During the video snippet, someone can be heard saying, "Wendy Williams not being able to get in to the club."
The caption for the video also suggests that 50 Cent did not appreciate Wendy crashing into his party uninvited. "You can't just show up to my PARTY if you been talking about me. B**CH wait out side."
According to TMZ, Wendy Williams actually had no trouble getting into the Tycoon pool party and was accompanied by her son Kevin Hunter Jr., who was celebrating his 19th birthday. Photos from the event show the talk show host and her son hanging with Snoop Dogg, who performed at the event. Wendy and her son were allegedly escorted directly to Snoop Dogg's section without 50 Cent even being aware. She apparently did not find out until after the event that 50 Cent had attempted to stop her from entering the venue.
Though many persons are of the opinion that the long-standing beef is now over, though some folks believe that he somewhat trolled her in the process. Only time can tell the fate of the tumultuous relationship the pair share.
50 Cent's Estranged Son Roasting Him Over His Other Son Tekashi 6ix9ine
Like father like son. 50 Cent's oldest son is keeping their public beef going. Sound familiar?
50 Cent and his oldest son Marquise may have more in common than they think. Both of the men know how to double down on the petty and keep a public beef going — even if it's with each other. Marquise Jackson, 21, and his dad, hip-hop veteran Curtis "50 Cent" Jackson have been at odds for quite some time, partially because of 50's soured relationship with Marquise's mother.
Marquise has made a name for himself by taking shots at Fif, and those shots continued Wednesday afternoon. He posted several photos of his dad on his Instagram story with multiple shady captions. "Nx**as will wish death on you. Disrespect ya moms in public. Claim this nxgga as ya son. The play victim," he wrote. The "nx**a" he was referring to was Tekashi 69, who built a bond with 50 Cent before being sent to prison on racketeering charges. 50 said last week that the two rappers no longer communicate.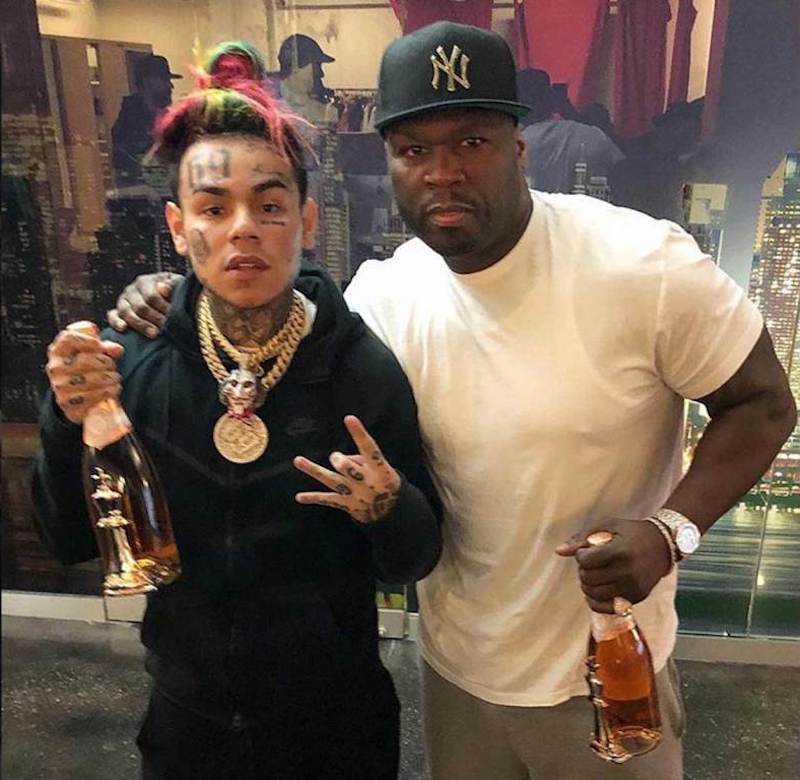 50 in the past has actually wished death upon his son, an ironic choice of words considering his hit song "Many Men." Fifty said in the past that if Marquise were hit and killed by a truck, that his feelings would not be hurt. The Power producer also went as far as to say Marquise wasn't even his kid and that he doesn't claim him.
It's safe to say that 50 Cent and his estranged son Marquise Jackson will not be making peace anytime soon. Fif already disowned his son Tekashi 6ix9ine for becoming a snitch.
But 50 does very much claim and take care of his younger son, Sire, that he shares with Daphne Joy. Over the weekend Daphne shared adorable photos of the family together that got shocking reactions from fans who aren't so used to seeing 50 Cent's softer side.
Ari Lennox Says She's Only Doing Shows via Social Media & YouTube To Protect Her Energy
Ari Lennox is all about protecting her energy no matter what the cost.
Rising R&B star Ari Lennox has gained popularity through her clever use of social media, particularly her humorous Instagram live rants that fans often repost and share clips of via Twitter. And since that seems to be her safe space, Ari said that she may only do her live performances on Instagram from here on out because people are "playing with her energy."
"After this year I'll continue to drop music. But I'm not performing anymore outside of ig live or YouTube," the Dreamville artist said Tuesday. "God is good. I will pay back what was offered to me but literally I'm too thorough to be playing with my energy. People don't know what happens behind the scenes."
Ari never quite elaborated on what exactly drove her to throw in the towel on shows and touring, but she continued her rant, that has since been deleted, saying that it was some immature drama going on that didn't sit well with her. "But when I tell you this sh*t is high school and I will get expelled if I keep playing around like I'm not Aries," she said. "I literally can create a world where I can keep the sick individuals away. This the only way. Stay in the house. Surrounding myself with family and my dog."
The "Shea Butter Baby" singer said she was changing her number and "slowly retreating." After a few more tweets alluding to "demonic entities," Ari wrapped up her rant with some clarification on Wednesday. "The music industry can be shady but my messages have nothing to with the industry. It's the random ho demons, narcissists and warlocks that shockingly appear at different events I be at."
The 28 year old signed to J. Cole's label went on to post photos of she and fellow R&B star H.E.R. from a performance at the Lights On Festival over the weekend. We sure hope that whatever was triggering the talented songstress was solved and that Ari will continue to showcase her vocals live.
Lights on Festival was absolutely phenomenal and I'm so thankful that I got to sing at such a cool soulful experience. HER is life ?? The people were amazing. pic.twitter.com/at8b4IWgsk

— Ari Lennox (@AriLennox) September 17, 2019
There are demons walking around disguised as genuine humans. Please do yourself a favor and watch who you give your sweet and genuine energy to.

— Ari Lennox (@AriLennox) September 16, 2019
Mary J. Blige Says Goodbye 'Hot Girl Summer' Hello 'Bad B**ch Fall' In NSFW Photo
Singer Mary J. Blige set Instagram on fire after posting a hot photo of herself bidding farewell to hot girl summer as she welcomes bad b**ch fall.
Even if you live under a rock, you still must have come across the phrase "Hot Girl Summer." It was the biggest trend of this summer, and just about everyone and their mama was saying it. The phrase was coined by "Cash S**t" rapper Megan Thee Stallion, and it took off from there. The phrase was used to embody personal growth, and it encouraged women to be the best version of themselves. It personified letting go, and not having a care in the world. Living a hot girl summer meant you had no tolerance for pettiness and you didn't settle what you didn't deserve. Megan went on to release a track of the same name with Nicki Minaj and Ty Dolla $ign.
Since then many have attempted their hand at upgrading the phrase for the new season, including Meg who is set on Hot Nerd Fall. Singer Lizzo is also hell-bent on replacing it with Fat Girl Fall. Most notably, though is rapper 21 Savage who recently declared, "Hot girl summer is over it's officially f**kboy fall."
Today a new contender stepped into the ring as Mary J. Blige kicked off bad b**ch fall. The singer took to her Instagram page to share a photo of herself and let's just say she looks freaking hot! The singer clad in a leopard-print swimsuit with a matching fur coat shows off her sexy curves. Even her long tresses match her outfit. The singer also rocks large hoop earrings with pink shades.
Instagram immediately sounded off about the jaw-dropping photo with fans in awe at how amazing the singer looks. Even the legendary Janet Jackson dropped a heart emoji in the comments. Actress Taraji P. Henson added, "WELL DAMN. I WASN'T READY," followed by a plethora of fire, kisses, and heart-eyed emojis.
With such a bomb photo Mary has firmly positioned herself at the front of the line. She has most definitely secured her spot with bad b**ch fall.