The video medley for Usain Bolt's "Olympe Rosé" was released on Wednesday on his Vevo page in collaboration with Billboard. The cut is already being touted as one of the best videos of the year.
The "Olympe Rosé" riddim features songs from five artistes. Dexta Daps' "Big Moves," Munga Honorable's "Weekend," Ricardo "Bibi" Gardner's "Mount A Gyal," Christopher Martin's "Dweet" and Ding Dong's "Top A Di Top." Ding Dong has also created an accompanying Top A Di Top dance. The video is fire, and it is well put together. The transition from artiste to artiste is seamless and smooth. The whole flow is just liquid and full of vibes. You have to get on your feet when watching this video as it makes you want to move and party.
The video produced by Rajah Karanja Nelson and distributed by 21st Hapilos Digital is quickly gaining views. The video was released to promote his Olympe Rosé champagne which can be seen right throughout the video. Many fans are also commending his brilliant idea to showcase his other branded products throughout the video, such as his Jeep and scooters.
In November 2016, French company G.H. Mumm made the decision to appoint Usain in the role of chief entertainment officer responsible for spearheading initiatives. The initial product from that appointment is Bolt's Olympe Rosé champagne, its name an ode to Bolt's athletic excellence, and it tastes a recognition of his eclectic palate.
"When me and my friends (collectively known as the A-Team) go out, we used to drink champagne and cognac and called it money mix," Bolt told Billboard in an interview at his Kingston, Jamaica home in late July. "Because Mumm also makes Martell cognac, I asked if we could put cognac in the champagne and they said we can ferment the champagne in the cognac barrels, so it soaks up the residue. So Olympe Rosé is the first champagne with cognac in it and that's very cool," he said.
In the interview with Billboard he stated, "My manager (Nugent Walker) and I always said we needed to do a song or a riddim and with the champagne coming on the market, this was the perfect opportunity."
Bolt noted that he did have some issues getting the project launched as artistes would either state that they have prior engagements or wouldn't commit to the recording schedule, studio location or the project's theme, which is to promote the champagne. He stated, "I know almost all of the artists in Jamaica, so I didn't expect they would give me the runaround when I called. They probably don't understand the opportunity of this platform because we can send this riddim/video to people around the world who will post it just because they respect us. But the artists who got involved really came through for us, took their time and got it right."
Kelly Dudley, president, Hapilos Entertainment Group, said, "We've delivered the Olympe Rosé riddim to over 80,000 radio stations, DJs, programmers and curators worldwide and have released the project to over 600 digital retailers and various revenue stream destinations."
Munga Honorable also made a statement to Billboard in regards to the riddim saying that Bolt, who is already a global superstar on the track, is now bringing his massive fan base to dancehall music.
Ding Dong, one of Jamaica's most successful dancers who crossed over to artiste, echoed some similar sentiments. "Bolt's dancing at the 2008 Olympics did so much for Jamaican dancers, and for me personally, because no one ever saw an athlete do something like that before; that made people want to come here, go to parties and learn our dances," Ding Dong said. "With the Olympe Rosé project, he's reached another milestone in taking the culture to a wider audience, and I'm blessed to have a song on the riddim and a new movement to go with it."
The Olympe Rosé video was shot entirely in Kingston and is pure excellence from start to finish. Dexta Daps is being crowned for having to the best verse on the track as he easily slays it with his smooth sex appeal we've come to expect and love. However, some believe that the crown could also be given to Christopher Martin, who firmly holds his own and comes across as a seasoned dancehall artiste.
Check out the video medley below.
50 Cent's Estranged Son Roasting Him Over His Other Son Tekashi 6ix9ine
Like father like son. 50 Cent's oldest son is keeping their public beef going. Sound familiar?
50 Cent and his oldest son Marquise may have more in common than they think. Both of the men know how to double down on the petty and keep a public beef going — even if it's with each other. Marquise Jackson, 21, and his dad, hip-hop veteran Curtis "50 Cent" Jackson have been at odds for quite some time, partially because of 50's soured relationship with Marquise's mother.
Marquise has made a name for himself by taking shots at Fif, and those shots continued Wednesday afternoon. He posted several photos of his dad on his Instagram story with multiple shady captions. "Nx**as will wish death on you. Disrespect ya moms in public. Claim this nxgga as ya son. The play victim," he wrote. The "nx**a" he was referring to was Tekashi 69, who built a bond with 50 Cent before being sent to prison on racketeering charges. 50 said last week that the two rappers no longer communicate.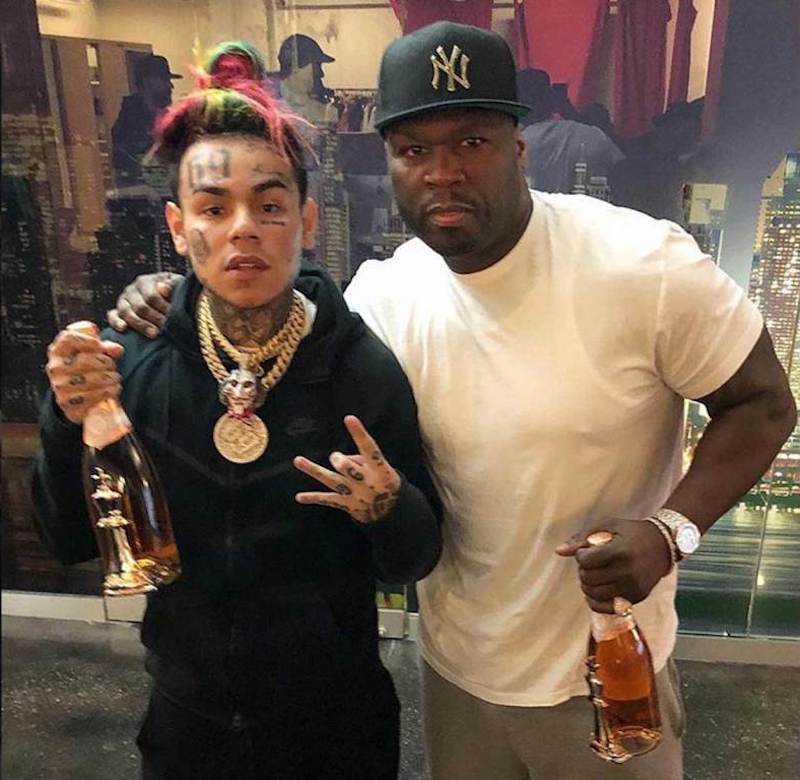 50 in the past has actually wished death upon his son, an ironic choice of words considering his hit song "Many Men." Fifty said in the past that if Marquise were hit and killed by a truck, that his feelings would not be hurt. The Power producer also went as far as to say Marquise wasn't even his kid and that he doesn't claim him.
It's safe to say that 50 Cent and his estranged son Marquise Jackson will not be making peace anytime soon. Fif already disowned his son Tekashi 6ix9ine for becoming a snitch.
But 50 does very much claim and take care of his younger son, Sire, that he shares with Daphne Joy. Over the weekend Daphne shared adorable photos of the family together that got shocking reactions from fans who aren't so used to seeing 50 Cent's softer side.
Ari Lennox Says She's Only Doing Shows via Social Media & YouTube To Protect Her Energy
Ari Lennox is all about protecting her energy no matter what the cost.
Rising R&B star Ari Lennox has gained popularity through her clever use of social media, particularly her humorous Instagram live rants that fans often repost and share clips of via Twitter. And since that seems to be her safe space, Ari said that she may only do her live performances on Instagram from here on out because people are "playing with her energy."
"After this year I'll continue to drop music. But I'm not performing anymore outside of ig live or YouTube," the Dreamville artist said Tuesday. "God is good. I will pay back what was offered to me but literally I'm too thorough to be playing with my energy. People don't know what happens behind the scenes."
Ari never quite elaborated on what exactly drove her to throw in the towel on shows and touring, but she continued her rant, that has since been deleted, saying that it was some immature drama going on that didn't sit well with her. "But when I tell you this sh*t is high school and I will get expelled if I keep playing around like I'm not Aries," she said. "I literally can create a world where I can keep the sick individuals away. This the only way. Stay in the house. Surrounding myself with family and my dog."
The "Shea Butter Baby" singer said she was changing her number and "slowly retreating." After a few more tweets alluding to "demonic entities," Ari wrapped up her rant with some clarification on Wednesday. "The music industry can be shady but my messages have nothing to with the industry. It's the random ho demons, narcissists and warlocks that shockingly appear at different events I be at."
The 28 year old signed to J. Cole's label went on to post photos of she and fellow R&B star H.E.R. from a performance at the Lights On Festival over the weekend. We sure hope that whatever was triggering the talented songstress was solved and that Ari will continue to showcase her vocals live.
Lights on Festival was absolutely phenomenal and I'm so thankful that I got to sing at such a cool soulful experience. HER is life ?? The people were amazing. pic.twitter.com/at8b4IWgsk

— Ari Lennox (@AriLennox) September 17, 2019
There are demons walking around disguised as genuine humans. Please do yourself a favor and watch who you give your sweet and genuine energy to.

— Ari Lennox (@AriLennox) September 16, 2019
Mary J. Blige Says Goodbye 'Hot Girl Summer' Hello 'Bad B**ch Fall' In NSFW Photo
Singer Mary J. Blige set Instagram on fire after posting a hot photo of herself bidding farewell to hot girl summer as she welcomes bad b**ch fall.
Even if you live under a rock, you still must have come across the phrase "Hot Girl Summer." It was the biggest trend of this summer, and just about everyone and their mama was saying it. The phrase was coined by "Cash S**t" rapper Megan Thee Stallion, and it took off from there. The phrase was used to embody personal growth, and it encouraged women to be the best version of themselves. It personified letting go, and not having a care in the world. Living a hot girl summer meant you had no tolerance for pettiness and you didn't settle what you didn't deserve. Megan went on to release a track of the same name with Nicki Minaj and Ty Dolla $ign.
Since then many have attempted their hand at upgrading the phrase for the new season, including Meg who is set on Hot Nerd Fall. Singer Lizzo is also hell-bent on replacing it with Fat Girl Fall. Most notably, though is rapper 21 Savage who recently declared, "Hot girl summer is over it's officially f**kboy fall."
Today a new contender stepped into the ring as Mary J. Blige kicked off bad b**ch fall. The singer took to her Instagram page to share a photo of herself and let's just say she looks freaking hot! The singer clad in a leopard-print swimsuit with a matching fur coat shows off her sexy curves. Even her long tresses match her outfit. The singer also rocks large hoop earrings with pink shades.
Instagram immediately sounded off about the jaw-dropping photo with fans in awe at how amazing the singer looks. Even the legendary Janet Jackson dropped a heart emoji in the comments. Actress Taraji P. Henson added, "WELL DAMN. I WASN'T READY," followed by a plethora of fire, kisses, and heart-eyed emojis.
With such a bomb photo Mary has firmly positioned herself at the front of the line. She has most definitely secured her spot with bad b**ch fall.